2019 Airplane Fun Near and Far
Always Looking For Antique Airplanes

Our 2019 airplane fun came sometimes as part of our travels, sometimes as destinations on their own, and often as fun filled weekends.
While we were on some of those other travels, we were always on the lookout for airplanes… antique and otherwise.

(As before to see more about our 2019 travels in general instead of just 2019 airplane fun, you can head over to MouseTours.com. 

To see any of these photos in a slide show with a larger size, just click on any of the photos.  Enjoy!)


2019 Airplane Fun Abroad First

Spain
Our trip to Spain was to explore the northwest corner in Galicia, but we knew we were going to return to Quatro Vientos Airport in Madrid.  It's the oldest airport in Spain, established in 1911, and is Spain's first military airfield.

We went for the museum and antique airplanes.  We had been years ago, but we had to go back because it's bigger than we thought, and we hadn't allowed enough time then.

The Museo del Aire has changed a little from our first visit.  All the great planes are still there, but the first exhibit hall was a complete surprise.  Instead of planes all just lined up in a row, they have a winding exhibit with some interactive surprises and great exhibits around every bend.
Here's how the Dornier Wal "Plus Ultra" looked before... and how it is displayed now...

And here's how the CASA Breguet XIX was, then and now…

The new display is very well done.  The lighting may make it harder to photograph the planes, but the scenes and descriptions are good.

The other halls and the outside displays are much as they were before.

Now, Those Fun Filled Weekends
Orbis - An Obsolete Jet On a Mission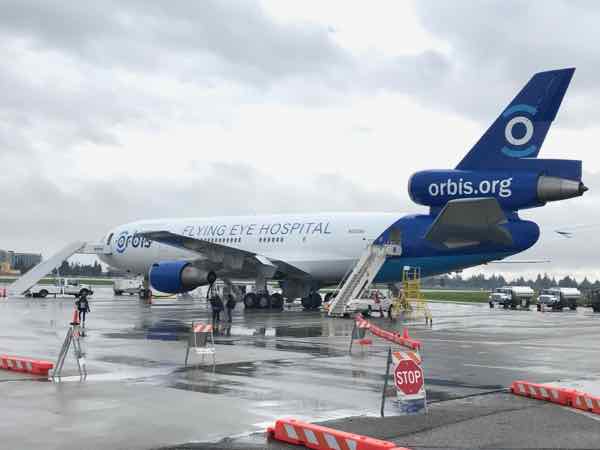 An aging jet is not what we usually write about when we say antique airplanes…. but the MD-10 that this great charity uses is rare if not antique.  Orbis operates this Flying Eye Hospital around the world. 
We had a chance to tour it this year… read what we said about Orbis.  And if you're so inclined, you can support them at orbis.org.

A Tri-Motor and An Air Mail Marker

There was a Ford Tri-motor making the rounds, so we HAD to drive to Concord, California and get a ride in it. 
Now, we've flown in several tri-motors, but Mark really, really likes planes with 3 engines, and we hadn't ridden in THIS one. 
When we were in the air, he spotted something we had been wanting to go looking for…
...one of the old Air Mail Markers… remnants of the Transcontinental Airway System. 
This was a network of about 1,550 concrete arrows built from 1924 to 1931 to help airmail pilots complete transcontinental flights faster than trains before radar was practical in aviation.
Now we HAD to go looking for it on the ground... talk about 2019 airplane fun!

There are actually two arrows on Acalanes Ridge, pointing to two routes.  They are graffiti covered, but otherwise in good condition. 
There is a hiking trail to it, but it's an obscure local trail, and finding it is not necessarily easy.  With a little persistence, our GPS got us to a very small parking lot for a short hike to see them… and watch the Tri-Motor fly by one more time!
Adventure Flight Again

Last year Mark had a flight in the old Bamboo Bomber.  Adventure Flight operates out of the Lincoln, CA airport and they have other planes to fly in…
...So for his birthday this year, Mark got to fly in their 1943 North American SNJ-4.
Center for Freedom and Flight

We were on a driving weekend, heading home after that SNJ flight, and  as we passed the old Nut Tree Airport, we stopped to see what was going on.
What we found was a museum we didn't know about...
The Center for Freedom and Flight.  It's a great little museum that is fun to visit. 
They don't have a large collection yet, but they had one plane that we'd never seen….
Have you ever seen a 1935 Kinner Playboy?

A B-24 Ride
We had a friend who had a health scare last year, so he decided that he and Mark should fly in a B-24 together.  The Colllings Foundation was making their rounds, and when they came to Moffett Field, the boys paid their money and off they went.  It's always fun to see these great old planes in the air.  We were so sad to hear about the tragic crash of their B-17 later in the year
Moffett Field has an aviation museum that you can visit.  They have a Lockheed P-3 Orion that sits outside… We usually take our own photos, but we snatched this one from their website…

While we were there we noticed it was open for tours.  That doesn't happen often, so we jumped on it.  Docents who flew on them were there to tell us all about their missions.  If you're interested you might try to contact the Moffett Field Historical Society to see if there are any dates it will be open.

Mid-Atlantic Air Museum

Annual World War II Weekend Reading, PA

This was more than a weekend of fun.  We had been wanting to get to the Annual World War II Weekend at the Mid-Atlantic Air Museum (MAAM). 
This year there was a plane flying in that Mark really wanted to see… the Berlin Airlift Historical Foundation's C-97G "Angel of Deliverance".
We've seen air shows with WWII re-enactors before, but we had never seen anything like this.  There were amazing camps set up representing many nationalities, and even some of the spectators came dressed in WWII era costumes.

MAAM has been working for years to restore a P-61 Black Widow.  You can see it there… they're making progress.

And Another Ride!

There are other great planes to see at the weekend show.  The Commemorative Air Force had some planes there giving rides. And since we were into 2019 airplane fun… and to celebrate my birthday, we took a ride in "FiFi" their B-29.

Finally, Sobering History in Vietnam

In the Fall we took a great trip to Vietnam and Cambodia.  Mostly it was a fun trip, but there were history lessons too.  In the north, we went to Hỏa Lò Prison, the "Hanoi Hilton".

In Ho Chi Minh City we visited the old Presidential Palace with a Huey Helicopter exhibited on the roof as it would have been.  And at the War Remnants Museum there were planes left behind like the A-1 Skyraider.

Our guide also pointed out the old "CIA building" where the last helicopter took off in 1975.  Our guide points it out on his phone. It's surrounded by skyscrapers now, but if you look close, you can see the small white square roof of that building.

2019 Airplane Fun Was Packed!

If you had some 2019 airplane fun, we'd love to hear about it.  If you have a favorite museum or airshow, we'd like to hear about that too… there are pages where you can share.
Can't wait to see what next year brings.

Find 'em, See 'em, Fly,'em! And have a great flight!
Judy and Mark
Curious about what other antique airplanes we've found? Search for more...

But... We'd love to have you share this page or comment on it...  Thanks