2020 Airplane Fun
Not What We Expected!
In 2020, the COVID pandemic cancelled most air shows. Some, like Oshkosh, held virtual events. Some aviation museums are starting to reopen slowly. Hopefully people are busy in hangars restoring antique airplanes and readying them for when we can all get out and travel again.
It's no fun to be grounded when you want to fly and explore.
We have had a personal setback too, with some health issues slowing us down.  We don't have the time to check on which venues are still viable and which are things of the past.

So... Post COVID our advice is to check with each air show or museum to see if they are open and operating.  Stay safe.

Our 2020 airplane fun came on our only international trip this year… and not in a destination we expected.  Beyond that… it was watching the skies at home.

((As before to see more about our 2020 travels (such as they were) in general instead of just 2020 airplane fun, you can head over to MouseTours.com.)) 

Guyana For 2020 Airplane Fun?

This is one of the three little countries in the north-east of South America.  We didn't go to the Guyanas looking for airplanes, but we want to talk about the airplanes we found there because that's almost all we have for the year. 
We were excited to fly out to Kaiteur Falls, one of the top tourist attractions in Guyana… but what we didn't realize was that, this year, our experience at that little airport would be one our best 2020 airplane fun experiences.

The international airport for Georgetown, Guyana is Cheddi Jagan International Airport.  For our flight to the falls, we flew out of the "other airport".

A Domestic Hub For Passengers and Cargo

Ogle Airport (or Eugene F. Correia/Georgetown-Ogle International Airport) is the "other" airport.  It's a  domestic hub providing commercial passenger and cargo air transport services, primarily between Georgetown and the hinterland of Guyana. 
That's where we caught our flight to Kaiteur Falls.  The flight is about an hour flight in an aircraft like the Cessna Caravan that we flew in. 
Weather conditions in the jungle can be very different from the conditions at the airport on the coast, so even when you have a scheduled flight... it is only an approximate time for departure.
That gave us plenty of time to watch planes taxing and taking off...  some that we hadn't seen often or in a very long time. 
There were Britten-Norman Islanders AND Britten-Norman Trislanders...

And some planes for passengers and cargo flown by small local air services like this Beech 1900D.  The PZL M28 Skytruck was produced by PZL Mielec, as a development of license-built Antonov An-28s.

If you want to see a couple of photos of our approach to Kaiteur Falls and the airstrip, head over to our Mousetours Three Guyanas page... then come on back and tell us...  Do you really think that's a 5000 foot runway?  Didn't seem like it to me at the time... especially with that cliff at the end.


Suriname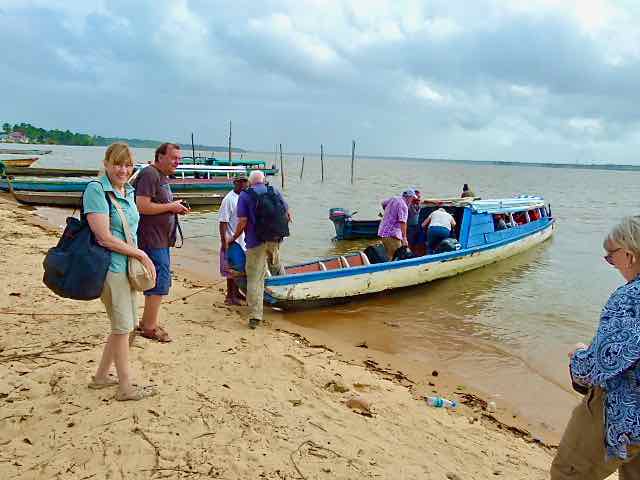 I have to admit there was no 2020 airplane fun in Suriname.  I throw this in because we had to get from Guyana to French Guiana somehow…
And we had some interesting modes of transportation in Suriname... 
Funky river boats for tours and border crossings.


French Guiana
Guiana Space Center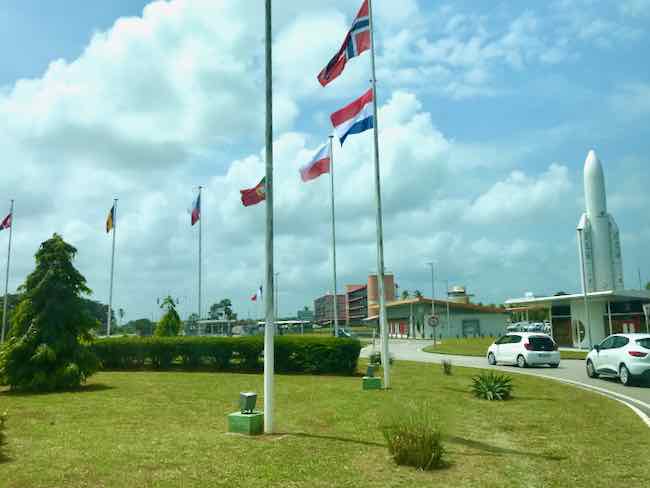 When we booked this tour, we knew we might get to see the Guiana Space Center, but we did not expect the great tour that we got. 
This was not 2020 airplane fun…
This was 2020 space age fun!
Because there was no launch for a couple of days when we visited, we got to tour the whole facility for about three hours. 

The Guiana Space Center is used by the European Space agency and the French government to launch satellites into space.  But it's not just European countries…

Launch Pads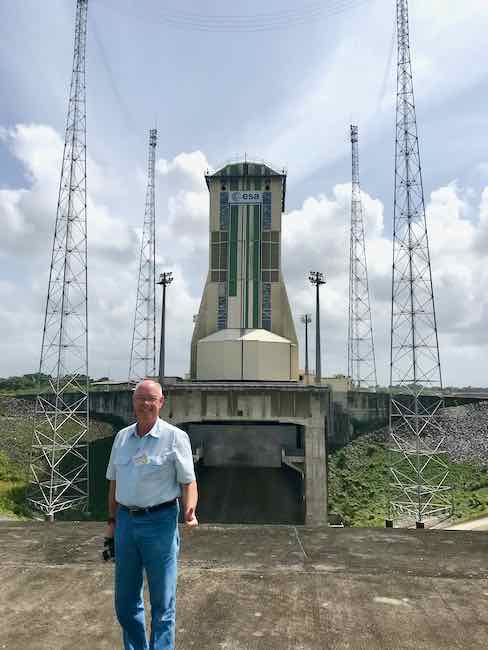 Russia is prominent among the other countries that use this launch site. 
They let us off to see the Soyuz launch site.

We were told that the Russians launch more Soyuz rockets from this location than they do from the Baikonur Cosmodrome in Kazakhstan. 

There are two geographic advantages here…  

One is that the Guiana Space Center is on the north eastern edge of South America.  Being close to the equator, the rockets get a slingshot effect that makes it better for getting heavy payloads into orbit.

And the second is that there is a lot of open ocean to the east which means less worry about the debris that falls and lower stages reentering.
Launch Control Room
We got into the launch control room gallery used by dignitaries during a launch.  And at the end of the tour, we had time to explore their museum.
2020 Airplane Fun Was Not Exactly Packed

I thought at first I would not have anything to look back on this year, but there was more than I remembered.  In a year like this with COVID shutting so many museums and airshows down, we'll count this as OK.

Find 'em, See 'em, Fly,'em! And have a great flight!
Judy and Mark
Curious about what other antique airplanes we've found? Search for more...

But... We'd love to have you share this page or comment on it...  Thanks