The National Aviation Heritage Invitational
In 2020, the COVID pandemic cancelled most air shows. Some, like Oshkosh, held virtual events. Some aviation museums are starting to reopen slowly. Hopefully people are busy in hangars restoring antique airplanes and readying them for when we can all get out and travel again.
It's no fun to be grounded when you want to fly and explore.
We have had a personal setback too, with some health issues slowing us down.  We don't have the time to check on which venues are still viable and which are things of the past.

So... Post COVID our advice is to check with each air show or museum to see if they are open and operating.  Stay safe.

The National Aviation Heritage Invitational showcases great antique airplanes! (That's what NAHI in the nav bar stands for.)

We got a news release in August 2017 that the California Capital Airshow was to be the new host.  It's no longer held in conjunction with the Reno Air Races...
BUT WAIT...
At Oshkosh 2018 AirVenture, it was announced that it will be moving back to the Reno Air Races... we'll try to keep checking!

The National Aviation Heritage Invitational (NAHI) held its first competition at Stead Field outside of Reno in 1999.  
It was held at the same time as the Reno Air Races.

Through the years NAHI has hosted over 20 competitions.  Each featured an average of 25 to 35 expertly restored vintage aircraft.

Now that it has been moved to its new venue with the California Capital Airshow it's on our bucket list to revisit and see more antique airplanes being restored to flying condition. 

We've Seen Some Great Restorations

We're overdue for another visit.  The competition was still in Reno last time we saw it.  When we went in 2010, there were several planes that excited us.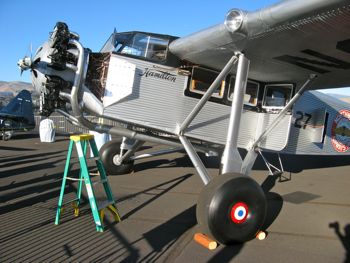 Hamilton H-47 Metalplane
We had to leave Oshkosh that year before the Hamilton Metalplane arrived.  Mark was disappointed about that... but then...
We saw it at the the Reno Air Races that same year... made him very happy.
Some Rules For The Event

Aircraft that participate must be 45 years or older.
They must be airworthy... they fly in after all.
You'll find aircraft of all types, early passenger planes to World War I and World War II planes.
Waco JYM as "Northwest Airways"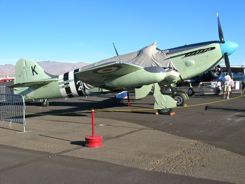 Fairey Firefly AS6
Trophies are awarded in five categories: antique airplanes, classic, contemporary, military, and large aircraft.

The overall winner is awarded the Neil A. Armstrong Aviation Heritage Trophy.  We like the "National Aviation Hall of Fame's People's Choice Award" that you can vote on yourself.
If you decide you want to vote on a plane, you'll find it hard to pick just one.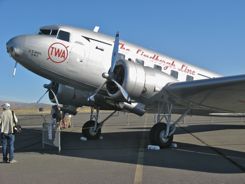 Douglas DC-2 - TWA Lindbergh Line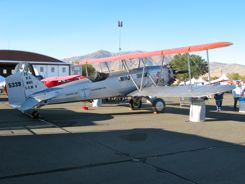 Boeing 40-C - Pacific Air Transport

National Aviation Heritage Invitational Encourages Restoration

The event was established in 1998 by Rolls Royce North America, the Smithsonian National Air and Space Museum, the National Aviation Hall of Fame and the Reno Air Racing Foundation.
The goal was to "encourage the preservation of aviation history through the restoration of vintage aircraft to original flying condition."
The Invitational's judges review participating restored aircraft against standard criteria developed by the Smithsonian Institution's National Air and Space Museum.  These criteria include authenticity, quality of workmanship, attention to detail and technical merit.
Put this on your calendar.  The California Capital Airshow is held in September.
We think they should ALL get trophies for restoring them and keeping great historic aircraft in the air.

Find 'em, See 'em, Fly,'em! And have a great flight!
Judy and Mark
Curious about what other antique airplanes we've found? Search for more...

But... We'd love to have you share this page or comment on it...  Thanks