Solent Sky Museum
A Hall of Aviation in Southampton England
In 2020, the COVID pandemic cancelled most air shows. Some, like Oshkosh, held virtual events. Some aviation museums are starting to reopen slowly. Hopefully people are busy in hangars restoring antique airplanes and readying them for when we can all get out and travel again.
It's no fun to be grounded when you want to fly and explore.
We have had a personal setback too, with some health issues slowing us down.  We don't have the time to check on which venues are still viable and which are things of the past.

So... Post COVID our advice is to check with each air show or museum to see if they are open and operating.  Stay safe.

The Solent Sky Museum is a great little place to see flying boats , Schneider Trophy racers and other aircraft that were built in the Solent area of England.
It was previously known as the Southampton Hall of Aviation... and yes, it's in the city of Southampton in southern England, only about a two drive from Heathrow Airport and London.
Southampton is the gateway to the Isle of Wight. It's a departure point for many large cruise ships. (Heck, it's where the Mayflower departed for America in 1620... the Titanic departed from there too, how's that for history!)

AND it is also important in aviation history.

That's more like it, eh? Like... how much aviation history?

How about this... The Supermarine Spitfire was designed and developed here, coming from some of the sea planes that ultimately won the Schneider Trophy for England.

But it's the Solent Sky Museum we're interested in here... and the biggest antique airplane in the collection is the Short Sandringham IV (VH-BRC). This is a cousin of the Short Solent flying boats. There aren't too many of any of them to see.


Short Sandringham S.25 VH-BRC "Beachcomber"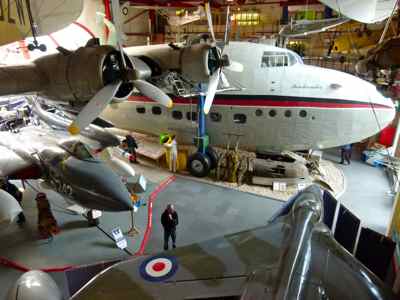 The Short Sandringham IV is a commercial four engine flying boat. This one was originally built as the military version... the Short Sunderland Mk.III - a general reconnaissance flying boat. It went "down under" in 1946 and after being "demilitarized", it flew between Sydney and and Auckland. It came back to England in 1981.


A Bit of Geography on The Solent
The city of Southampton is on the Southampton Waters, sort of a bay formed by the confluence of three rivers. This makes for a wide body of water that connects with the Solent, which is the strait between the mainland of England and the Isle of Wight.

Now, geography isn't usually part of an antique airplane website, but I'm setting this up for you because the Solent is an important part of aviation history... and you can learn a lot about that at the Solent Sky Museum.


About the Museum
The Solent Sky Museum is small, but they do a good job showing you the aviation history in their area. There was a lot of early experimentation and development done around the Solent area for both military and civilian aircraft.

Their website says there were something like twenty-six aircraft companies in the area at one time. We can't name them all, but there are definitely some names you'll know if you're an antique airplane fan like we are. Names like Sunderland, Sopwith, Saunders-Roe, Short Brothers, Wight... on yea and Supermarine.

You can see some of the remnants of them if you explore around the nearby Calshot Spit and the Isle of Wight. The Solent Sky Museum will give you a good starting point. They have an interesting selection of airplanes crammed into their small space. We were told that they are hoping to build a new museum on the waterfront in the next few years... wouldn't that be nice.


The Planes...
You wondered when we'd Get to that, eh? The planes are crammed into their small space, so they're hard to photograph, but it's worth it to try.


Supermarine S.6A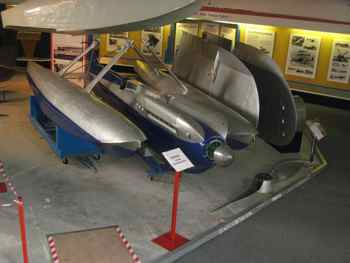 Supermarine designed seaplane racers to compete in the Schneider Trophy races. It was from these racing seaplanes of the 1920s and 30s that the Spitfire evolved.
This shot is from above... it's bigger than it looks!
Unfortunately that sign in front says Exhibit under construction. Would love to have seen it all put together!
But then I guess it would have been harder to peek in the cockpit.
Vickers Supermarine Spitfire F.24 and Saunders Roe Skeeter Mk 5
... And yes, they do have a Spitfire in their collection.
Hanging in the background is a Saunders Roe Skeeter Mk 5 XL770. It was the British Army's first battlefield observation helicopter from 1958.
Saunders-Roe SR.A/1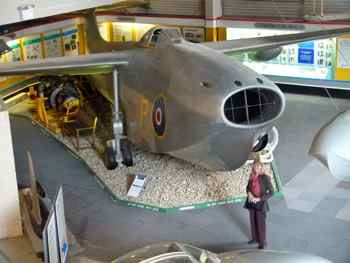 How many JET powered flying boats have you seen?

The Saunders-Roe SR.A/1was built as a prototype for a flying boat fighter. They were designed during WWII, but the first prototype wasn't flown until 1947.
They never went into production. This is the only one left.
Wight Quadruplane (replica)
A couple of these were built by J Samuel White in 1917. He built the Wight Quadruplane at Cowes on the Isle of Wight.
Apparently it was not a successful design... but how may quadruplanes have you seen, replica or not?


Avro 504J (replica)

The Avro 504 was a World War I biplane. The were first built in 1913 and used as trainers.

This replica is of the Avro 504J from 1916 in which the future King George IV learned to fly.

Britten-Norman BN-1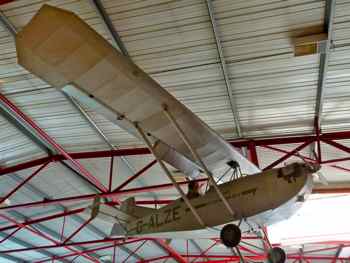 This single seat parasol winged plane was built in 1951 by John Britten and Desmond Norman...

...before they went on to develop their more famous Islanders and Trislanders.
Short Mayo Composite (Model)
Wouldn't you love to have seen this?
Or either of them separately?
The Short Brothers came up with this combination of flying boat (the Maia) and float plane (the Mercury) to get mail across the Atlantic in 1938.
When one plane alone wouldn't do, they used the Maia to get them to altitude and launch the piggy-backing Mercury to make the crossing... and they actually used them until the outbreak of WWII.

This museum has other cool models, memorabilia, and displays of military uniforms.

Getting To the Solent Sky Museum
Unless you're taking a cruise that leaves from Southampton, and you'll be in the area anyway, the best thing to do is rent a car. We drove directly from Heathrow Airport and it took us about two hours with stops.

Take the M3/M27 into Southampton and follow signs to the waterfront. You may or may not see signs to the Solent Sky Museum. We had to ask for directions. (We were on our way to the ferry to the Isle of Wight and it's not too far from there. It's in the direction of Ocean Village.)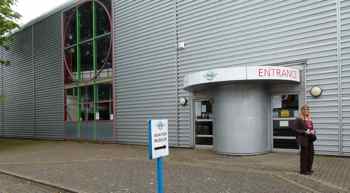 It kind of looks like it's on a side street, and the front doesn't exactly scream airplane museum. There is parking right in front... it's pay and display.

It's open daily except Monday. Hours are 10:00 - 17:00 (Sunday 12:00 - 17:00)

It cost us £6.50 to get in -- about US$ 10.00. Check their Solent Sky website for more details.

It won't take you too long to see the whole thing, but it's a nice little museum, and worth a visit if you're in the area.


Find 'em, See 'em, Fly,'em! And have a great flight!
Judy and Mark
Curious about what other antique airplanes we've found? Search for more...

But... We'd love to have you share this page or comment on it...  Thanks


Go from Solent Sky Museum to Airshows In England
Return to Antique Airplanes Home Page
Privacy Policy