Reno Air Races
Highly Restored And Highly Modified
In 2020, the COVID pandemic cancelled most air shows. Some, like Oshkosh, held virtual events. Some aviation museums are starting to reopen slowly. Hopefully people are busy in hangars restoring antique airplanes and readying them for when we can all get out and travel again.
It's no fun to be grounded when you want to fly and explore.
We have had a personal setback too, with some health issues slowing us down.  We don't have the time to check on which venues are still viable and which are things of the past.

So... Post COVID our advice is to check with each air show or museum to see if they are open and operating.  Stay safe.

"I went to the Reno Air Races for the fast planes, but I was blown away by the great antique airplanes they displayed! - Karl"
You might think you're going just to see fast airplanes at the Reno Air Races...
but wait... there's more!
Antique airplane fans and race fans of all types like attending.
Heck, you can plan a combination trip... a little gambling, a show or two...
...air races AND antique airplanes.



The Reno Air Races - One of a Kind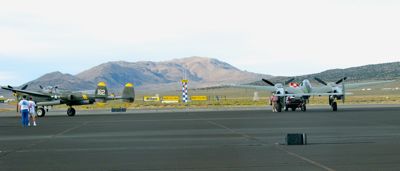 We went in 2010 because there were stories circulating that they were going to have six P-39 Lightnings show up.
Well, things being what they are in getting old planes to air shows, only two Lightnings made it.
That was pretty good though when you combined it with two racing Tigercats and all the other great planes that were there.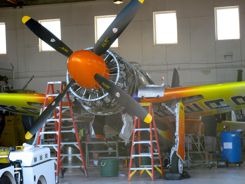 The event's whole proper name is Reno National Championship Air Races and Air Show... with the emphasis on AIR RACES... that's in big letters! Their website will tell you that "NACR" and Air Show has been held just outside Reno, Nevada every year since 1964.
The scene at the Reno Air Races is different from a typical air show. The first thing you see after you wander past all the vendors and get through the grandstands is the runway and the race course. That's what draws most people.
Planes in all of the "classes" fly everyday. Sit and watch a few heats, but be sure to explore the whole area.
You can walk among the jets in the area set aside for those and admire the race planes in the pit area if you have purchased a ticket for that.
(We highly recommend getting the pit passes for the total experience.)
But there are other airplanes. You won't have as many rows of airplanes to wander among as at a traditional air show perhaps, but the ones you do find with be highly restored and/or highly modified.


The Highly Restored Aircraft
Well, most of those race planes are highly restored, but what we're talking about here are those the beautiful antique airplanes in the Heritage Trophy area for the National Aviation Heritage Invitational.
You can use that link above to read more about the NAHI... the National Aviation Heritage Invitational.  It WAS held in conjunction with the races from 1999 until 2017 when it was moved to California.  See the planes in the NAHI competition at the California Capital Airshow that takes place in September.


The Highly Modified Aircraft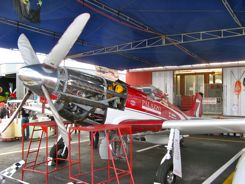 Those would be the highly modified race planes... Especially the World War II aircraft that race in the "Unlimited Class".... That's what most people come to see.
In the early week days there are several heats in each class... the top couple of finishers move on to the next stage of the competition.
They fly more than those "big bad boys of air racing" you know. We love the bi-plane class. Think Reno Air Races and bi-planes just really don't go together... think again.

Classes of Aircraft That Fly
Bi-planes - Small, nimble aircraft like Pitts Specials, Mongs, Smith Miniplanes. These race on the 3.11 mile course, so you can really see them all the way.

Formula 1 - Small aircraft powered by a Continental O-200 engine according to the NACR website. Many aircraft are homebuilt. They are all built to strict technical specifications. It's a fun way for pilots to say they flew at Reno. These also race on the "little" 3.11 mile course.

Sport Class - High performance kit built aircraft. They race on a 6.39 mile race course.

T-6 Class - These are "stock" T-6s by any designation.... Texan, Harvard or SNJ. Their race is on a 4.99 mile course.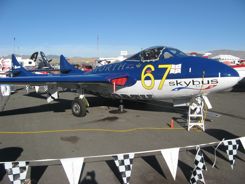 Jet Class - This has been one of the racing categories in recent years.... now "open to any non-afterburing aircraft with less that 15 degrees of wing sweep" according to the official website. The jets race on the 8.355 mile course.
And of course.... (and this is what you think of for the Reno Air Races isn't it...?)
The Unlimited Class - These are piston driven aircraft - most are WWII fighters... P-51 Mustangs, F-8F Bearcats, Hawker Sea Furies, F7F Tiger Cats and more.


Those are definitely the ones that inspired that t-shirt you see everyone wearing that logo we all love....
"Fly low, fly fast, turn left".

More Than Racing

Besides the National Aviation Heritage Invitational event we mentioned above, there are other performers that really make this a first class air show...
Count on military precision flying teams.... In 2010 is was the Canadian Snowbirds.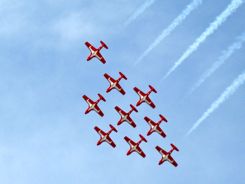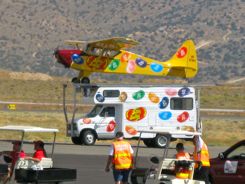 Comic aerobatic routines as well as aerobatic champions showing their stuff. And you might see an Interstate Cadet land on top of a moving RV. And how do you get it off once it's made that tricky landing? Drive down the runway until it gets up to take-off speed. Pretty amazing flying... not to mention the driving!
You even have "smoke and thunder" displays and cars racing against planes... the kind of things you expect to see at a lot of more traditional air shows.
Bring plenty of sunscreen and a good hat no matter what. There are no shaded grandstand or box seats, and that sun can get pretty intense even if it isn't hot.
There are all the vendors you expect to see at air shows. No need to worry about food or drink.
The air show is held in mid-September.
We have a page with information on Getting tickets, getting there and finding hotels at the Reno Air Races. See more on that page or check their website for details.
Some people go every year... we don't, but it sure is tempting.
Find 'em, See 'em, Fly,'em! And have a great flight!
Judy and Mark
Curious about what other antique airplanes we've found? Search for more...

But... We'd love to have you share this page or comment on it...  Thanks


Go from Reno Air Races to Antique Airplanes Home Page