Al Ain Airshow
In the Emirate of Abu Dhabi, U.A.E.
In 2020, the COVID pandemic cancelled most air shows. Some, like Oshkosh, held virtual events. Some aviation museums are starting to reopen slowly. Hopefully people are busy in hangars restoring antique airplanes and readying them for when we can all get out and travel again.
It's no fun to be grounded when you want to fly and explore.
We have had a personal setback too, with some health issues slowing us down.  We don't have the time to check on which venues are still viable and which are things of the past.

So... Post COVID our advice is to check with each air show or museum to see if they are open and operating.  Stay safe.

"The Al Ain Airshow was a nice weekend outing. Wish you guys could have joined us." Phil
We really wish we could have too.
We love finding airshows and antique airplanes around the world in our travels...
but...
a quick trip to Dubai and Abu Dhabi for this air show at Al Ain was a bit much...
even for us!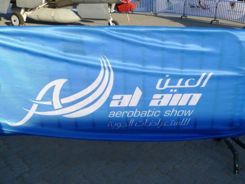 Our friends submitted this as their favorite airshow....
...at least while they're living in Dubai!
We thought we'd put up some of their pictures even though there really aren't any antique airplanes here... it's still cool to see that there is a great airshow in the U.A.E.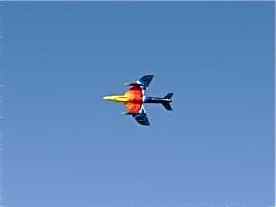 Phil's favorite plane was a Hawker Hunter because of the paint job.
He says, "It's name is Miss Demeanour, so named because after the pilot Jonathon Whaley restored it and gave it this beautiful paint job...
Someone remarked to him that it was a crime to paint a Hunter like he did...
To which Mr. Whaley responded...
It was not a crime, but might be a misdemeanor."
Good a way to name an airplane as any... don't you think?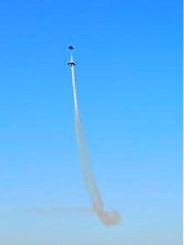 "Laughed at the Hawker Hunter and the Folland Gant in a mock "dog fight".
25,000 lbs. vs. 5,000 lbs.
...Oh, yea, the Hunter won."



Saudi Hawks.... Pictured below on the "Jumbotron". Phil says, "With my camera this was the best I could do."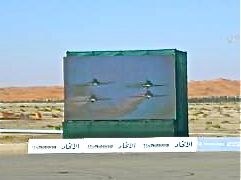 You need a new camera Phil!
There was some heavy metal on the ground too.
BAe Hawk at Al Ain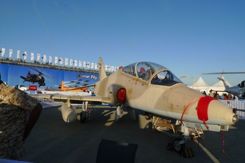 Dassault Mirage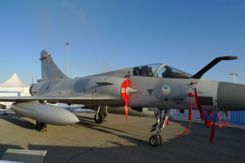 "Jacquie Warda, an American lady aerobatic pilot that did quite well in the competition." 
Our comment is... Of course she did!

"Lots of spectators. Some of them drove to the airshow in really cool cars...."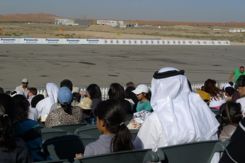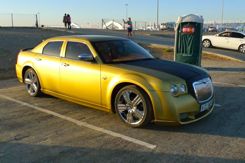 Thanks for sharing Phil.
Find 'em, See 'em, Fly,'em! And have a great flight!
Judy and Mark
Curious about what other antique airplanes we've found? Search for more...

But... We'd love to have you share this page or comment on it...  Thanks


Go from Al Ain Airshow to Antique Airplanes Home Page