The Zeppelin Eureka

We Sailed California Skies 

On This Airship
In 2020, the COVID pandemic cancelled most air shows. Some, like Oshkosh, held virtual events. Some aviation museums are starting to reopen slowly. Hopefully people are busy in hangars restoring antique airplanes and readying them for when we can all get out and travel again.
It's no fun to be grounded when you want to fly and explore.
We have had a personal setback too, with some health issues slowing us down.  We don't have the time to check on which venues are still viable and which are things of the past.

So... Post COVID our advice is to check with each air show or museum to see if they are open and operating.  Stay safe.

We were sad to get this notification about the Zeppelin Eureka. Read our story below to see how much fun it was... maybe she will fly again in the future? We hope so.  We salute her and her crew with this beautiful sunset image from their Facebook page. Up Ship!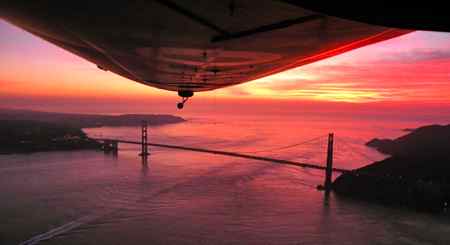 Subject: Important Message from Airship Ventures
Date: November 14, 2012 7:26:42 PM PST
Dear Valued Airship Ventures Customer,  Airship Ventures, operators of the world's largest passenger airship, the Zeppelin, Eureka, have announced today that despite history-making successes and a stellar performance and safety record, they will be ceasing operations immediately.  Since its founding, the company had faced challenges including the economic recession that impacted regular passenger numbers and demanded the need for a regular sponsorship partner for the company to remain viable. Adding to this, a world helium shortage increased the company's operating costs and pressure for a long term sponsor that had not materialized....  Best regards,  Airship Ventures Customer Relations
FYI... There are Zeppelin airships flying in Fredrichshafen, Germany.

Skies Emptier Without Her



Glad We Had the Chance to Fly In Her

We took a romantic and exciting flight on an airship.... the Zeppelin Eureka.

If you like flying antique aircraft... or antique TYPE aircraft... we wish this were still an option for you.

We chose to celebrate a wedding anniversary with friends and family flying on this great airship when she sailed California skies.


You would think a dirigible, a Zeppelin, should fall into the antique aircraft category... unless you're talking about the Zeppelin Eureka operated by Airship Ventures in California.

This is a Zeppelin NT -- for New technology.... state-of-the-art avionics. As of this writing there are only three flying in the world... one in Germany, one in Japan, and one in California.  We're not sure yet where the Eureka is going.  Probably back to Germany.

The Zeppelin Eureka is the largest airship flying today. Want a few figures? It's 246 feet long, 54 feet wide at its widest point and 57 feet high. That's actually small by historic airship standards, but they like to point out that it IS 15 feet longer than a Boeing 747.

So what was it like?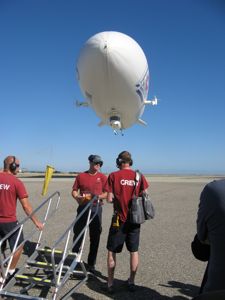 After going through a flight briefing and security procedures (this is a commercial flight after all), you will be taken to the airfield in a van. It's exciting to see that big airship floating toward you.... and believe me, it LOOKS big when you're standing right under it!
We all got a kick out of the crew chief holding the windsock, then dropping it at the last minute and grabbing the tethering rope.... one guy.... holding that big airship! That's what the NT is all about!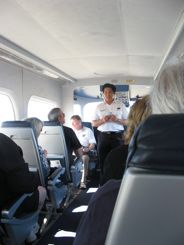 The Zeppelin Eureka holds 12 passengers, a pilot and one flight attendant. There is a specific, and very quick, procedure for passenger exchange.
Once we're onboard, we received our onboard safety briefing...
All seats are window seats... and aisle seats.... and they all have big windows.
...Take off is easy and instant....
Up Ship!
Airships do not need runways... You're up and away in no time. They warn you to stay alert so you won't miss the lift off.
It was fun flying out of their home base at Moffett Field, California. Moffett Field had dirigibles based there during the first part of the 20th century, and there are still three historic airship hangars on the field.... one of which is where the Zeppelin Eureka is hangared. 
Notice that Hangar One still was in original condition when we took our flight.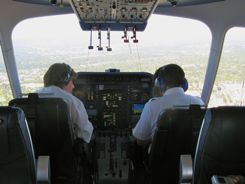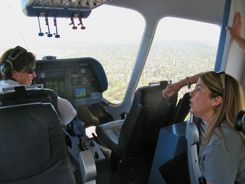 You are allowed to get up and wander around after about two minutes.
The cockpit looks like... well, like a cockpit, but there are some differences. Once we were away and things settled down, the pilot was happy to explain things to the pilots in our group.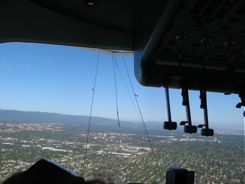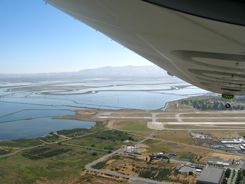 There are panoramic views front and back... and lots of windows on the sides. You're flying low and slow, so there are plenty of opportunities to take pictures.... and you only have to sit down and buckle up as you're coming in to land.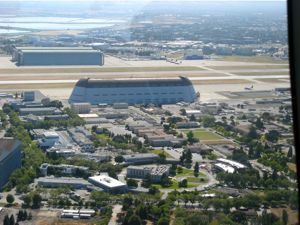 At the briefing before our flight, they explained that the crews for the large historic Zeppelins would release the ship for take off with, "UP SHIP!" When we returned from our flight, we had champagne to celebrate our anniversary... and Up Ship was definitely our toast!
The Zeppelin Eureka was based in Moffett Field, California. That's in Mountain View, south of San Francisco and just north of San Jose. The airship took passengers from Moffett, but they also flew from other cities around California. We can only hope that they will return to the skies one day.
It was a romantic way to celebrate our anniversary with all our flying friends... a fun experience for this nostalgic way of flying.
Find 'em, See 'em, Fly,'em! And have a great flight!
Judy and Mark
Curious about what other antique airplanes we've found? Search for more...

But... We'd love to have you share this page or comment on it...  Thanks


Go from Zeppelin Eureka to Antique Airplanes Home Page