Vintage Flying Museum Texas
In 2020, the COVID pandemic cancelled most air shows. Some, like Oshkosh, held virtual events. Some aviation museums are starting to reopen slowly. Hopefully people are busy in hangars restoring antique airplanes and readying them for when we can all get out and travel again.
It's no fun to be grounded when you want to fly and explore.
We have had a personal setback too, with some health issues slowing us down.  We don't have the time to check on which venues are still viable and which are things of the past.

So... Post COVID our advice is to check with each air show or museum to see if they are open and operating.  Stay safe.

We have not had a chance to visit the Vintage Flying Museum, but we certainly have seen "FIFI" and some of their other aircraft at airshows around the USA. 
There are four nonprofit aviation organizations that share this hangar.

We look forward to seeing some of the aircraft that they have under restoration coming online too.


We were recently contacted by them so we could let you know that they are busy upgrading their hangar lighting to help with restoration efforts...
...and to make it more enjoyable for you when you visit.


(Click on any photo to make it larger and/or start a slide show.)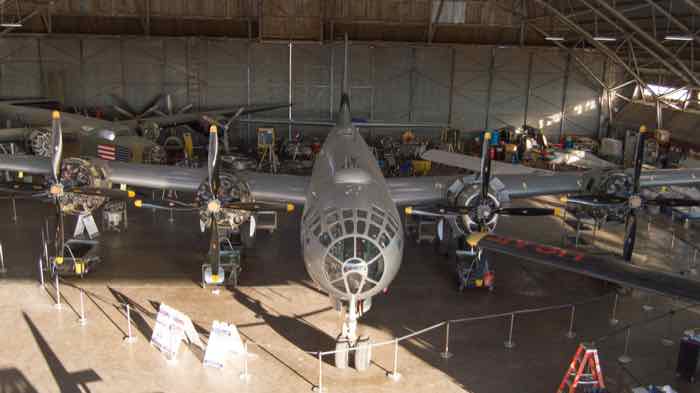 Since we haven't been, we ask them to write a little about the museum.   Here's the story they sent to us…. It's a peek at what it takes to keep 'em flying.

About the Vintage Flying Museum
By Jeff Gatzow

Some History and Where To Find Them

Located at Fort Worth, Texas' Meacham International Airport and housed in a WWII B-29 hangar, the Vintage Flying Museum (VFM) gives visitors a look at aviation history and the opportunity to tour rare and historic aircraft. There is a reciprocal and jet engine display, WWII memorabilia and artifacts, and a unique aircraft model exhibit.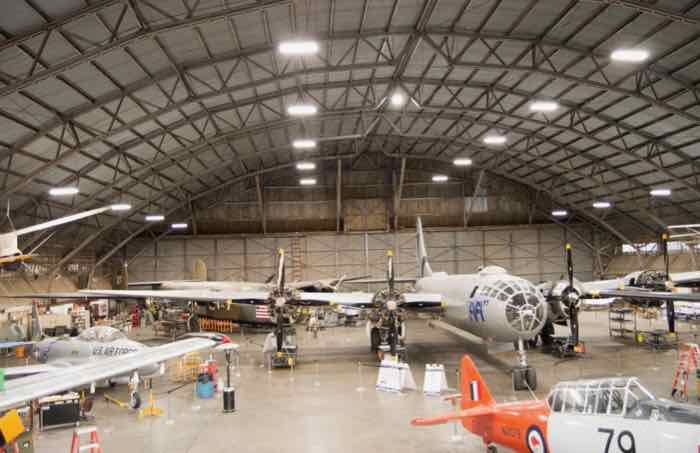 The Army Air Force built the hangar to accommodate B-29 bombers in the 1940s...
...years later it was disassembled and reconstructed at Meacham Field.
In 1990, the late William "Doc" Hospers and his wife Charlyn "Chuckie" Hospers purchased the hangar and started the Vintage Flying Museum.
For many years the hangar housed their prized B-17G Flying Fortress "Chuckie," which the couple purchased in 1979.
Exhibits and Hangar Partners

In addition to the VFM, three other nonprofit organizations are located in this hangar. The Commemorative Air Force (CAF) B-29/B-24 Squadron, the CAF Invader Squadron and the Greatest Generation Aircraft.

Commemorative Air Force (CAF) B-29/B-24 Squadron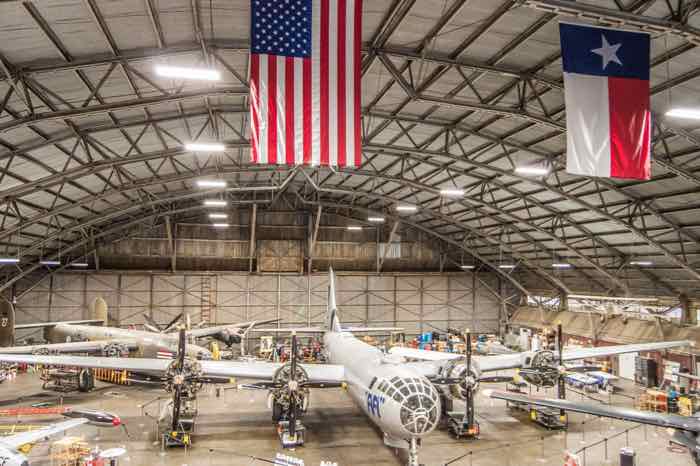 FIFI And Diamond Lil

Four years ago, the B-29 and the B-24A were relocated from the Cavanaugh Flight Museum in Addison, Texas, to the VFM.
Since then, annually thousands of VFM visitors get an up-close view of these historic aircraft...
"FIFI" one of only two flying B-29 Superfortresses and "Diamond Lil," one of only two flying B24 Liberators.


CAF Invader Squadron

A-26 Douglas Invader

The CAF Invader Squadron was formed in 2009 to restore an A-26 Douglas Invader.  They have over 75 members who volunteer to maintain and tour with the aircraft.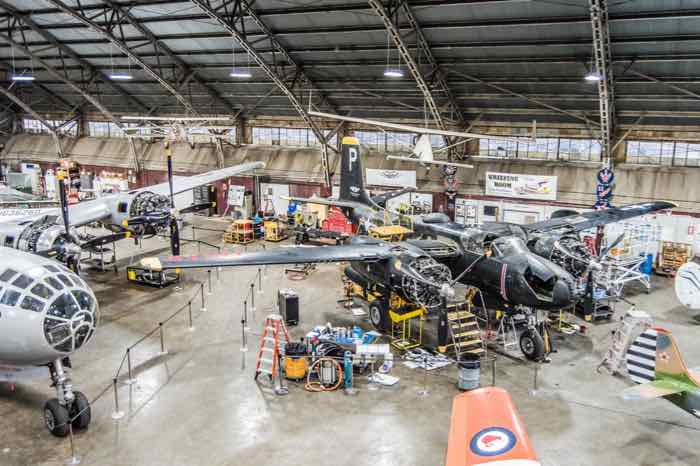 The A-26 Invader was the fastest twin-engine bomber of WWII and saw action in Korea and Vietnam.
This warbird honors the service of Capt. John Walmsely, Jr....
...an A-26 pilot who was KIA in Korea and posthumously awarded the Medal-of-Honor.


Greatest Generation Aircraft

The third organization is the Greatest Generation Aircraft, whose mission is to restore vintage aircraft to their wartime flying condition, and educate the public about the important role these aircraft made in American history.

Their Collection

Thirty unique vintage aircraft are on display at the VFM, including several that are extremely rare and historic. More information can be found on the Vintage Flying Museum website on display page.

About Their Lighting Upgrade

After 28 years, Chuckie, VFM director, knew that the hangar's lighting needed upgrading and turned to California-based Optec LED Lighting for a solution.

The hangar measures 160' x 200', far too large for the eight metal halide fixtures and a few fluorescent lights to properly illuminate. Because of this, the maintenance workers wore headlamps and used flash lights when working on the vintage aircraft. Additionally, the frequently burned out bulbs meant renting an expensive lift and navigating around parked planes.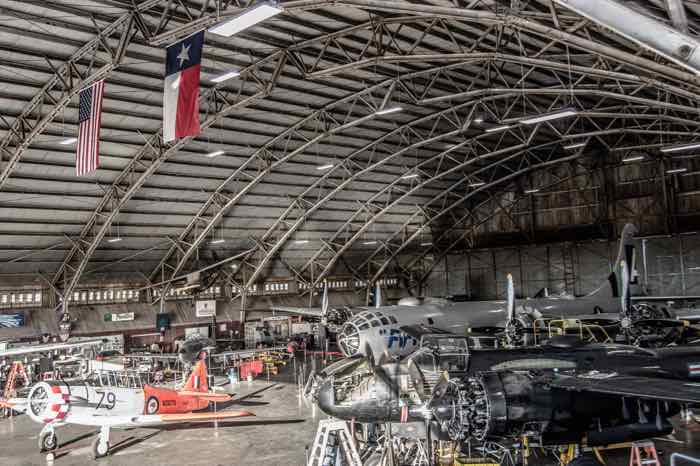 "With a 55' ceiling, the eight 400watt metal halide fixtures could not illuminate the space," commented Chuckie. "Additionally, the electricity costs were astronomical and the hangar's tenants were really complaining about the poor-quality lighting," she added.

Once the photometrics were complete, 28 220watt LED high bay luminaires were installed in the hangar and six 110watt LED high bay luminaires were added in the maintenance area.

Optec's LED high bay luminaires deliver much better light quality than the previous metal halide fixtures and make the VFM a much safer and uniformly lit facility for visitors, volunteers and maintenance workers.

Maintenance workers are seeing the benefits of the lighting upgrade because they no longer need flashlights, work-stand lights, or headlamps to work on the aircraft. The LED luminaires provide brighter illumination without any shadows, which the technicians noticed immediately.

"These LED luminaires are delivering superior efficiency and light output compared to the previous metal halide fixtures," said Chuckie. "The upgraded luminaires deliver crisp, uniform illumination across the entire hangar and, knowing how long these lights will last, we may not have to rent a lift for about 10 years," Chuckie continued.

Youth Programs

The museum is particularly proud of the aviation education program to engage youth and get them interested in aviation. Since 1993, the VFM, in collaboration with the Federal Aviation Administration, has been offering the Dallas/Fort Worth community a broad-based series of educational programs that include "Take Flight Days," a one-half day aviation experience for students.

Events

On October 20, 2018, more than 700 people danced the night away at the 28th annual Big Band Hangar Dance, which honors America's veterans. Displayed behind the band was the A-26 Special Kay, the only one flying in the world. Special Kay made its first flight in Fort Worth, Texas, in July 2017, after a six-and-a-half-year restoration. This aircraft was the final B-26K, a variant of the A-26 Invader improved and re-engineered by On Mark for service during the Vietnam War.

Hangar Dance attendees also had the opportunity to take an evening flight around downtown Fort Worth in a WWII C-47.

For More Information

For more information on the VFM, including becoming a member, please visit the Vintage Flying Museum website.
Jeff Gatzow is vice president of California-based Optec LED Lighting and may be reached at jgatzow@optec.com or 414-935-8483. Jeff has worked in the sign and lighting business for 29 years, the past five with Optec overseeing product development, sales/distribution and marketing. He is an active member of the Illuminating Engineering Society of North America (IESN).

Our Thanks!

We want to thank Jeff and the Vintage Flying Museum for letting us know about the hangar improvements and the great work that they're doing.  It takes more than a village to keep those great antique airplanes flying!

Find 'em, See 'em, Fly,'em! And have a great flight!
Judy and Mark
Curious about what other antique airplanes we've found? Search for more...

But... We'd love to have you share this page or comment on it...  Thanks