The Norwegian Aviation Museum
Way Up North In Bodø

In 2020, the COVID pandemic cancelled most air shows. Some, like Oshkosh, held virtual events. Some aviation museums are starting to reopen slowly. Hopefully people are busy in hangars restoring antique airplanes and readying them for when we can all get out and travel again.
It's no fun to be grounded when you want to fly and explore.
We have had a personal setback too, with some health issues slowing us down.  We don't have the time to check on which venues are still viable and which are things of the past.

So... Post COVID our advice is to check with each air show or museum to see if they are open and operating.  Stay safe.

When we learned there was a Norwegian Aviation Museum in Bodø we added a day to our train and boat tour of Norway just so we could see what they had.

Our plan was to take a train from Bergen to Oslo to Trondheim to Bodø…

That was a three day trip…

Then we caught the Hurtigruten for a cruise south back to Bergen…
Trains and boats...

But… we had to have time for an aviation museum… right?

Norwegian Aviation Museum Planes

Don't go thinking that an out of the way museum won't have much to see!  The Norwegian Aviation Museum had some terrific planes in their collection.
We're going to show you a few of our favorites, but they have many more... and they have some terrific historic photos and displays.
We have to apologize for the photography.  The lighting in the museum made photography difficult.  And one more thing… if you want to see larger photos, click on any of them to start a slide show.


Kjeller F.F.9 Kaje I - 1921

The Kjeller F.F.9 Kaje was a Norwegian-built trainer aircraft.  They were built by the Norwegian Army Air Service's aircraft manufacturer Kjeller Flyfabrikk. 

This aircraft was number two in the first batch of 10 which were Kaje I.  (Only 19 were ever built as Kaje I, II and III.) 
In 1933, this aircraft crashed into a lake.  The pilot lived, but the aircraft spent the next 75 years at the bottom of the lake. 
This restored Kaje I shows Norway's participation in aviation history at the beginning of the 1920s.

Sääski II - 1929

The V.L. Sääski II was a Finnish sport and training aircraft.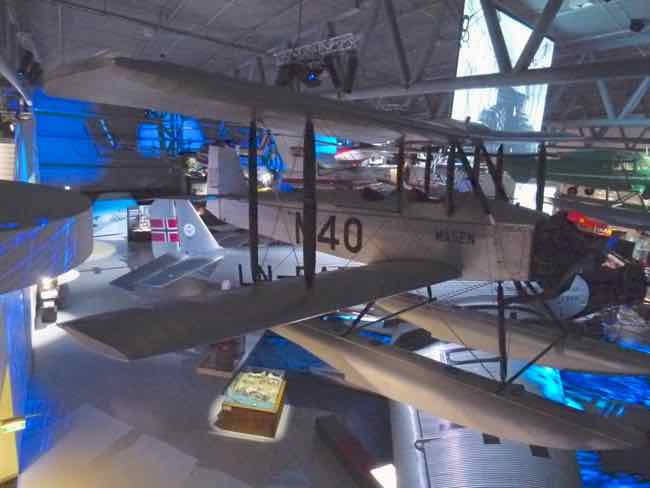 Now here's an interesting bit of aviation history…
Gidsken Jakobsen was Norway's second licensed female pilot.  The first plane she bought was a Sääski II.

She bought her Sääski II which she called "Måsen" in 1929 and ferried it back to Norway and begin her airline.

She was one of the first Norwegians to try to establish commercial aviation in Norway. 
She set up her own airline in 1932, and making her the first female head of a Scandinavian airline.  This is a replica of her plane.


Fokker CDV - 1931

The Fokker CDV was the world's first multi-role military aircraft, and it could be adapted to any military task by changing the upper wings and/or engine.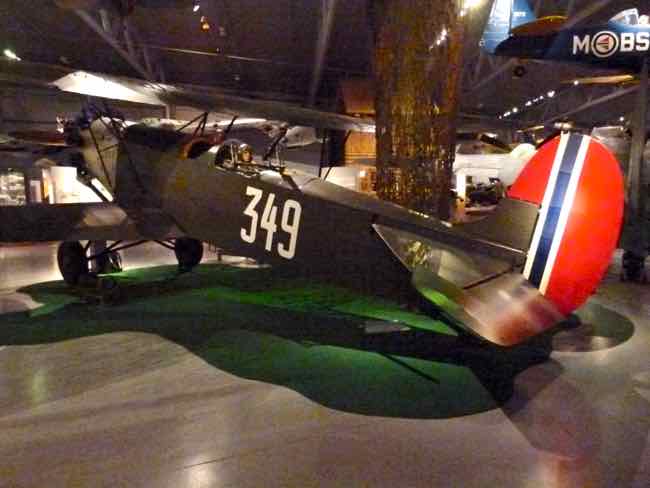 The Royal Norwegian Air Force Museum Fokker CVD "349" was Works number 133 at the Kjeller aircraft factory and was completed in 1931.

It carried out reconnaissance sorties in 1940, but then was evacuated to Sweden.  In 1949 it was presented back to the Royal Norwegian Air Force and restored.


Gloster Gladiator II - 1938

Biplane fighters were outdated from the middle of the 1930s… except for the Gloster Gladiator.  The Norwegian authorities ordered twelve Gloster Gladiators in 1937 in response to Germany's expansion plans.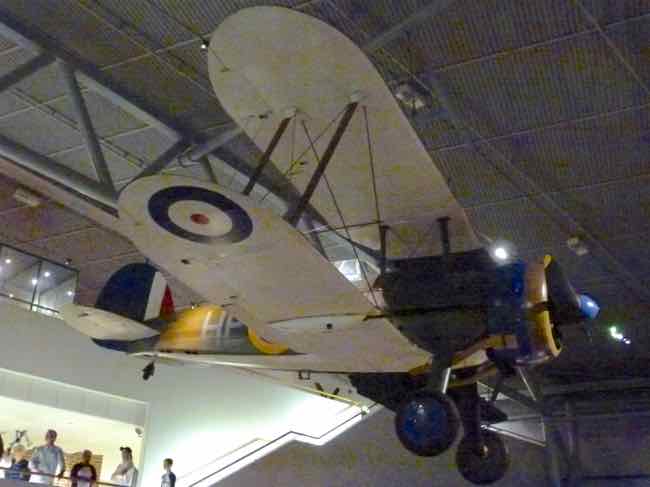 The museum's Gloster Gladiator was built in 1938. 
It crashed during combat operations against the Luftwaffe in 1940. 
It was left on ice when the British withdrew from Norway. 
Later it was dismantled and stored until it could be restored.

de Havilland DH 98 Mosquito - 1940
Prototypes for the Mosquito first flew in November 1940!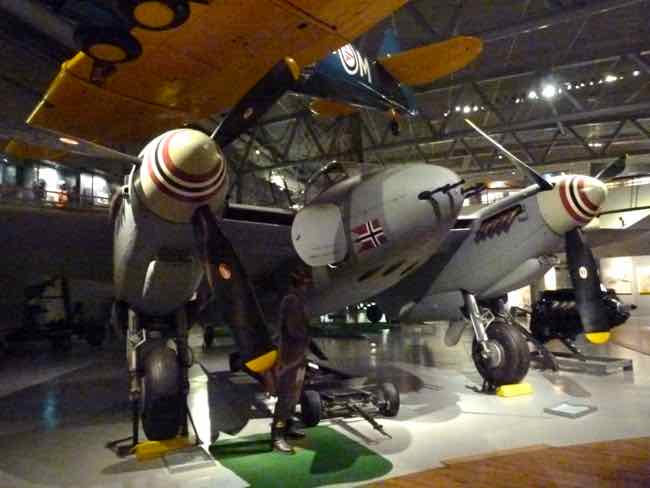 During WWII the Royal Norwegian Air Force was equipped with Mosquitos for reconnaissance along the Norwegian coast and for attacks on German shipping and U-boats on the surface.

This aircraft was built in 1946. 
It was obtained through an exchange with the RAF Museum.
Now it is painted in the Norwegian 333 Squadron's colors to convey Norwegian war history.


Hønningstad C5 Polar - 1948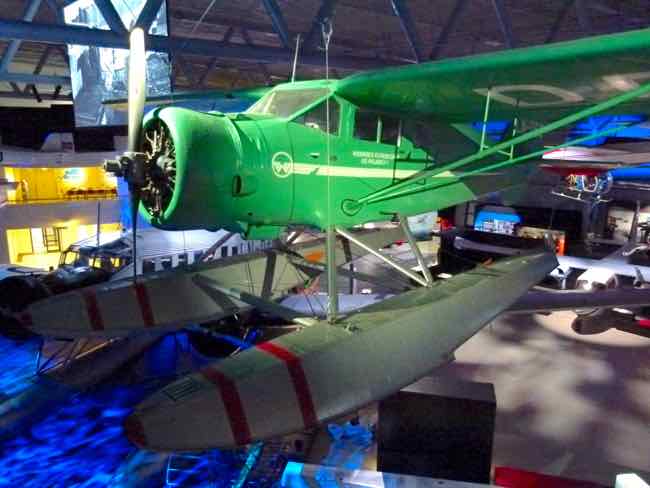 Hønningstad C5 Polar was a Norwegian ambulance and light transport aircraft specially adapted to Norwegian conditions. 
The aircraft was designed to use either wheels, skis or floats. 
There were two pilots and room for 5 passengers or 2 stretchers.


The aircraft was designed in 1938, but work was halted when war broke out, and production started again in 1947. 


North Of The Arctic Circle

Why is the Norwegian Aviation Museum... a national museum... so far north and away from population centers?  We don't know!  From what we've read, there was debate for decades, but in 1992, Bodø won. 
Bodø Air Base has been the biggest Air Force base in Norway since the 1960s. 
It was of strategic importance during the Cold War.  From 1958 until May 1, 1960 the USAF Lockheed U2 was stationed in Bodø.  May 1, 1960 is when Francis Gary Powers was shot down.
(There is a U2 in the museum, but if you think these pictures are dark… you don't want to see our photos of that black plane in that dark room!)

There is an aviation museum near Oslo.  We haven't been there yet.

The Norwegian Aviation Museum building is pretty unusual by itself.  It straddles the street called Olav V Gate.  The building is shaped like a propeller with the control tower at the center over the roadway.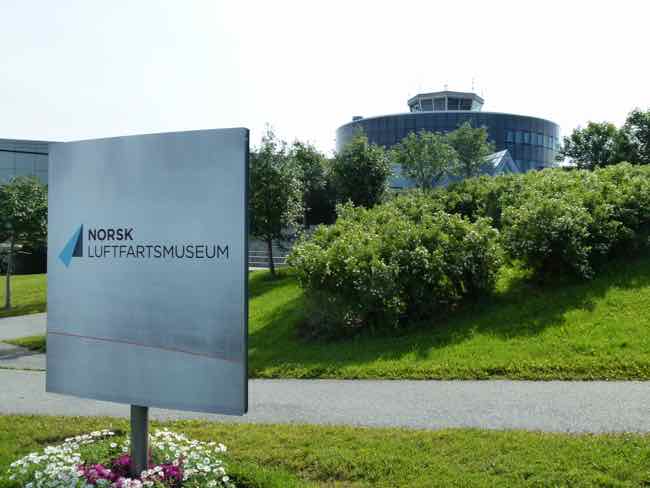 Museum Info

The Norwegian Aviation Museum is centrally situated in the city of Bodø in Nordland, North Norway.
Olav V gate
8004 BODOE
NORWAY
Telephone: + 47 75 50 78 50
Entrance tickets for adults are NOK 160 (about US$20.00 when we were there)

Find 'em, See 'em, Fly,'em! And have a great flight!
Judy and Mark
Curious about what other antique airplanes we've found? Search for more...

But... We'd love to have you share this page or comment on it...  Thanks