Riga Aviation Museum
A Heritage Of Russian (USSR) Planes
In 2020, the COVID pandemic cancelled most air shows. Some, like Oshkosh, held virtual events. Some aviation museums are starting to reopen slowly. Hopefully people are busy in hangars restoring antique airplanes and readying them for when we can all get out and travel again.
It's no fun to be grounded when you want to fly and explore.
We have had a personal setback too, with some health issues slowing us down.  We don't have the time to check on which venues are still viable and which are things of the past.

So... Post COVID our advice is to check with each air show or museum to see if they are open and operating.  Stay safe.

The Riga Aviation Museum isn't what you'd call a mothball fleet, but mothballs certainly come to mind.
It is an amazing collection considering it was a lonely effort.
The museum is pretty much the effort of one individual to chronicle the history of aviation during the time that Latvia was part of the U.S.S.R.
According to the website, the founder and permanent director is Victor Talpa.
Who knows what will happen to the collection if he leaves. He gets no support from the Latvian state...


...but after the breakup of the Soviet Union, the Riga Airport provided space for the collection of Russian aircraft.
On The Lookout For Planes On Vacation

We were on a driving trip to explore the Baltic countries.... Estonia, Lithuania and Latvia.
Mark always looks for aviation museums to visit when we travel, and Riga had one according to our guidebook.

Riga Aviation Museum - Large Soviet Aircraft Collection

That line on Riga Aviation Museum website that said, "It's collection of Soviet aircraft is one of the largest in Europe..."
That got him going. We were beginning and ending our trip in Riga, so surely we'd be able to slip in a visit. Our amiable travel buddies obliged him by visiting with us.
The aircraft are in rough condition, and the museum is not as large as some, but if you have a couple of hours, it's interesting.
Of course they had a MiG alley...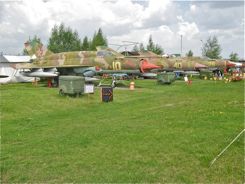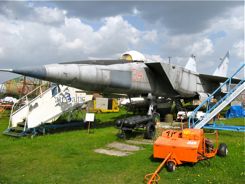 MiG-25RBS "Foxbat" (1972)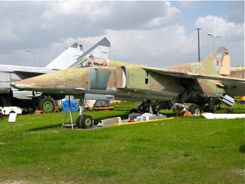 MiG-27 "Flogger" (1973)
Yaks And Tupolevs


There were Yaks and a Tupolev that Mark went nuts over....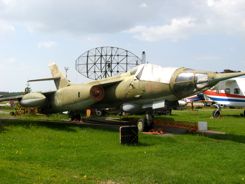 Yak-28R Recon (1963)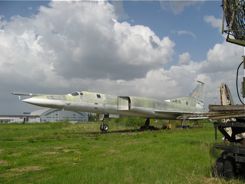 Tupolev Tu-22 Blinder
And a raft of helicopters....!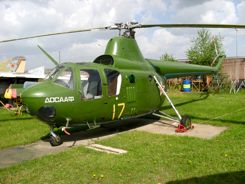 Mil Mi-1MU (1954)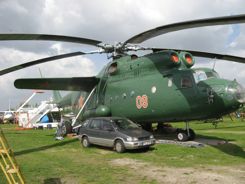 Mil Mi-6 "Hook" (1957)
About Getting In To The Museum

Some of the guide books say that the museum hours are irregular.
The tourist office told us that the hours were 9-5 daily.
I'd go with the irregular hours, but if you really want to visit stop by and give it a try. Don't give up when you see the gate closed and no signs of life.
It may look all closed up, but there is a buzzer at the entrance, and if you ring, you'll probably get in.
Patience now... It may take a few minutes.
We drove in.... and this guy who founded and runs the museum let us in. We parked in front of one of the helicopters.... a Mil Mi-4 (1952). It's one of the oldest there. You can just see the car behind it. That is right inside the gate.
Mil Mi-4 (1952)
Parking (And Language) Can Be Awkward

Ask him if you can park there... he may not volunteer this option, but there isn't really good parking in the area otherwise.
One other option is that you could walk to the museum from the airport.
Mr. Talpa doesn't speak a lot of English, but enough to be helpful. He is proud of his aircraft, and he runs a Young Pilots Club. It was an interesting experience, and worth an hour or two if you have the time. Here's the website.... Riga Aviation Museum.
Find 'em, See 'em, Fly,'em! And have a great flight!
Judy and Mark
Curious about what other antique airplanes we've found? Search for more...

But... We'd love to have you share this page or comment on it...  Thanks


Go from Riga Aviation Museum to Antique Airplanes Home Page