Duxford Has Antique Airplanes
In The Air And On The Ground
In 2020, the COVID pandemic cancelled most air shows. Some, like Oshkosh, held virtual events. Some aviation museums are starting to reopen slowly. Hopefully people are busy in hangars restoring antique airplanes and readying them for when we can all get out and travel again.
It's no fun to be grounded when you want to fly and explore.
We have had a personal setback too, with some health issues slowing us down.  We don't have the time to check on which venues are still viable and which are things of the past.

So... Post COVID our advice is to check with each air show or museum to see if they are open and operating.  Stay safe.

The airshows at England's Imperial War Museum Duxford are a real treat.
If you're planning a trip to England anyway...

Why not plan to spend a day at an airshow?
They have three major air shows a year (it used to be four)...
...and any one of them would probably let you see antique airplanes you've never seen before.
There are also some special events such as Spitfire Day and American Air Day.


In June 2019, the D-Day Squadron will lead an American fleet of historic, restored C-47 World War II military aircraft in Daks Over Normandy.  They will assemble in Duxford.  Read more about that great event.


Flying Legends At Duxford

Their July show is called their Flying Legends Airshow.... Legends such as Mustangs, Hurricanes, and Oh yea... Spitfires.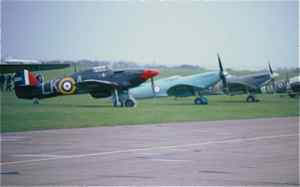 We've been to the museum and airshow a couple of times....


One memorable airshow was when they had 18 Spitfires on the ground...
...And had 16 of them fly by in formation during the airshow.
For Americans, Duxford offers the opportunity to see planes like a Gloster Gladiator, a Hawker Hind, and a Hawker Nimrod II.
Or what about the Junkers Ju-52, the Curtiss Hawk 75A-1, Hispano Aviacion Ha-1112-M1L Buchon (spanish version of BR109), and Yakovlev Yak-3UA.
They have a home built Bleriot, and they always have Spits and Hurricanes.


Years ago when we went, we got to see a Bristol Blenheim Bomber fly with a Westland Lysander.
Remember, these old planes sometimes are not flying for all kinds of reasons....
Antique airplanes are in and out of flying condition...
...depending mechanical problems and even the occasional...
ahh... mishap.
So what you see at any given show will depend on maintenance and restoration.

They had a couple of De Havilland Dragon Rapides, and at that time you could snag a ride in one of them, but we're not sure if that's an ongoing program.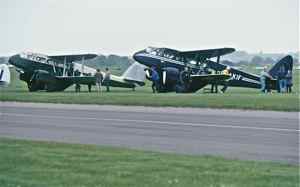 It's A Museum Too

The museum collection is housed in several buildings that can be visited at any time of the year.
History of the Airfield

The Airfield began its history during WW I.
In WW II it served first as a RAF Fighter Station that was used as a sector station during the Battle of Britain.
Later it was an American fighter base.
Some of the original RAF buildings are still scattered around, and they provide part of the unique atmosphere of Duxford.
In the 1960s, it was closed as an operational RAF station, and it was transformed through the efforts of many...evolving into what it is today.... One of the best air museums in England and the world.
There are several hangars housing historic aircraft.
The American Air Museum

The American Air Museum is a whole building dedicated to American fighters and bombers from WW II.

Information About the Museum and Airshows
The museum is open daily all year except for December 24, 25, 26.
The museum is quite spread out, so be prepared for a lot of walking.
There is food and drink available at the museum. On airshow days there is also the usual array of airshow food vendors as well as souvenir vendors of all the usual types.
Their airshows are in spring, early summer, late summer and fall. Check their website for details. Here's their page on Airshows.
Surf around for times and prices for airshows and for non-airshow days.
Getting Tickets

You can book airshow tickets in advance on their web site. In the past they said, if you're going to book in advance, they will mail the tickets to you, so you must purchase 7-10 days in advance so there will be enough time to get them to you.  Always check their website for the latest information.

Of course, you can purchase tickets the day of the show. They take credit cards as well as cash as you enter the parking lot.
Be prepared, ticket are expensive, but they are well worth it.... (£25 - 30 that's about $35 - 42 or € 33 - 45.
Discounts for seniors over 60. Advance purchases save 10%.) At least parking is free!
Where To Stay

There are plenty of hotels and B&Bs within a 30 minute drive of Duxford.
We have waited until we got there to arrange accommodations, but that's how we always travel...
For most people, we wouldn't recommend that. Better to make reservations for at least the night before and the night of the airshow, that way you can enjoy yourself and not worry about where you're going to sleep.
Where Is Duxford?

It's best to drive in.  The airfield is about 50 miles (80 km) from London just off the M11 motorway. It is just about 10 miles (16 km) south of Cambridge.
As with any big airshow, traffic will be directed to parking lots on airshow days.
If you're not up for driving in England, you might be able to arrange or find a tour.

Contact Information

You can contact them at:
Imperial War Museum Duxford
Cambridgeshire
CB22 4QR

Telephone: +44 (0)1223 835 000
Find 'em, See 'em, Fly,'em! And have a great flight!
Judy and Mark
Curious about what other antique airplanes we've found? Search for more...

But... We'd love to have you share this page or comment on it...  Thanks


Contact us if you have tips or suggestions
Go to Antique Airplanes Home Page