Planes of Fame Chino
Dedicated to Keep 'Em Flying
In 2020, the COVID pandemic cancelled most air shows. Some, like Oshkosh, held virtual events. Some aviation museums are starting to reopen slowly. Hopefully people are busy in hangars restoring antique airplanes and readying them for when we can all get out and travel again.
It's no fun to be grounded when you want to fly and explore.
We have had a personal setback too, with some health issues slowing us down.  We don't have the time to check on which venues are still viable and which are things of the past.

So... Post COVID our advice is to check with each air show or museum to see if they are open and operating.  Stay safe.

Planes of Fame at Chino California is a museum worth visiting on one of their monthly events.
These flying days are held on the first Saturday of the month.
You can check their website to see what planes are featured each month.
Generally they will fly an "appropriate aircraft"... and usually more than one.
You just never know what great antique airplanes you'll see flying.



What Kind Of Antique Airplanes?

Stroll through the buildings. A number of the aircraft are the only surviving examples of their type.
One of our favorites is the N9MB Flying Wing. Mark has always loved "wings". We donated a small amount of money to this project years and years ago and got to see it fly on its maiden flight after complete restoration.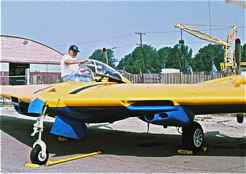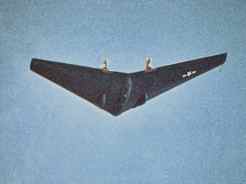 And she's still flying.  We generally see her when we go to Wings Over Camarillo.  She flies for some of the Chino shows and others around southern California.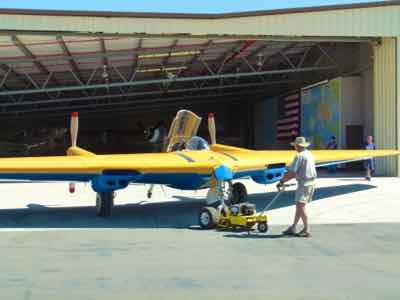 Some Interesting Japanese Planes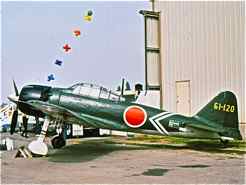 There are Japanese aircraft including a totally authentic flying Japanese Mitsubishi "Zero" fighter.
And they have other Japanese aircraft under restoration....
Like this Yokosuka D4Y Suiseu (Judy)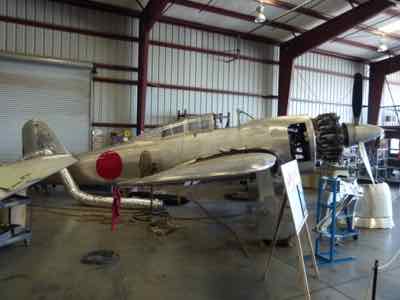 A Cat Flight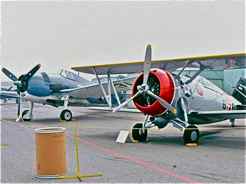 They also have a "cat flight" and occasionally put them in the air all together at the airshow....
so you can see a Grumman F4F Wildcat, a F6F Hellcat, and F7F-3N Tigercat and a F8F-2 Bearcat.
They also have an F3F-2 Flying Barrel that flies and a Grumman F9F-5P Panther on static display.
How's that for fun!


Several Buildings To Explore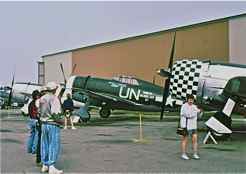 In hiding in the various building are about 150 aircraft.
They say that about 30 are flyable. And the warbirds are flown regularly.
They participate in airshows, especially their own airshow...
Their big annual Chino Air Show is usually in May.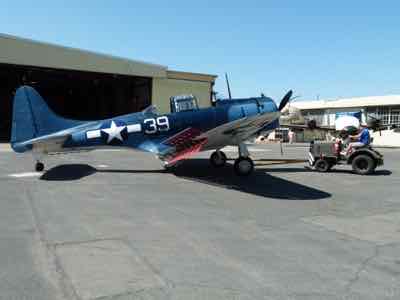 You can see planes fly at their monthly events, but you'll see lots in the air at the airshow. The Chino Air Show draws visiting aircraft as well as spectators, so you may see up to 50 aircraft flying throughout the day.
They are dedicated to keeping these historic aircraft flying and sharing their collection with the public. On many weekends you can see a all kinds of interesting groupings of old warbirds flying.

Where Is Planes of Fame?

It is located in Chino, California.  The museum is open 9-5 everyday except Thanksgiving and Christmas. Check their website for driving directions.
They have a sister facility in Arizona. On your way to the Grand Canyon National Park, stop in to see the Planes of Fame at the Grand Canyon Valle Airport.
I don't know about flying IN any of them... but Planes of Fame is a great place to find lots of antique airplanes and see them fly.
Find 'em, See 'em, Fly,'em! And have a great flight!
Judy and Mark
Curious about what other antique airplanes we've found? Search for more...

But... We'd love to have you share this page or comment on it...  Thanks


Go to Antique Airplanes Home Page