2014 Airplane Fun - Aviation Museums
North, South, East and West in the U.S.
In 2020, the COVID pandemic cancelled most air shows. Some, like Oshkosh, held virtual events. Some aviation museums are starting to reopen slowly. Hopefully people are busy in hangars restoring antique airplanes and readying them for when we can all get out and travel again.
It's no fun to be grounded when you want to fly and explore.
We have had a personal setback too, with some health issues slowing us down.  We don't have the time to check on which venues are still viable and which are things of the past.

So... Post COVID our advice is to check with each air show or museum to see if they are open and operating.  Stay safe.

We got off to a slow start for 2014 airplane fun, but we warmed up mid-year and finished strong finding lots of fun newly restored (or new to us!) antique airplanes to see.
The first part of the year was filled more with our adventure travels.  You can read about some of those over at Mousetours. 

We got going more on antique airplanes in the middle of the year…

I guess that's not too surprising because that's the best time to find air museums opening their hangars and having flying days and air shows.
We combined some of these by adding on to the end of longer trips abroad or squeezing in an air show or aviation museum when visiting friends.

What better way to find airplane fun any year? (Click for a slide show and larger photos.)

Military Aviation Museum
Virginia

This museum is just outside of Virginia Beach.  We had been to their World War I air show a couple of years ago.  We didn't write about that at the time, because shortly after our visit, there were rumors they might sell off the planes and close…. well, that didn't happen.  They're open and going strong. 
Our 2014 airplane fun started with their World War II Show - Warbirds Over the Beach.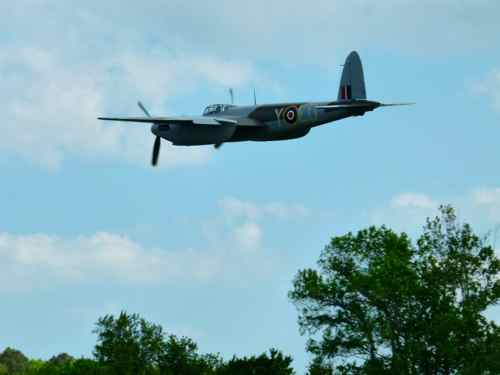 de Havilland DH-98 Mosquito
Mark was excited about this one because they were flying their newly restored Mosquito for the first time in public. 

When we arrived, so did a torrential rain storm…
We thought, Oh No… no air show. 
The Military Aviation Museum has a grass strip… not good if it gets too soggy. 

Fortunately, the rain fell mostly in Norfolk, and mostly missed Virginia Beach…. So we got to see the Mosquito…

They were also supposed to fly a ME 262.  It took off from another airport since it couldn't on the grass strip, but had radio problems, so it was not able to fly over the show.  Ah well, we'll have to wait a little longer to see one fly.


Flying Heritage Collection
Washington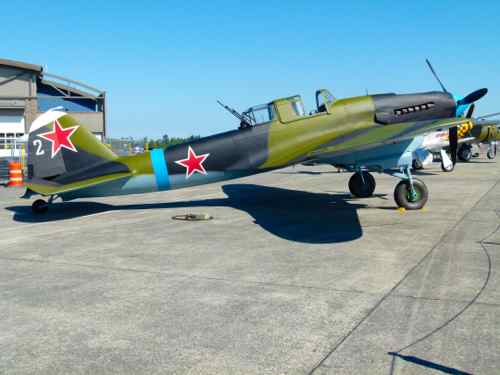 Ilyushin Il-2 Shturmovik
This is one of several places to see antique airplanes in Seattle. 
It was the 1st Annual Air & Ground Show that drew us to the Flying Heritage Collection…
And the fact that they were flying a Ilyushin Il-2 Shturmovik.  The only one in the world flying. 

Here's what we had to say about the FHC Skyfair.

They flew some other pretty cool warbirds, and they had an impressive demonstration of tanks running around their special "tank track".


Castle Air Museum Open Cockpit Day
California
Inside Convair B-36 Peacemaker
Mark had been talking about getting to the Castle Air Museum in central California for years. 
Twice a year they hold a special "Open Cockpit Day. 
Docents and Scouts man each of their planes so you can peer into the cockpits…
...or in the bigger planes, get up inside... BOTH cockpit levels in the case of the B-36. 

And it was their B-36 that Mark had always wanted to see from the inside… And here's what we saw.


San Diego Air and Space Museum
California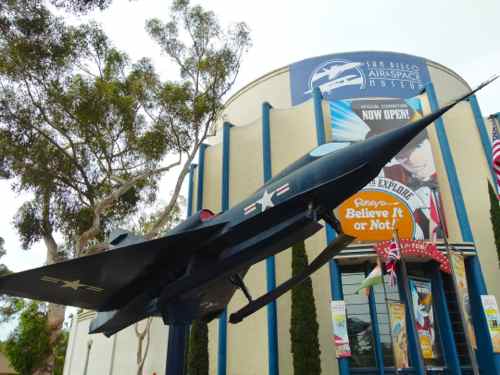 Convair YF2Y-1 Sea Dart

How's this Convair Sea Dart for a "museum guardian" (as opposed to a gate guardian, eh?) 
It's one of only three on display in the world, and here it is outside!

They not only had some great antique airplanes crammed into this museum...

...They had a great collection of photos and portraits of aviation pioneers, heroes, and historical figures in the history of flight.  We learned a lot just from those!

We didn't go aboard, but we did see the USS Midway Aircraft Carrier which had been a floating museum on the waterfront since 2004.  We'll have to wait for another visit to see their 29 restored aircraft.


Frontiers of Flight & CAF Air Power
Texas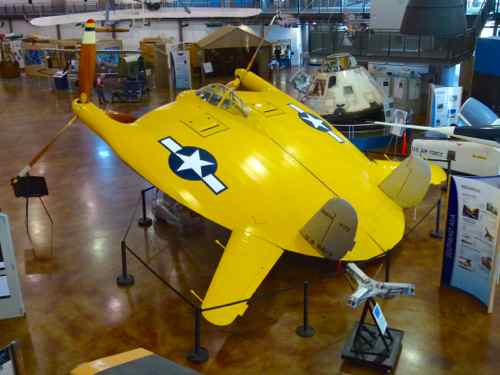 Chance Vought V-173 "Flying Pancake"
A flying pancake? 

That's what Mark wanted me to see.

And now I can see why it was called that. 

The Chance Vought V-173 "Flying Pancake" is a one of a kind aircraft. 

They have several other interesting antique airplanes.  
It's a great facility for kids with a whole section just for them to learn about flight.



2014 Airplane Fun And Other Interests

As we said at the top, the beginning of the year was more about our world adventures.  We also spent a weekend exploring trolleys and streetcars. 

But all in all we had lots of 2014 airplane fun.  Can't wait to see what next year brings!

Find 'em, See 'em, Fly,'em! And have a great flight!
Judy and Mark
Curious about what other antique airplanes we've found? Search for more...

But... We'd love to have you share this page or comment on it...  Thanks


Check out our 2013 Airplane Fun 
Return from 2014 Airplane Fun to Antique Airplanes Home Page