Cuban Classics...

Classic Cars - Not Antique Airplanes

In 2020, the COVID pandemic cancelled most air shows. Some, like Oshkosh, held virtual events. Some aviation museums are starting to reopen slowly. Hopefully people are busy in hangars restoring antique airplanes and readying them for when we can all get out and travel again.
It's no fun to be grounded when you want to fly and explore.
We have had a personal setback too, with some health issues slowing us down.  We don't have the time to check on which venues are still viable and which are things of the past.

So... Post COVID our advice is to check with each air show or museum to see if they are open and operating.  Stay safe.

When it comes to Cuban classics, we really have to talk about those beautiful old cars. 
Antique airplanes in Cuba?
Not so many...  Classic cars rule in Cuba!

When we went to Cuba, we were expecting a few of those old cars. 
We found WAY more of those Cuban classic cars than we expected. 

We were not expecting many antique airplanes…
...But there were a couple in the Museum of the Revolution that were worth photographing.
Let's Start With Antique Airplanes
The one real gem we found was in the Museum of the Revolution… A Vought OS2U Kingfisher.

There are only a handful of Kingfishers left. Most are on static display.  Some are under restoration in New Zealand and Australia. 

In the US, you can see examples at the National Naval Aviation Museum in Pensacola; at the Steven F. Udvar-Hazy Center at Dulles Airport in Washington DC; at Mobile, Alabama; and at Vought Aeronautics in Grand Prairie, Texas. 
The Yanks Air Museum in Chino, California has one in storage.
It was hard to get a clear photo, so let's give you one more angle.

The other plane that was exhibited at the Museum was a Hawker Sea Fury.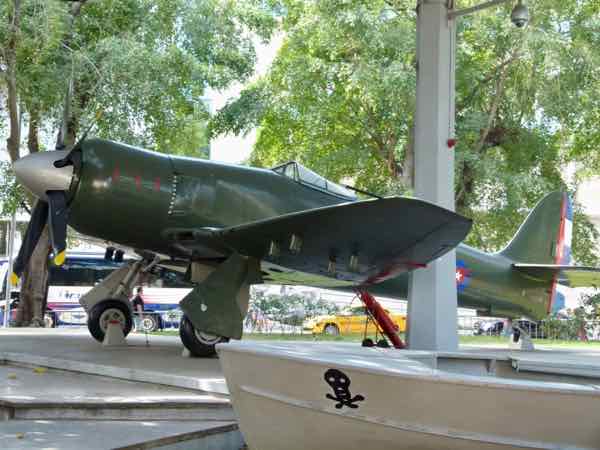 But
Cuban Classics Are All About The Cars
There are lots of cars from the 1940s, 1950s, and 1960s.  And they come in all kinds of colors... classic colors and neon colors and everything in between.

And let me tell you… those cars are beauties.  Some of them even look like they're about to take off with those fins!
When we're talking fins... we're talking 1950s. 
(All of these pictures will show up a little larger if you click on them.)

How about a 1957 Chevy Belair to cruise to the Plaza de la Revolution...

Or a 1957 Ford Fairlane 500 Sunliner to explore around El Capitolio in central Havana.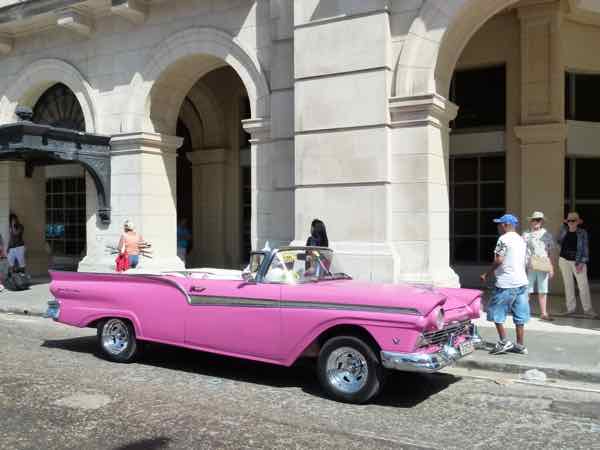 There are more of these restored cars driving around than we thought there would be.  Most are for hire as taxis... and from what we found, they were the same price as regular modern taxis.
Which would YOU take?
Maybe this great 1959 Impala to cruise along the Malecón...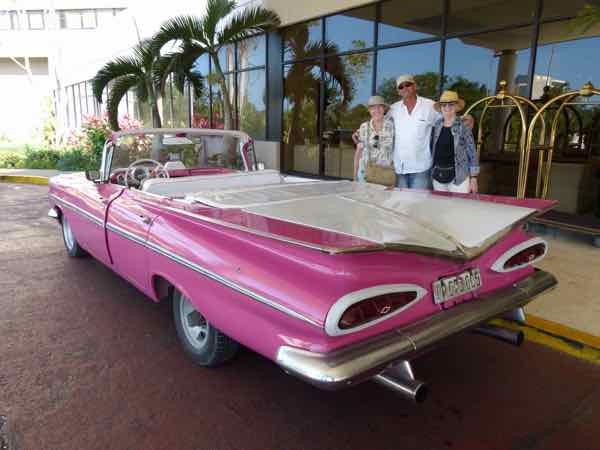 Or how about this 1959 Cadillac convertible...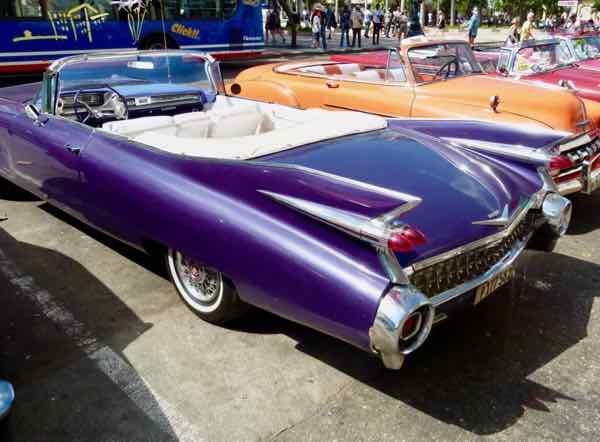 Even the tourist curios featured classic cars with fins!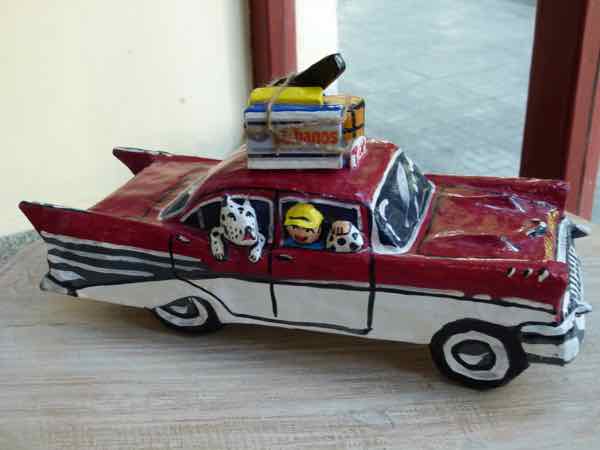 Happy Memories Of Those Old Cars
So if you go to Cuba…. don't expect to find many antique airplanes.
Bring back cigars and rum if you must. 
But ride in as many of those Cuban classic cars as you can.  It's great fun and makes for some great memories. 
We had a ball… and we have more on those rides over at Mousetours.com.  Enjoy!

Find 'em, See 'em, Fly,'em! And have a great flight!
Judy and Mark
Curious about what other antique airplanes we've found? Search for more...

But... We'd love to have you share this page or comment on it...  Thanks