La Ferte Alais Air Show
Le Temps des Hélices - Meeting Aerien
In 2020, the COVID pandemic cancelled most air shows. Some, like Oshkosh, held virtual events. Some aviation museums are starting to reopen slowly. Hopefully people are busy in hangars restoring antique airplanes and readying them for when we can all get out and travel again.
It's no fun to be grounded when you want to fly and explore.
We have had a personal setback too, with some health issues slowing us down.  We don't have the time to check on which venues are still viable and which are things of the past.

So... Post COVID our advice is to check with each air show or museum to see if they are open and operating.  Stay safe.

We had heard about La Ferte Alais Air Show in France for years before we could figure out when it was! That's partly because we were searching for it way before Google and Wikipedia.
The other reason is because the air show is during Whit Sunday week-end.
I don't know about you, but that's not something we ever thought about.

Whitsun or Whitsunday or Pentecost is observed 7 weeks (50 days) after Easter...
So this great French air show is always in Spring, but the dates move around.
We've got future airshow dates and directions to make it easy for you.

Where IS This Air Show?

Well, it's in France of course.  Sounds French doesn't it?  And they have some great antique airplanes you'll love to see.

The air show was started by the French aviator Jean-Baptiste Salis. He died in 1967, but his family and friends kept the air show going.
In 2010, they celebrated 40 years of air shows. We can tell you that if you're in France at the right time, it's an air show you really should try to get to.
The Aerodrome Cerny-La Ferte Alais is on a bluff overlooking French farmland.
The rough translation of the first sentence on their home page starts out... "The old wings don't like asphalt...." The aerodrome has only a 3000 foot grass strip. It's fun to see Spits and Hurricanes and Mustangs land and take off here. They do fly jets… and these are based out of Orly which isn't all that far away.


It is largely a tribute to French aviation. Remember, the French were always right in the mix in the early days of flying.
The fun thing for Americans (and since we are, we can say this) is that you see so many French antique airplanes that you just won't see at U.S. air shows.
The Bleriot XI only flies if conditions are absolutely perfect… We did see it fly one year. When we went in 2010, they started the engine, but decided there was just a little too much wind for it to fly. The most delicate antique airplanes stay in the hangar most of the time.
The planes that fly at the air show span aviation history from that Bleriot to modern military aircraft, though the emphasis is on early aviation....


Le Temps des Hélices, The Time of the propellers.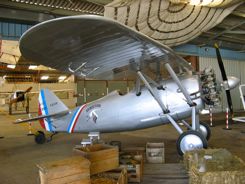 Dewoitine D-27-SA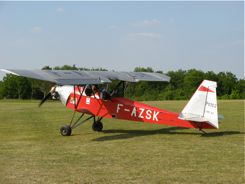 Potez Type 60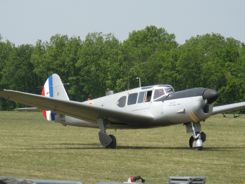 Nord 1101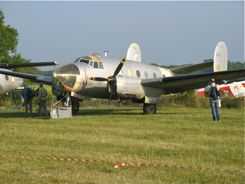 Dassault Flamant
The Nord still flies, but as with all antique airplanes, what flies one year may be out of commission the next. We saw Flamants and a Breguet 14 fly a few years ago…. they were not flying in 2010.... but the Dassault fighters were!
Dassault Rafales and Super Etendard fighters

Morane-Saulnier Planes

There are several great Morane-Saulnier planes that fly at the show… so many that we will do a separate page on them or we'll run out of room for pictures to temp you to take a trip to France for La Ferte Alais airshow.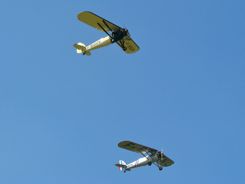 Morane-Saulnier MS 317s

Planes From Other Countries

French antique airplanes are the stars, but there are whole constellations of other planes... German, English, American, Belgian, Dutch and Spanish.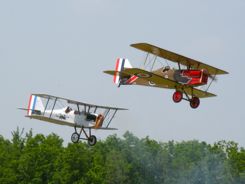 RAF SE-5A (Replicas)
Fokker DR-1 (Replicas)
| | |
| --- | --- |
| Supermarine Spitfire Mk LF Vb and Hispano HA-1112-M1L (Messerschmitt Bf-109) Buchon | Focke-Wulf Fw-190A-8N - Butcherbird |
Should You Stay There?

La Ferte Alais is a small town 50 km (31 miles) south of Paris.
You could stay in Paris and make it a day trip… it's about 45 minutes south of Paris IF you're staying at the southern part of Paris…. as in if you're staying at Orly.
Anywhere else, and you'll have to deal with Paris traffic… and those highways that ring Paris can be jammed up all weekend!
Where To Stay

There are a few hotels scattered in the small towns nearby. Most will take you about 20-30 minutes to get to La Ferte Alais… mostly because they are all two lane roads and they twist and turn through all the little towns. That is part of the charm of it… but you have to be prepared for that too.
In 1997 the management of the show was taken over by a commercial operation….. that means that some of the "down home" touches have gone away… we didn't find any wine tasting at the most recent show… and the entrance fees have gone up, but it is run efficiently and it is still lots of fun from our perspective.
Their official website is AJBS - Amicale Jean Baptiste Salis. Part of the information is in English, part is only in French. Remember, we collected some of the information for you - in English - on Meeting of Pentecost dates and directions.
We say... treat yourself to Paris and France in the springtime.... and plan it when you can spend a day at La Ferte Alais.
Find 'em, See 'em, Fly,'em! And have a great flight!
Judy and Mark
Curious about what other antique airplanes we've found? Search for more...

But... We'd love to have you share this page or comment on it...  Thanks


Go from La Ferte Alais to Antique Airplanes Home Page