Our Bamboo Bomber Flight Was Just Plane Fun
In 2020, the COVID pandemic cancelled most air shows. Some, like Oshkosh, held virtual events. Some aviation museums are starting to reopen slowly. Hopefully people are busy in hangars restoring antique airplanes and readying them for when we can all get out and travel again.
It's no fun to be grounded when you want to fly and explore.
We have had a personal setback too, with some health issues slowing us down.  We don't have the time to check on which venues are still viable and which are things of the past.

So... Post COVID our advice is to check with each air show or museum to see if they are open and operating.  Stay safe.

"I think I found a Bamboo Bomber".  That was the phone call we got from Mark's brother just after he had moved.  He was prowling around small airports in northern California.

Mark's response was, "I don't think so… there aren't all that many still flying."
They were both right.

There are only about ten or so Cessna T-50 Bobcats still around…

but…

There was indeed a Bamboo Bomber tucked away in the rural airport in Lincoln, California. 
Not only that… but this one is available for flights!
Yes, That's It!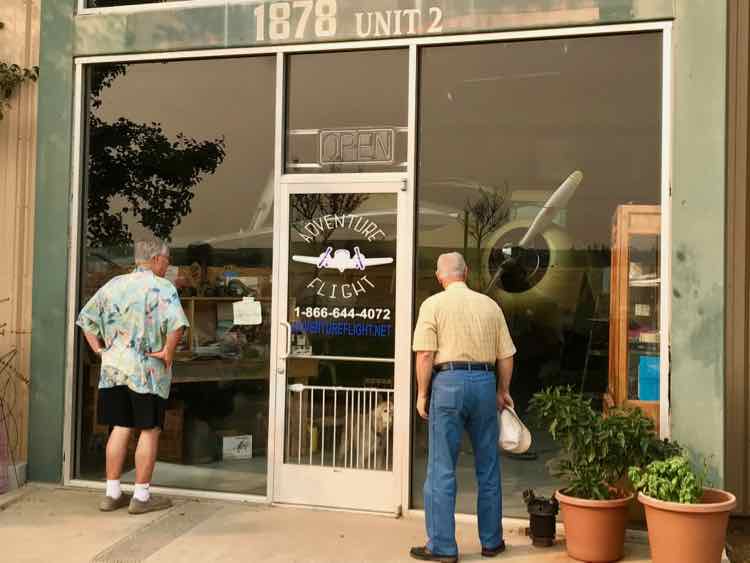 Peeking in the front door...

Do You Remember?
Sky King Flew A Bamboo Bomber

Now for those of you not old enough to remember… back in the 1950s there was a TV program called "Sky King". 
Uncle Sky didn't ride a horse… he flew his airplane to fight the bad guys.  The airplane he flew in the first year was a Cessna T-50… "The Songbird".
Well, when Mark found out there was one he could fly… he had to have a Sky King fantasy flight… so to speak.


Adventure Flight
That's where we got our flight. (Contact info below). The cool thing was the Bamboo Bomber wasn't the only great plane they have.  Getting the T-50 out of the hangar for our flight involved moving other planes.
First and easiest to get out were the little planes... that made room to maneuver the bigger planes...

Then they had to get the SNJ out to join the N3N on the ramp...

And FINALLY...
Here she comes out of the hangar
Ready?
Oh yea, we were ready...

Ready for passengers
We took Mark's brother with us too.

Fun To Fly In
Fire her up...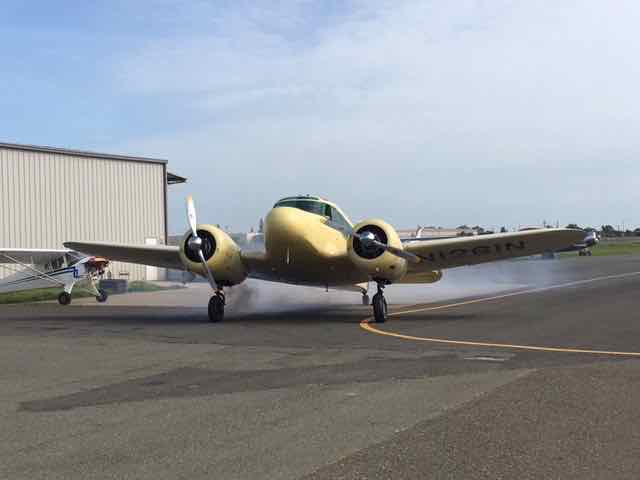 Starting engines
And fly out low and slow looking for cattle rustlers and broken fences just like Sky King did all those years ago...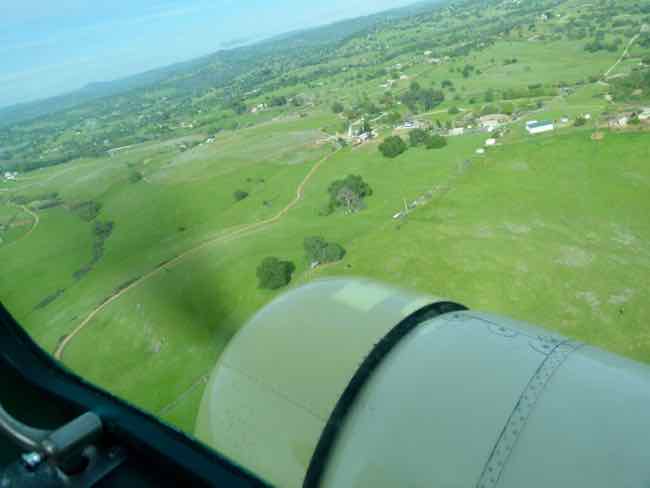 Flying Fun!
About The Cessna T-50
That was their official designation… A Cessna T-50 Bobcat. They were pressed into service as trainers during World War II. The military version was designated UC-78… and sometimes that name was twisted into "Useless 78". That's what Mark's Dad called them.

We've read they were called Bamboo Bombers because they were built of wood, plywood, steel tube and fabric.  (This plane was from 1942., and we heard that the Irish linen covering is from 1949... and it still looks great.)

There were over 5000 of them built, but only about 10 are still flying.  (Others may be under restoration.)

Here's a quote that made me giggle.  It's from the Cessna T-50/UC-78 Type Club website…

"This shrinking of the fleet can be traced to many factors: the aircraft's size (it can be difficult to hangar); general age and deterioration of the wooden airframes; a drastic change in fashion (even "Sky King" switched to the Cessna 310); and the hardships of maintenance."

About Adventure Flight
Andy and Laurie run a great operation.  They teach student pilots most of the day… they also offer aerobatics, tailwheel and warbird flight training…

…and later in the afternoon, they'll take you up in any one of their great airplanes. 

You can get details on their website adventureflight.net or find them at the little airport in Lincoln California.

1878 Flightline Dr. #2
Lincoln, CA 95648

866-644-4072

And let me just tell you… we had fun in the T-50 and we'll visit them again for more!

Find 'em, See 'em, Fly,'em! And have a great flight!
Judy and Mark
Curious about what other antique airplanes we've found? Search for more...

But... We'd love to have you share this page or comment on it...  Thanks