RAF Manston Spitfire And Hurricane Memorial Museum
In 2020, the COVID pandemic cancelled most air shows. Some, like Oshkosh, held virtual events. Some aviation museums are starting to reopen slowly. Hopefully people are busy in hangars restoring antique airplanes and readying them for when we can all get out and travel again.
It's no fun to be grounded when you want to fly and explore.
We have had a personal setback too, with some health issues slowing us down.  We don't have the time to check on which venues are still viable and which are things of the past.

So... Post COVID our advice is to check with each air show or museum to see if they are open and operating.  Stay safe.

The Spitfire and Hurricane Memorial Museum is one we only heard about when one of their volunteers contacted us.
We're more than happy to pass along their information.
Who doesn't love seeing a Spitfire or a Hurricane?
The museum is located at the RAF Manston in Kent in the South of England.
According to their site, Manston's air history dates back to the First World War.
During World War II Manston was the historic RAF Battle of Britain frontline airfield...
But let's let them tell it in their own words.  Here's the information they sent us.

RAF Manston Spitfire and Hurricane Memorial Museum
Description
The Museum is appropriately located on the historic site of Kent's most forward airbase during WW2 (only a short distance across the channel to the French coast)
Manston aerodrome provided a key fighter base for day time sorties over France.

Moreover, Manston aerodrome proved a vital key emergency landing base for damaged bomber aircrews returning from Europe.

The Spitfire & Hurricane Museum is a unique site.  It not only displays, up close, two of the most legendary and iconic war planes themselves but also a whole host of period objects and artefacts which help bring to life the story of the people at this most important time of our history. 
The deeds of the heroic pilots in the air and their support crews are also on display.

The actual Spitfire and Hurricane aircraft that form the centrepieces to the Museum's fine collection, are the real thing, restored fighters that actually took part in WW2. 

On Display

The Supermarine Spitfire Mk XV1 (LF) TB752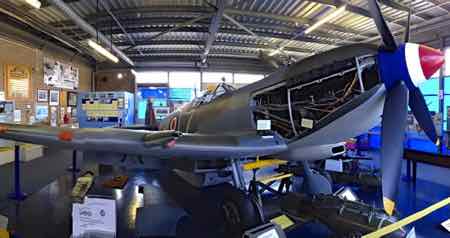 The Hawker Hurricane 11c   LF751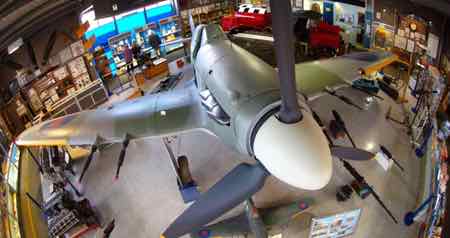 How To Find The Museum

Address
The Airfield, Manston Road,
Ramsgate, Kent, CT12 5DF

Getting There

By Car

by Satnav use Postcode : CT12 5DF
We are situated near to the airport terminal for Kent International Airport, signposted from the A299 Thanet Way. If travelling from London / Canterbury, follow signs on the A299 to Ramsgate until the Minster Roundabout. Turn left (signposted Manston / Airport) onto Minster Road. At the next roundabout, turn right onto B2190 Spitfire Way, continuing over a further roundabout, following the perimeter of the airport on your right, until you reach the junction. Turn right and immediately left onto Manston Road.

By Train

The nearest station is Ramsgate, with frequent services from London, Canterbury and Ashford. (From Ramsgate station the Museum is a short taxi ride (circa £6 one way)
Telephone
Call during Museum hours (44) 1 843 821 940

Opening Times

Open 7 days a week (10am to 4pm Winter time and 10am to 5pm Summer time)

There is also the Allied Air Crew Memorial Garden where all visitors are welcome to sit on the benches to relax and reflect in an evocative atmosphere.

The Museum also offers bespoke educational sessions and can accommodate group or coach bookings.

Information
    •    Open 7 days a week (apart from December 24th – January 2nd)

    •    Opening Hours; 10-4pm (British winter time) and 10-5pm (Summer)

    •    Phone;  (44) 1 1843 821 940

    •    Email; enquiries@spitfiremuseum.org.uk

    •    Web; www.spitfiremuseum.org.uk

    •    Donations are always much appreciated as we're a self-funding museum.


I don't know about you, but next time we're traveling around the Southeast of England, we'll be making a stop at the Spitfire and Hurricane Memorial Museum.

Find 'em, See 'em, Fly,'em! And have a great flight!
Judy and Mark
Curious about what other antique airplanes we've found? Search for more...

But... We'd love to have you share this page or comment on it...  Thanks