About Us, Our Travels
And the Antique Airplanes We've Found
In 2020, the COVID pandemic cancelled most air shows. Some, like Oshkosh, held virtual events. Some aviation museums are starting to reopen slowly. Hopefully people are busy in hangars restoring antique airplanes and readying them for when we can all get out and travel again.
It's no fun to be grounded when you want to fly and explore.
We have had a personal setback too, with some health issues slowing us down.  We don't have the time to check on which venues are still viable and which are things of the past.

So... Post COVID our advice is to check with each air show or museum to see if they are open and operating.  Stay safe.

If we tell you a little about us, you'll see why we love antique airplanes.
But this site isn't about us....Except to tell you about the planes we've found and where we've found them so far.

It's about those antique airplanes we all love, and the first thing we want to tell you is that we can't do this by ourselves.
All pilots love to talk about airplanes and flying....
We're hoping that you will contribute, tell us about your favorite vintage airplanes, airshows, and aircraft museums.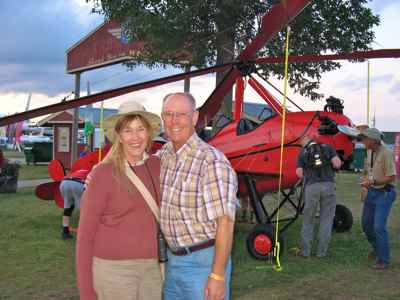 We love that we can share our finds with you here on this site. It's so much fun to share!

(The Pitcairn Autogyro is one of our favorite airplanes.)
Tell us where YOU'VE found antique airplanes.
Share your favorite flying story.   
Go to one of the "Your Contribution" pages and write a little something... it's easy and the next thing you know, you'll have a page up on the web.

Back To A Little About Us

About Mark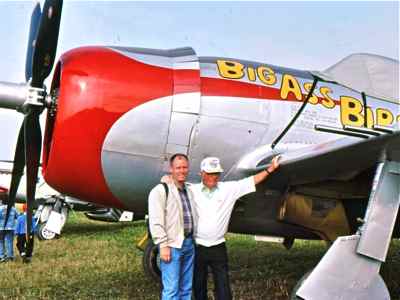 Love of antique airplanes... any airplane started when Mark was little because of his Pop.

Pop was a fighter pilot in World War II.  He actually flew many different planes, but his favorites were P-47 Thunderbolts and P-51 Mustangs.  He continued flying light aircraft in the years he raised his family.  The family room in Mark's childhood home had sectional aviation maps for wall paper.  Dozens of lovingly hand built models hung from his bedroom ceiling. 

Pop started him flying, and Mark studied Aeronautical Engineering in college and learned to fly with the college flying club. 

About Judy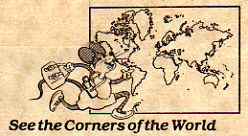 My passion has always been travel.... You can read about our travels at our first website MouseTours Travels.  We started roaming the world as a team when we got married over 40 years ago.

It wasn't hard for me to love airplanes too. 
When I was growing up, we had friends who flew... both the husband and wife... and she flew in Powder Puff Derbies and was a flight instructor and introduced us to flying in small planes.

Most of Our Friends Love Airplanes Too
Though never a commercial pilot, Mark does fly.  And it runs in the family.  My sister and her hubby are private pilots too.  (Read their story on the Cub to Oshkosh pages.)

An airline job kept Mark close to the planes he loved, and allowed us to search the world for them.

Some vintage airplanes are easy to find, and others take some persistence... and just let me say Mark is long on persistence.  He spends hours searching the net.... and he's not above picking up the phone and making calls to track down an elusive antique aircraft target... and as a result we seen and flown in some really rare and fun planes. 
We hope you enjoy your visit to our website... have fun reading about the planes and museums we've had time to write about.

About This Website

Interested in how we built this website?  I know you found our website because you love airplanes and you weren't looking for a web hosting company, but I love the one we chose all those years ago so here's the info on that if you're interested....

Yes, there was some time involved, but I have to tell you, we didn't have to learn anything technical (other than about the planes... and if you love planes, that part is fun).
Building the site was easy. Click on that plane on the right and see what a great company Solo Build It is... that's the company we've used.  If you want to learn a little bit more, I wrote a review of SBI over on our MouseTours.com website.

We actually make a little money from this site.  You can tell we spend more time traveling... visiting new countries and finding old airplanes than we do writing, so the site is not as much as it could be, but our sites more than pay for themselves.

Antique-Airplanes.com makes enough to visit an air show or two every year... and heck, it's even gotten us media passes on a few occasions... and that sometimes gets you closer to those antique airplanes!

We're looking forward to having more time to spend traveling and writing in retirement.  It's a great way to exercise your brain.  Some people worry about what they will do in retirement.  Solo Build It has given us something to retire to!
Were having so much fun with it that we encourage you... if you'd like to have a website about airplanes or any other hobby, go for it.

So now you know a little about us.  Remember what we said about needing your help... and send us your favorites. If you think you'd rather have a website of your own rather than just contributing a page on our site, check out the company we use to make this all so easy!
Whatever you do, keep on enjoying those planes. We will, that's for sure.
Find 'em, See 'em, Fly,'em! And have a great flight!
Judy and Mark
Curious about what other antique airplanes we've found? Search for more...

But... We'd love to have you share this page or comment on it...  Thanks


Go from About Us to Antique Airplanes Home Page