The Netherlands Aviodrome
Anthony Fokker and His Planes Star At This Museum
In 2020, the COVID pandemic cancelled most air shows. Some, like Oshkosh, held virtual events. Some aviation museums are starting to reopen slowly. Hopefully people are busy in hangars restoring antique airplanes and readying them for when we can all get out and travel again.
It's no fun to be grounded when you want to fly and explore.
We have had a personal setback too, with some health issues slowing us down.  We don't have the time to check on which venues are still viable and which are things of the past.

So... Post COVID our advice is to check with each air show or museum to see if they are open and operating.  Stay safe.

We had always wanted to visit The Netherlands Aviodrome, but we thought we had lost our chance.

Early in 2012, the museum went into bankruptcy, and it seemed like they might have to auction off their great collection of antique airplanes.

Oh NO!!

When a sponsor stepped forward to buy and save the Netherlands Aviodrome museum, we decided not to put it off any longer, so we headed to Amsterdam.


This great collection of antique airplanes used to be at Schiphol airport, but it moved to the little airport at Lelystad in 2003. About an hour from Amsterdam... at least that's about what it took us to drive from Schiphol Airport.

Most of the great old airplanes are inside the main building, but there are some nice planes in Hangar 2 and a few in the open air exhibit in between. One fun feature is a replica of the old Schiphol Airport Terminal Building as it looked in 1928.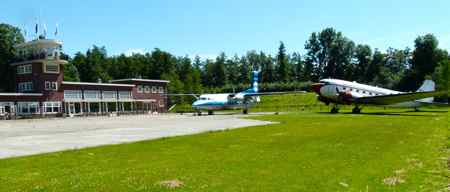 This isn't just a Dutch aviation museum for those of us who love antique airplanes. The official name is The Nationaal Luchtvaart-Themapark Aviodrome (the Netherlands Aviodrome for short). That means National Aviation Museum and Theme Park. The theme is aviation and aerospace, and there are lots of things to keep kids and families entertained.
Anthony Fokker - His First Plane Was the Spin

Anthony Fokker was Dutch, but lots of people don't realize that. He built and flew his first airplane, the Spin (Dutch for the Spider) in Holland.
Why Spin? Because all of those wires made it look like a giant spider. Twenty-five of these were built in 1912 and 1913, and used for pilot training. Can you imagine?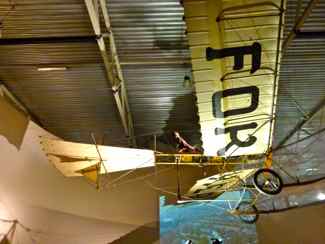 The Netherlands Aviodrome actually has two Spins in their collection.
One survived from the originals and was rebuilt in 1920. The other was built in 1936.
(These photos are both of the Spin inside the main building. The second was in Hangar 2 when we were there and even harder to photograph.)
Fokker soon moved to Germany, and Fokker aircraft are mostly associated with Germany because most of them were built there.

The Dutch, however, are proud of their aviation history, and have a great collection displayed with historical explanations in their main museum building.

There is a "pathway" through the museum that starts with balloons, a Bleriot and the Spin. The Wright Brothers are also honored with a replica of the Wright Flyer Type A (1909).


A Large Collection Of Fokker Aircraft
Fokker F.2 (replica)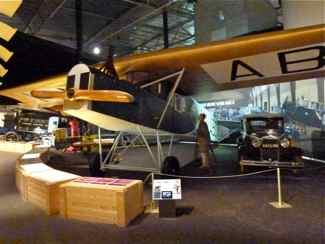 You know, we try to give you the proper designation for these planes, but sometime the letters and numbers are different even on the museum sites! This can be designed at the Fokker F.2 or Fokker F.II

Whichever way you designate it, it was the first commercial plane from the Fokker Aircraft Company.
This high wing monoplane started flying in 1919 vying successfully with bi-wing planes of the era.

Fokker F.7a
The Fokker F VII was a tri-motor... but don't get confused here. (...like I did!)
The F.VIIa (F.VIIa/1m) was a single engine version, made as a transport planes. The F.7a was slight larger than the F.7 with undercarriage and wing slight re-designed. They were built in the 1920s.
The cool thing about this one is that the Netherlands Aviodrome has an original... it is not a replica!


Fokker C.5D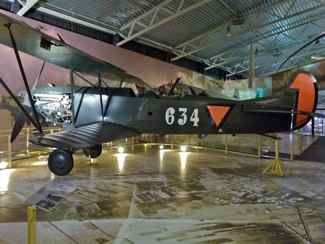 These Fokker C-5D were two seat biplanes that were mostly used as reconnaissance aircraft.
There were some that were used as light fighters and light bombers.
These also were built in the 1920s.
Fokker S.11 "Instructor"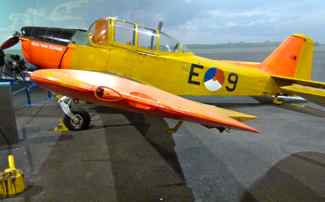 The Fokker S-11 Instructor is a single-engine two-seat aircraft.
It was designed right after WWII to be used as a primary trainer for pilots - I guess the "Instructor" name would tell you that, eh?

The Netherlands Aviodrome has four more of these, and we've heard that they fly them in formation at airshows. (We'll have to go looking for that.)


Fokker S-14 Machtrainer PH-XIV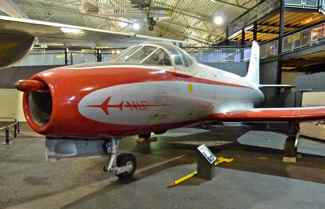 The Fokker S-14 was an early jet aircraft designed as a two seat military trainer.
Side by side seats made training easier. The aircraft wing design and size let it land at lower speeds than many other early jets, also facilitating training.
Fokker F.27 (with fuel tanks)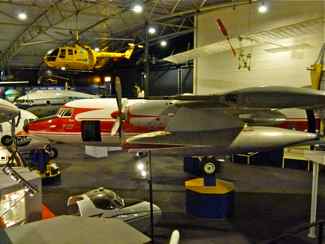 It's the "with fuel tanks" part that got Mark going here. He said he had never seen that before.
In general F-27 Friendships were built as turboprop airliners.
1928 Schiphol Terminal Replica and Outdoors

They have planes displayed out doors ranging from a DC3 to a 747. You and the kids can climb in and on many of them.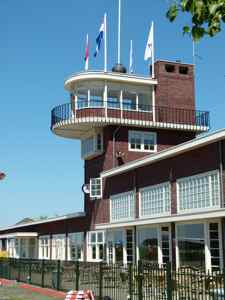 It's fun to walk through the replica of the Schipol Terminal building. They have the waiting room and luggage area furnished as it would have been in 1928. Look at the chalkboards for arrivals and departures and climb up into the tower.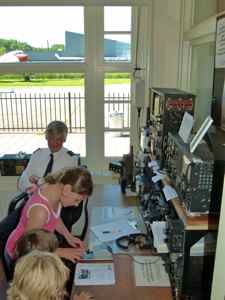 The radio room is open, and children of all ages can ask the radio operator how it all worked... and practice Morse Code.
Hangar 2
When we were there, Hangar 2 housed a Douglas DC 2 that we wanted to see. It's one of the last two in flyable condition. (We saw the other one a couple of years ago at Camarillo, CA and Oshkosh. It's in the Museum of Flight in Seattle now.)

There were the four Fokker Instructors that we think are used in flight demonstrations.

Their second Spin was hanging in a corner.

Hangar 2 is where they work on making aircraft airworthy again, so the planes aren't on permanent display. (One was a Piper J-3 Cub... and you know Cubs are a sentimental favorite of ours.)
Definitely worth a peek inside.


Directions, Prices and Times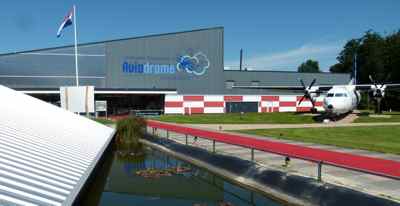 Directions:

From the Schipol Airport we drove "under" Amsterdam... going first on the A9 toward Amsterdam
--then to the A1 toward Almere/ Amersfoort and Arnhem,
--then to the A6 towards Almere and
--finally start following the signs to Lelystad. It is well marked.

You will get off on the N302, but you will see the sign for Lelystad Airport before you see the highway number. A couple of miles down the road, you'll turn right, then right again into the airport. Park in the pay parking lot... it is € 5 (Euros, about $6.50) to park and you pay for that when you buy your ticket.

We've read that it's possible to get to the Aviodrome without a car... it involves a train ride, transfer to a bus and a 10 minute walk. For us, renting the car was easier, and it gave us the opportunity to see other sights in the Netherlands.
Prices:

Prices when we were there were € 15.75 ($20.00) for adults and a couple of bucks less for children 3-11.

This is important to know... They were not accepting credit cards... it was cash only. That may have been because they were just coming out of bankruptcy. It may be different when you go, but have the cash just in case.
Food and Information:

There is a reasonably price snack bar/restaurant in the main building and there is a small book store.

Hours:

Opening hours are generally from 10:00 to 17:00 Tuesday though Sunday, but they are open some Mondays... check their website... It's in Dutch, but the prices and times are on the front page. (Look for it in Google and ask it to translate the page.)


A Bonus On the Field
Around the airport loop from the Netherlands Aviodrome, as a bonus you might be able to see the PBY 5A Catalina that the Dutch Friends of the Catalina have flying again. We watched a couple of engine run-ups, so we're assuming they are up and running. A really exciting thing is that they might be resuming their "Splash and Go" rides. Check their website for more details. Dutch again until they get the translation up.
Our summary? The Netherlands Aviodrome is definitely worth a visit. It can be a day trip from Amsterdam or part of a driving trip through the Netherlands.

Find 'em, See 'em, Fly,'em! And have a great flight!
Judy and Mark
Curious about what other antique airplanes we've found? Search for more...

But... We'd love to have you share this page or comment on it...  Thanks


Go from Netherlands Aviodrome to Antique Airplanes Home Page
Privacy and Legal Policy