Canadian Warplane Heritage Museum
In 2020, the COVID pandemic cancelled most air shows. Some, like Oshkosh, held virtual events. Some aviation museums are starting to reopen slowly. Hopefully people are busy in hangars restoring antique airplanes and readying them for when we can all get out and travel again.
It's no fun to be grounded when you want to fly and explore.
We have had a personal setback too, with some health issues slowing us down.  We don't have the time to check on which venues are still viable and which are things of the past.

So... Post COVID our advice is to check with each air show or museum to see if they are open and operating.  Stay safe.

We first heard about the Canadian Warplane Heritage Museum years ago at an air show in Geneseo, New York. The couple of years we attended, the Canadians brought some of their planes down... great planes at that.

We knew that if we ever took a trip up to Toronto, we'd have to stop by and see their collection.
It has a large collection of aircraft used by Canadians from the beginning of World War II up to the present.
Their collection includes great things that are hard to find "south of the border" so to speak...


Planes like a Westland Lysander, a Hurricane, a Spitfire and how about an...

Avro Lancaster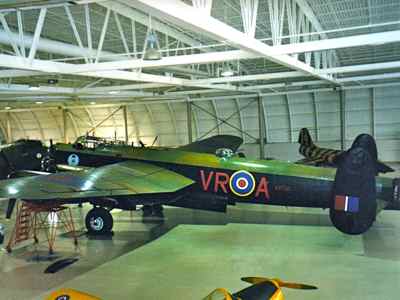 The aircraft mentioned above are all flyable as of this writing. We saw the Lysander along with the Lancaster, the Hurricane and the Spit at Oshkosh Airventure in 2009.

The Canadians have some older planes too. How about a de Havilland Tiger Moth, a Fleet Finch, and a reliable old Stearman PT-27 Kaydet.
Airplane buffs know, and you need to remember, that some familiar planes like AT-6s that are called Texans in the U.S. (or SNJs in the Navy) are called Harvards and Yales in Canada.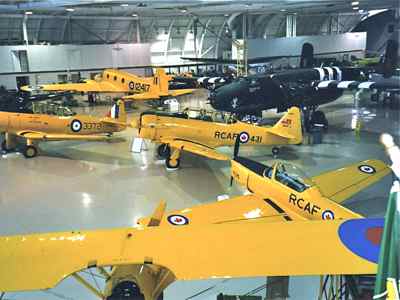 Many of the Museum's aircraft are flyable. Some visit air shows throughout the year. Their website (listed below) tells you to check the flying schedule to see which planes will be at the museum and which may be on tour.
This is in Ontario, about an hour from Toronto at Hamilton International Airport. They are open daily all year between 9 am and 5 pm. Closed only on Christmas and New Years Day.
Address:
9280 Airport Road
Mount Hope, Ontario
Canada L0R 1W0
(at the Hamiton International Airport)

Their information phone line is 1-877-347-3359 (that's 1-877-FIREFLY)
Would You Like To Fly In One?

If you become a member of the museum, you can upgrade your membership to include a ride in one of their warbirds!
They offer flights in the Boeing Stearman, North American Harvard, DC3 Dakota, Beech 18, Chipmunk, Cornell, Tigermoth, PBY Canso, B-25 Mitchell, Fairey Firefly, and even... are you ready... the Lancaster.... of course those big ones are going to cost you, but hey, where else can you fly in something like that?
Check their website for details... Canadian Warplane Heritage Museum
Find 'em, See 'em, Fly,'em! And have a great flight!
Judy and Mark
Curious about what other antique airplanes we've found? Search for more...

But... We'd love to have you share this page or comment on it...  Thanks


Go from Canadian Warplane Heritage Museum to Antique Airplanes Home Page