Vintage Wings of Canada Keeps Them Flying
In 2020, the COVID pandemic cancelled most air shows. Some, like Oshkosh, held virtual events. Some aviation museums are starting to reopen slowly. Hopefully people are busy in hangars restoring antique airplanes and readying them for when we can all get out and travel again.
It's no fun to be grounded when you want to fly and explore.
We have had a personal setback too, with some health issues slowing us down.  We don't have the time to check on which venues are still viable and which are things of the past.

So... Post COVID our advice is to check with each air show or museum to see if they are open and operating.  Stay safe.

Vintage Wings of Canada is not a museum in the most traditional sense of the word, but they have a terrific collection of historically significant aircraft that is tops by any standard. 
This being Canada, you can read and learn about them both in English and French… the name in French is Les Ailes d'Epoque du Canada.

They are located at the Gatineau Executive Airport across the river from Ottawa.

The more "traditional" aviation museum is in Ottawa…
The Canada Aviation and Space Museum is not to be missed, but that will be a page unto itself.


Vintage Wings of Canada is a not for profit, charitable organization with cool aircraft.


Their Collection

Most of their planes are World War II vintage and earlier.  Many of them are pretty uncommon.  They are beautifully restored and most are flyable.

They have a Hawker Hurricane and a Spitfire.  All of us love seeing those… right?
(Let me tell you here that all of these photos will open in a slide show and in a slightly larger size for your enjoyment... just click on any of them.)

Take a step back in time and they have a Westland Lysander and a Fleet Finch.  (As with all collections, planes sometimes come and go.  We have heard that the Lysander may have been sold to another collection.)

They also have a Mustang, a Fairy Swordfish, and a Tiger Moth among others... oh yea, and a Fox Moth... see THAT below.
They have terrific write-ups on all of their aircraft.  We have a link to their website at the bottom of the page, so check that out for more details.

When we were there, many of the planes were moved because they were hosting a Battle of Britain ceremony. Here are the Spitfire and the Hurricane ready for flight...

Yellow Wings - Les Avions Jaunes

This is where their motto comes in, "On the wings of history go the leaders of tomorrow."
Vintage Wings of Canada has developed a summer camp program to motivate and teach young Canadians.  The most deserving Cadets are selected to fly in a Yellow Wings aircraft with qualified volunteer Vintage Wings pilots.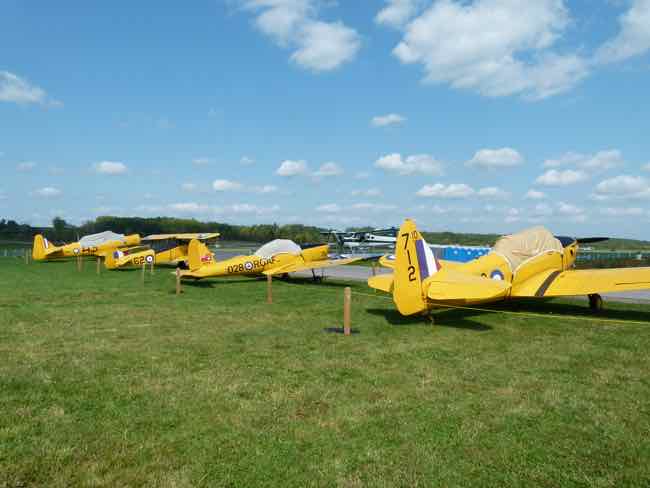 Vintage Wings of Canada Mission Statement

I love this published mission statement:
"Our mission is to acquire, restore, maintain and fly classic aircraft significant to the early history of powered flight...

It is our goal to inspire and educate future generations about the historical significance of our aviation heritage and to demonstrate that these aircraft are more than just metal, fabric, and wood artifacts.

We seek to keep the souls of these aircraft alive through the thundering sound of engines, the smell of leather, glycol, oil and sweat, as well as the laughter of their pilots as they dance with them in their natural element in the skies over Canada."

Why We Went

We visited Vintage Wings of Canada specifically to see one particular antique airplane.  We had little idea how terrific their collection was before we got there and how gracious they would be.

Let Me Tell You A Little Story

At Oshkosh one year, we met a woman at the 99s booth, and in conversation about all the great planes at Oshkosh, Mark mentioned that one plane on his bucket list was the de Havilland Fox Moth.
And she says, "My husband flies a Fox Moth!" 
Well, there aren't that many left.... and there certainly aren't many still flying.
That particular Fox Moth lives at the Gatineau Airport.  It is not in the hangar with the rest of the collection, but it is affiliated with Vintage Wings.
Well, one thing lead to another and off we went to Canada.

1932 de Havilland DH-83 Fox Moth
Some Assembly Required

If you're short on hangar space, the folding wings can be a plus.  This is how we first saw the Fox Moth.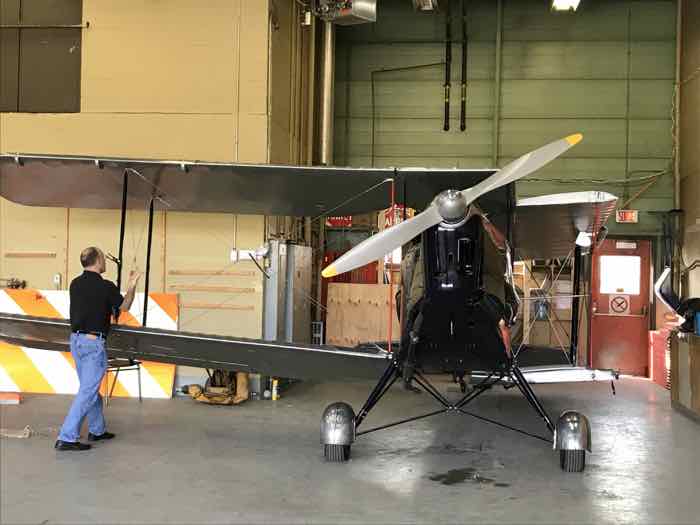 Of course, then every time you want to fly, you must unfold and secure the wings.

Comfort For Passengers Not For Pilot

The de Havilland Fox Moth evolved from the Tiger Moth.  The big improvement here was an enclosed passenger compartment.  Mark looks at this as the beginning of the aviation passenger service industry.

This particular Fox Moth has a royal history… its first owner was HRH Edward, Prince of Wales.  He owned it in 1932 and it was operated by the Royal Flight for about a year.  Check out the royal burgundy upholstery and "the King's Chair".  That chair faces backward looking at the pilot.

The pilot sat outside… behind and above the passengers.  See that oval at the top of the cockpit?  The pilot could see the passengers through there.  That porthole in the panel opens, and things can be passed back and forth between passengers and pilot.

A Joy To See In The Air

A perfect day for flying... and fly we did. One at a time for weight and balance these days...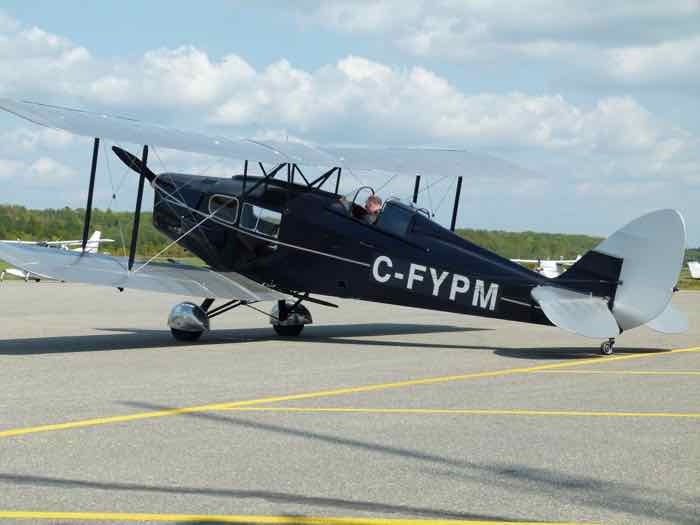 ...But that gave us great opportunities to get photos of that beautiful 1932 de Havilland DH-83 Fox Moth in flight!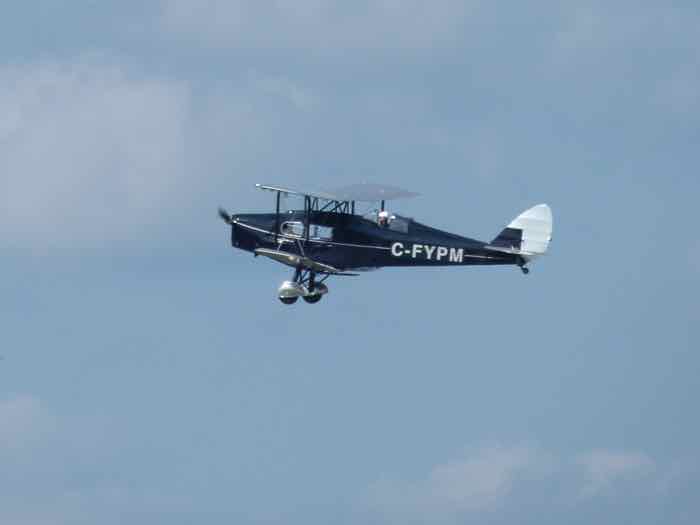 Visitor Information

Vintage Wings of Canada

Located at Gatineau-Ottawa Executive Airport, Quebec, Canada
1699 Rue Arthur Fecteau Street
Gatineau, Quebec, Canada, J8R 2Z9
Tel: 819-669-9603  

Their main hangar is open to the public most Saturdays from 9 am to 4 pm except holiday weekends.  (That's Canadian holiday weekends.)

As always, check their website for details and for up to date opening days and hours.

Weekday tours are available by appointment only.  If you are lucky and walk in on a weekday, you can tour if there is a docent present.

Admission fee is $10 Canadian.

Find 'em, See 'em, Fly,'em! And have a great flight!
Judy and Mark
Curious about what other antique airplanes we've found? Search for more...

But... We'd love to have you share this page or comment on it...  Thanks