WAAAM
Western Antique Aeroplane and Automobile Museum
In 2020, the COVID pandemic cancelled most air shows. Some, like Oshkosh, held virtual events. Some aviation museums are starting to reopen slowly. Hopefully people are busy in hangars restoring antique airplanes and readying them for when we can all get out and travel again.
It's no fun to be grounded when you want to fly and explore.
We have had a personal setback too, with some health issues slowing us down.  We don't have the time to check on which venues are still viable and which are things of the past.

So... Post COVID our advice is to check with each air show or museum to see if they are open and operating.  Stay safe.

Donna wrote to us about her favorite Air Museum... WAAAM.  The Western Antique Aeroplane and Automobile museum was one we hadn't heard of... that's why we ask you to tell us your favorites...

When we asked her to send more information, she graciously sent us the information and photos below. 
Well, I've got to tell you... the museum exceeded our expectations.  The museum staff has sent us some updates, and one of these days I'm going to get up a page with our photos because they have a fabulous collection.

What Donna told us:
WAAAM is truly a gem!
You asked for more information, so here it is...
The founder Terry Brandt wanted to make something lasting.
He had a personal collection of 42 flying antique aircraft and a few antique cars and military jeeps.
He has given that all away by starting a 501(c)3 non-profit museum...
What museum?
The Western Antique Aeroplane and Automobile Museum! That's a long name, so we've lovingly shortened to WAAAM.
1937 Aeronca LC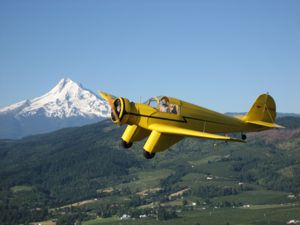 The Museum is staffed with Volunteers and is kept open with admission tickets, donations, memberships and gift shop sales. We receive no state or federal funding.
When you see what we have... you will be awed.
1928 Waco GXE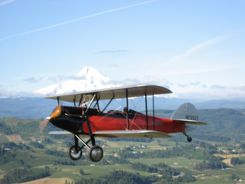 Aeronca C-3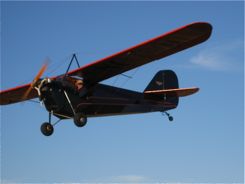 The time has flown by since September of 2007, when our museum opened its doors to the public during the Annual Hood River (Oregon) Fly-In. At that time the nearly 50,000 sq. ft. hanger, gift shop and offices was thought to be large enough to last a lifetime.
WAAAM Has Grown

By 2009 the museum had expanded again with another hangar the same size as the first. Two more additions were added in 2013 and 2016.
Now the museum totals over 3.5 acres of indoor display space with over 325 large objects that are kept in flying and driving condition.

About 97% of the aircraft are owned by the museum and about 2/3 of the automobiles. The others are on loan.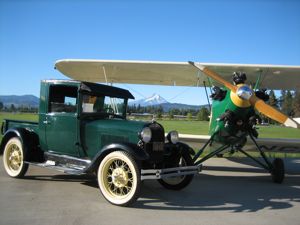 The Crown Jewel

Despite many wonderful aircraft, WAAAM considers it's 1917 Curtiss Jenny JN4D to be the crown jewel of the collection.

She is 95-97% original. Powered by a Curtiss 0X5 engine, it is one of the few aircraft that the powerplant and the airframe were built by the same company.... Curtiss.

The Museum restored the Jenny over a 2 and 1/2 year period and she flies!

When you get up close to our Jenny, notice the brush marks from the dope on the fabric and the way the rib tape was frayed. This was an effort in restoring the JN4 as it would have looked coming from the factory as there were no spray guns nor were there pinking shears! All of the fabric strips you see on the wings and fuselage were hand frayed by museum volunteers!
Antique Airplanes... But Old Cars and Motorcycles Too!

Currently, the oldest vehicle on display is a 1909 Franklin Model D. It's got an air-cooled engine and runs like a dream.
While much of the collection focuses on the 20s and 30s we couldn't help but also display autos of the 40s, 50s, and 60s too.
We've also got some fun old motorcycles... really old ones...

Here's our 1912 Indian.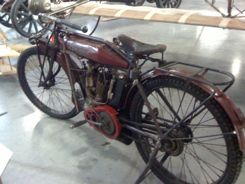 Back To Antique Airplanes

But this is a site all about antique airplanes so let's give you more on that...

People come from all over the world to visit the WAAAM Collection.
Some come for our OX-5 powered airplanes - we've got 11 on display including a WACO Nine, Command Aire, and Alexander Eaglerock.
Others love our airmail airplanes that feature some heavy hitting icons like the Boeing Model 40C, one of Varney's Stearman M-2 Speedmail airplanes, or a Western Express Stearman 4D Jr. Speedmail.
Perhaps it's the one and only Stearman Model 70 - the prototype to all the WWII Stearman Kaydet trainers.
1928 Stearman C3B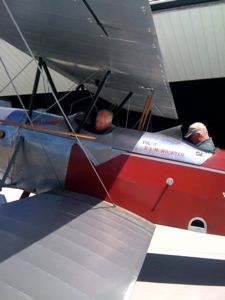 1928 Stearman and antique auto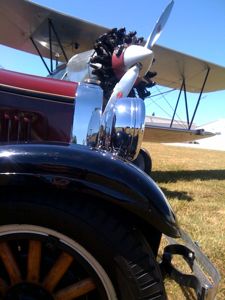 Of course there are Fairchilds, Birds, WACOs, Aeroncas and our Piper collection even starts with a Taylor E-2!

The best part about the whole thing?
Nearly everything on display is still flying and still driving and we'll even show you.
Come visit on the Second Saturday of any month and see what we take out for our action day. Experience a Model T get cranked up, our Steam Tractor rumble down the road (it only takes about 2 hours to get fired up), or other wonderful autos.
The Jenny could fly or maybe one of our WWII L-Birds or perhaps we'll lift off in one of our gliders like the Slingsby Petrel.

That's just the tip of the iceberg at WAAAM. See you there.


Where to Find the Museum

Located on the Hood River... just outside of the town of Hood River, OR look for Airport 4S2
Open: Everyday 9am-5pm (closed the three big holiday days)
Annual Hood River Fly-In... Always the Weekend After Labor Day.
Donna Davidson
Thanks!
And thanks to all the hard working volunteers.  We're so glad we visited.

Find 'em, See 'em, Fly,'em! And have a great flight!
Judy and Mark
Curious about what other antique airplanes we've found? Search for more...

But... We'd love to have you share this page or comment on it...  Thanks


Your Favorite Aviation Museum
Go from WAAAM to Antique Airplanes Home Page
Privacy and Legal Policy