Castle Air Museum

In 2020, the COVID pandemic cancelled most air shows. Some, like Oshkosh, held virtual events. Some aviation museums are starting to reopen slowly. Hopefully people are busy in hangars restoring antique airplanes and readying them for when we can all get out and travel again.
It's no fun to be grounded when you want to fly and explore.
We have had a personal setback too, with some health issues slowing us down.  We don't have the time to check on which venues are still viable and which are things of the past.

So... Post COVID our advice is to check with each air show or museum to see if they are open and operating.  Stay safe.

Castle Air Museum is one of those places that Mark has always, always, always wanted to go to ever since he heard about their "Open Cockpit Days". 

The museum sits on the edge of the old Castle Air Force Base in Atwater, California. 
The base was closed in 1996.

They have over 60 restored aircraft on the grounds ranging from WWII aircraft to the present…
...up to even the SR-71.

All Planes Are Static And Outdoors. 
The Museum's Visitor's Guide says, "These flying testimonials (i.e. to aviation history) have survived neglect and the salvage torch and remain as a history lesson to all who believe in freedom and democracy." 

Some of them are rather weathered, but the museum has a dedicated group of volunteers who try to restore them to look original if not flyable…. and keep them looking good.

They have WWII staples like a B-25 Mitchell, a B-17 Flying Fortress, and a B-24 Liberator.   We all know and love those.  There is a flying Mitchell hangared close by, and he did a flyover while we were there... always gotta love that!  Mark heard him coming before we ever saw him.
 
They also have some relatively rare WWII and pre-WWII planes like the Douglas B-18 Bolo (Bomber), the B-45 Tornado and the B-23 Dragon.  There are very few airframes of any of those left in the world... and there is certainly no place where you can climb up and peer inside.


Castle Air Museum Has Open Cockpit Days
That's where the peering inside happens.  These happen twice a year.  The volunteers and local Sea Scouts come out and open up most of the planes.  Because these planes are still officially owned by the Air Force, you can't actually SIT in the cockpit… but you can climb in or peer in depending on the size of the plane.
(Click on any of the photos for larger versions and a slideshow.)


Mark Wanted Inside The B-36
One big draw for Mark was the B-36 Peacemaker.

Convair B-36 Peacemaker
This plane is huge and pretty unique.  I mean, six radial propeller engines is pretty unique all by itself, but when they added a couple of jet engines to the end of each wing… that's pretty amazing. 
And I love the the slogan… "six turnin' and four burnin'"… can you see it in this picture?
B-36 Impressive from the front too
Climbing up to the flight deck
Ready to climb inside? 

There are only about 5 airframes left in the world. 

We've seen a couple of them at other museums, but here we had a chance to climb inside.
The flight deck was pressurized and linked to the rear compartment  by a pressurized tunnel though the bomb bay… you get to see that too.
And once you're inside, there are two levels to that flight compartment.
View for the nose bomber

A Few More Planes To Tempt You

Douglas B-18 Bolo Bomber

B-18 Bolo
The Douglas B-18 Bolo was built in the 1930s and was based on a DC-2!  They say this is the oldest aircraft in their collection.
 
They were underpowered and therefore relegated to antisubmarine or transport duty.  A B-18 was reportedly the first American aircraft to sink a U-Boat. 

Only five B-18s still exist.


Douglas Dragon B-23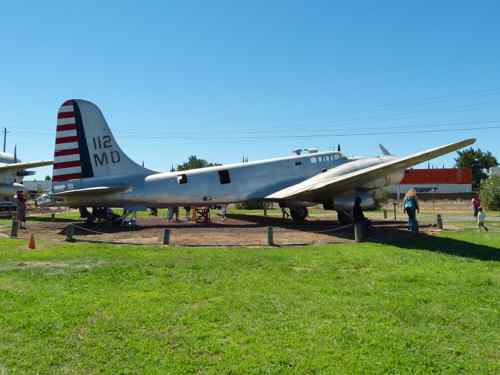 B-23 Dragon
Douglas Dragon B-23 started life in 1939 as a modified B-18 Bolo.  There were modifications to the fuselage and tail, more powerful engines and it was the first American bomber to have a tail gun. 

It was considered obsolete by the time it first flew, so only 38 aircraft were ever built.  There are 10 of these left at museums around the country.


North American B-45A Tornado
B-45 Tornado
The B-45 was the first jet bomber put into production.  It first served in 1948 and they flew until 1958. 

This aircraft was recovered in PIECES at the China Lake Naval Weapons Center and restored by volunteers at Castle. 
Only three B-45s have survived to the present.


British and Canadian Planes Too

Avro-Canada CF-100 MK V Canuck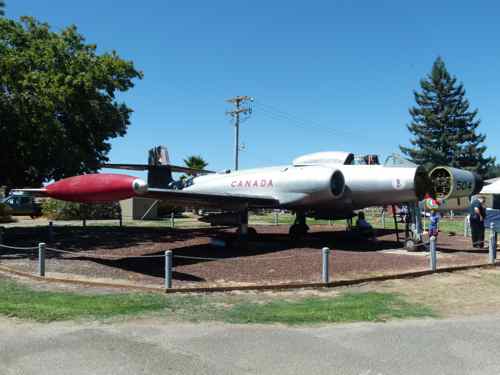 CF-100 Canuck
The Canuck CF-100 was the first aircraft entirely designed and built in Canada. 
The museum brochure says it was one of the largest fighters ever built.

The last ones were retired in 1981. 
This one was a gift of the Canadian government.

Avro Vulcan B.MK 2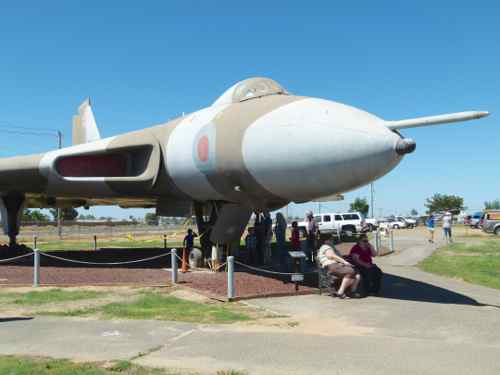 The Vulcan
Vulcan went into operation in 1952 and served with the RAF until 1980s.  It was the first bomber to use the delta wing. 

We went to see one fly in England a few years ago… boy did it scream when it took off! 
This aircraft arrived at the museum in 1981 and is on indefinite loan to the museum courtesy of Her Majesty's Government.


And Finally...

Lockheed SR-71 Blackbird

Developed by the Lockheed Skunk Works… you know… Clarence "Kelly" Johnson.  It was developed in the 1960s!

It operated high and fast, right? 
How fast?  It was so fast that Wikipedia says "if a surface-to-air missile launch was detected, the standard evasive action was simply to accelerate and outfly the missile." 
…That fast. 

Castle Air Museum Details
The Castle Air Museum Open Cockpit days are a special treat.
The open cockpit days are usually held on the Sunday of Memorial Day weekend and Labor Day weekend.  These two events are their main money raising events, so go and support them.
As we mentioned the Castle Air Museum is on the grounds of the old Castle Air Force Base.

Location:
5050 Santa Fe Drive
Atwater, California

Hours of Operation: 
—April through September 9am to 5 pm Daily
—October through markch 10 am to 4 pm Daily

Except they are closed New Year's Day, Easter, Thanksgiving and Christmas Day

See the Castle Air Museum website for more details. 

Find 'em, See 'em, Fly,'em! And have a great flight!
Judy and Mark
Curious about what other antique airplanes we've found? Search for more...

But... We'd love to have you share this page or comment on it...  Thanks


Return from Castle Air Museum to Home Page