Flying Heritage Collection Returns Planes To The Sky
In 2020, the COVID pandemic cancelled most air shows. Some, like Oshkosh, held virtual events. Some aviation museums are starting to reopen slowly. Hopefully people are busy in hangars restoring antique airplanes and readying them for when we can all get out and travel again.
It's no fun to be grounded when you want to fly and explore.
We have had a personal setback too, with some health issues slowing us down.  We don't have the time to check on which venues are still viable and which are things of the past.

So... Post COVID our advice is to check with each air show or museum to see if they are open and operating.  Stay safe.

I had been hearing about the Flying Heritage Collection for a few years now.  I knew we would get there some day.

Then I started hearing things like…

"The FHC is going to have an air show." 

"They have a Shturmovik."  

"They're gonna fly the Il-2 at the air show."

"It's the only one flying." 
"There aren't that many Shturmoviks… we saw one at Monino."


When you hear chatter like that, you just know there is a trip to Seattle and an air show in your future.  Not that it takes too much to convince me.  I love seeing them too.

So we went to the 1st Annual Air & Ground Show.  The Flying Heritage Collection is dedicated to finding, restoring planes from the 1930s and 40s AND returning to them to flying condition.


Yes They Have A Shturmovik and Yes It Flew
That's the plane that finally got us there, so let's start with that.
(Clicking on any photo will give you larger pictures and start a slide show.)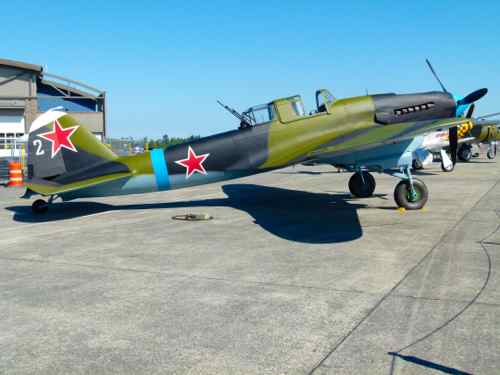 Ilyushin Il-2M3 Shturmovik
The Ilyushin Il-2 Shturmovik was a Russian ground attack aircraft in use during WWII. 

Have you heard of it? 

I have to admit... before this I had never heard of this
Il-2. 
(Mark knows way more about aircraft than I do, but I keep learning!) 

It was the single most produced military aircraft design in all of aviation history!  In fact it is the second most produced aircraft of all time right behind the Cessna 172.


An International Collection Of Planes
They have a great collection of planes from all over the world.... Britain, Germany, Japan and Russia.  Of course there are several great planes from the United States.  And a lot of them are pretty rare. 
Most of them are meticulously restored, many to flying condition.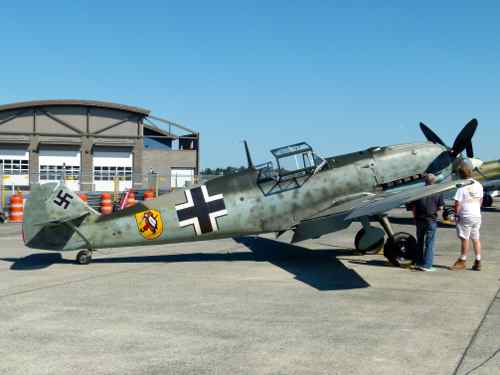 Messerschmitt Bf-109E-3
At least I had heard of this plane… but I thought it was called a Me109. 

I guess I'm not the only one who gets confused. 
I just read an interesting article about this. 
The Bf is for Bayerische Flugzeugwerke (BFW) of Germany. 
The 109 was designed by Willy Messerschmitt at BFW after his Messerschmitt Flugzeugbau company had merged with BFW.  At that time the Bf designation was used.

The company was later incorporated as Messerschmitt AG with Willy Messerschmitt as Chairman.  After this incorporation, the Me prefix was used. 

But apparently the two prefixes were used interchangeably at all levels within the Luftwaffe.  So take your pick.  Bf or Me… they are both right, 
...I think.  The museum calls theirs a Bf 109, so will we too.
(Feel free to comment on this...
Find a box at the bottom so we can all learn more.)

Supermarine Spitfire Mk.Vc
Spitfires are not extremely rare, but you don't see all that many of them in the U.S. 

The Spitfire was Britain's answer to the Messerschmitt Bf 109 (above). 

We just love seeing them and hearing those Merlin engines when they fly.
Not often you see TWO Zeros in a collection.  Neither of these flew at the air show, but one is in flying condition.
There are only seven surviving Oscars.  This one was restored to flying condition years ago, but is not currently flying.  This Japanese figher shot down more Allied aircraft than any other Japanese fighter.  In the last months of WWII, many of these were used for kamikaze missions.

The Russian Polikarpov U-2/Po-2 is another of those "most produced" planes.  This little biplane is number 10 on the list of most produced planes... right behind the Piper J-3 Cub. 

On their website, the Flying Heritage Collection says, "The PO-2 became famous as the aircraft flown by female Soviet pilots in their daring nighttime raids against German forces. The female pilots' tactics involved flying into position close to the ground, cutting off their engines and then gliding through a bombing run. They inflicted little damage, but demoralized the Germans by keeping them awake night after night, and by the fact that they were women." 
I love interesting little facts like that.  Interesting bit of history for such a funky little plane, eh?


Republic P-47D Thunderbolt
We did mention that there were several U.S. warbirds. 
The Thunderbolt is one of our personal favorites because Mark's Dad flew The Jug in WWII. 
He also flew other aircraft, but this was his favorite because of the heavy armor and the guns.



Here's A Twist - A Modern Pioneer Retires
The White Knight had just arrived at the Flying Heritage Collection when we visited.  This was the launch plane for Space Ship One…. a reusable, manned suborbital spacecraft.  Fun to get up close to it.

It's the Flying Heritage Collection…
                                        Let's See Them FLY!
The flight display was good.  One of the most interesting formations they flew had the Spitfire, the Shturmovik, and the Bf 109 together. 
Sorry we don't have a better camera, but maybe this photo will entice you to visit the FHC.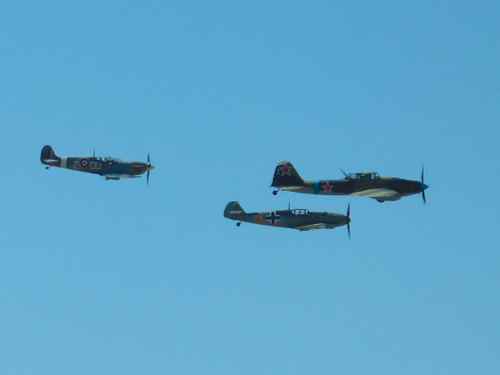 Spitfire, Bf-109, and the Shturmovik fly in formation

Where Are They and How Do You Get There?
Hours:  10:00am - 5:00pm
Seven days a week from Memorial Day to Labor Day
Six days a week - Tuesday through Sunday the rest of the year.
Closed Thanksgiving and Christmas.

Location:  They are at the southeast corner of Paine Field
3407 109th Street SW
Everett, WA 98204

This is about an hour north of Seattle by car…. there is free parking just outside the hangar facility. 
Oh, and there is always the option to fly in. 
See the FHC website for more details.

Find 'em, See 'em, Fly,'em! And have a great flight!
Judy and Mark
Curious about what other antique airplanes we've found? Search for more...

But... We'd love to have you share this page or comment on it...  Thanks


Return from Flying Heritage Collection to Home Page