North Cascades Vintage Aircraft Museum
In 2020, the COVID pandemic cancelled most air shows. Some, like Oshkosh, held virtual events. Some aviation museums are starting to reopen slowly. Hopefully people are busy in hangars restoring antique airplanes and readying them for when we can all get out and travel again.
It's no fun to be grounded when you want to fly and explore.
We have had a personal setback too, with some health issues slowing us down.  We don't have the time to check on which venues are still viable and which are things of the past.

So... Post COVID our advice is to check with each air show or museum to see if they are open and operating.  Stay safe.

Sorry to say we no longer can get in contact with this museum.  We never got there to see it in person.... We don't know what happened.  Perhaps another casualty of COVID.

Years ago, one of the volunteers at the North Cascades Vintage Aircraft Museum wrote. We'll leave it up for now, so we can all remember what we missed.

She sent more photos than we can put on our pages about "Your Favorite Aviation Museum" along with telling us about the museum, so we're giving it to you here.
We've set the photos up as a slide show with a bit more info on each plane... just click on any photo to see larger images.


Some History

The North Cascades Vintage Aircraft Museum was founded by Harold Hanson in 2008 a few years before his passing.  
By then what he had started in his youth as an aviation flying hobby had grown to a unique classic collection of flyable private aircraft of the 1930-1950's.  


As his collection of these art deco classics grew, so did the number of other vintage aviation enthusiasts who came to see them because they knew these were the aircraft their great-grandfathers, grandfathers, and fathers flew.


The Founder's Dream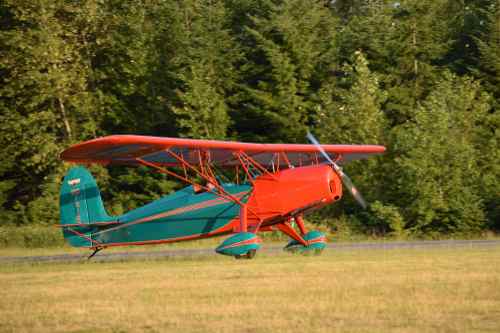 During Harold's day, the planes were being pushed aside or exchanged for the more high tech aircraft...
...or simply left abandoned.  
Harold, however, only saw their innovation and beauty.  
He wanted them restored to flight.
He wanted to ensure through it that their restoration, their history and the history of that era would never be forgotten, and that our vintage aviation heritage would never be lost…
Hence
Today's North Cascades Vintage Aircraft Museum
Where Is The Museum?

Today the museum operates out of six hangars at Mears Field (3W5) owned by the City of Concrete in the heart of Washington State's American Alps, the North Cascades National Park.

Our hangars include three main hangars and a restoration shop.
Each houses displays and aviation memorabilia.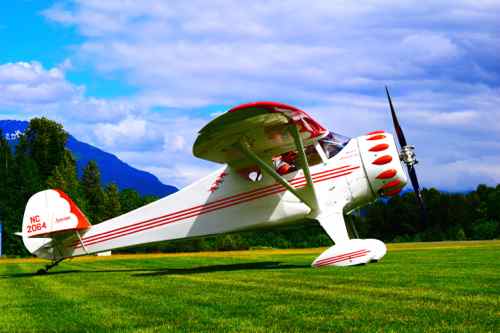 Our main hangar also features a small library with comfortable seating located on its main display floor where visitors are welcome to unwind and relax in the presence of our Ryan STA-Special and our Piper Tri-Pacer.


See The Restoration Hangar

Our restoration hangar is always an active and intriguing place.
Our 1929 Stinson Jr. is currently a strong focus of nationally-known curator, Jim Jenkins and his expert technical crew, Drew Jenkins and Brian White.
Our crew is anxious to finish our Stinson and get onto other projects including our 1937 WACO QCF, Stinson Reliant SR-9C and Bob Hall Springfield Bulldog.
So come on by and see how the restoration process works!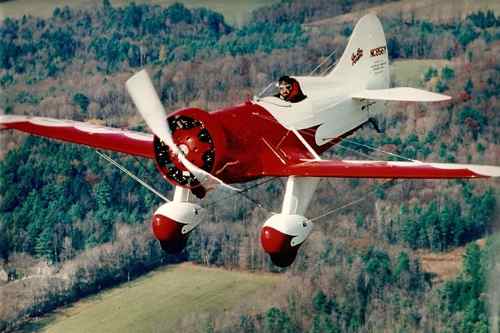 About The Facilities

The museum has also recently installed a fuel station at the airport and offers discounted self-service fuel for all NCVAM museum members.
A day membership is $5 and one year is $20.  (Always check the website for current information.)

Members have full access to all NCVAM facilities including our fuel station.

Come and check out our vintage aircraft, take a tour with our restoration experts or by yourself, and - weather & equipment permitting - even a vintage flight around our beautiful Cascades.

Directions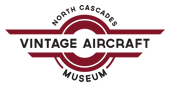 North Cascades Vintage Aircraft Museum
7879 South Superior Avenue #6
Concrete, WA 98237
(360) 770 - 4848  (This may not work any more.)

Thanks For Telling Us...

We want to thank the museum for letting us know about their collection. Loved the photos...  A cute bunch of tail-draggers in those photos, don't you think?  This was on our list for a visit... sorry we missed it.

Find 'em, See 'em, Fly,'em! And have a great flight!
Judy and Mark
Curious about what other antique airplanes we've found? Search for more...

But... We'd love to have you share this page or comment on it...  Thanks


Go to Antique-Airplanes Home Page