The Wright Brothers and
Their Wright Flyer
In 2020, the COVID pandemic cancelled most air shows. Some, like Oshkosh, held virtual events. Some aviation museums are starting to reopen slowly. Hopefully people are busy in hangars restoring antique airplanes and readying them for when we can all get out and travel again.
It's no fun to be grounded when you want to fly and explore.
We have had a personal setback too, with some health issues slowing us down.  We don't have the time to check on which venues are still viable and which are things of the past.

So... Post COVID our advice is to check with each air show or museum to see if they are open and operating.  Stay safe.

The Wright Brothers... their name goes hand in hand with early powered flight and antique aeroplanes.
Not a typo....
THEY called them aeroplanes...
They weren't antique at the time, they were on the cutting edge of technology.... were they ever!
You know they did all their early test flights in Kitty Hawk, North Carolina...
...and it's fun to make a "pilgrimage" to Kitty Hawk. We did...


The Wright Brothers In Dayton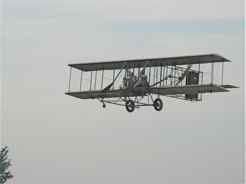 Wright B Flyer with Judy on board
...But Dayton, Ohio has to be on your "must see" list if you're interested in aviation history.
There is, of course, the National Museum of the United States Air Force...
But the Orville and Wilbur Wright lived and worked here...
You can visit many of the significant areas.
Tour one of the bicycle shops where they learned to build aeroplanes.

See the house where they lived.

Visit Huffman Prairie Flying Field where they tested airplanes after their successful flight at Kitty Hawk.
Pay tribute at the Wright Brothers Memorial

You can find out about all these historic sites from most guide books....
But when we started this antique airplanes site, we said we were going to help you find 'em, see 'em, fly 'em....

The Wright "B" Flyer Organization
So... You need to know about the dedicated folks at The Wright B Flyer organization.
They are a non-profit corporation dedicated "to the preservation and re-enactment of the historic achievements of aviation."
They have what they call a look-a-like aircraft (rather than a replica) of the Wright "B" Flyer (also known as the Wright-Brother's Model B Military Flyer.)  There were two, and they are working to get back to that.... see the story at Wright B Flyer lookalike.
They take it to air shows on occasion. You can find them at a Dayton-Wright Brothers Airport just a few miles south of Dayton. The aircraft reside in a hangar there:
10550 Springboro Pike
Miamisburg, Ohio 45432
Phone: (937) 885-2327
E-mail: wbflyer@dayton.net

The museum (basically the hangar) is open Tuesdays, Thursdays, and Saturdays from 9:00 AM to 2:30 PM. You can visit at other times by appointment. It is free of charge, but they willingly accept (and need) your donations. You can also become a member of their organization.

Flying In The Wright B Flyer Lookalike

Judy ready for flight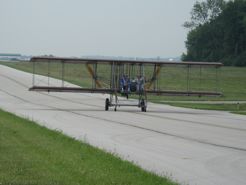 Mark on take-off roll

They sometimes take adventurous passengers on a short flight... "A brief orientation flight is available for Wright "B" Flyer Honorary Aviator Members."
A short flight... short as in just lift off, fly down the runway and land... no turns for passengers due to insurance purposes.
You only get up to about 65 feet, but let me tell you, when you are sitting on that wing, it seems like you're much higher.
(You're really in a seat, but it FEELS like you're sitting on the wing! Think flying in a lawn chair.)
You should contact them to see when they might be flying it and make arrangements ahead if you want to try for the flight like we did.
We can tell you that will be a thrill and you'll get a certificate...
        ...complete with a toothpick to get the bugs out of your teeth!
Visit them in cyberspace... The Wright B Flyer Organization
More sites to check about the Wright Brothers and Dayton, Ohio....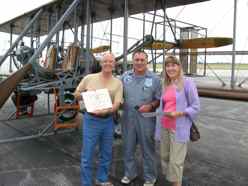 We get the certificate and the toothpick!
Whether you want to learn about Orville and Wilbur themselves..
...the early days of antique airplanes...
...or the latest aircraft...
Dayton and the surrounding area is a great place to see a broad range of them all.
Find 'em, See 'em, Fly,'em! And have a great flight!
Judy and Mark
Curious about what other antique airplanes we've found? Search for more...

But... We'd love to have you share this page or comment on it...  Thanks