2021 Airplane Fun
You Can Always Find Airplanes
In 2020, the COVID pandemic cancelled most air shows. Some, like Oshkosh, held virtual events. Some aviation museums are starting to reopen slowly. Hopefully people are busy in hangars restoring antique airplanes and readying them for when we can all get out and travel again.
It's no fun to be grounded when you want to fly and explore.
We have had a personal setback too, with some health issues slowing us down.  We don't have the time to check on which venues are still viable and which are things of the past.

So... Post COVID our advice is to check with each air show or museum to see if they are open and operating.  Stay safe.

Our 2021 airplane fun looked like it was going to be limited by that dratted COVID virus again…

But here's the thing… if you just start looking up, you can always find airplanes!

We were excited by some of the space flights taken by the private sector. 
We love antique airplanes, but any kind of flight captures our imagination.

2021 Airplane Fun Road Trips

Yep, that's how it started out.  In early spring as it was looking bleak for travel in general, we took off on a road trip to visit friends in San Diego.
Southern California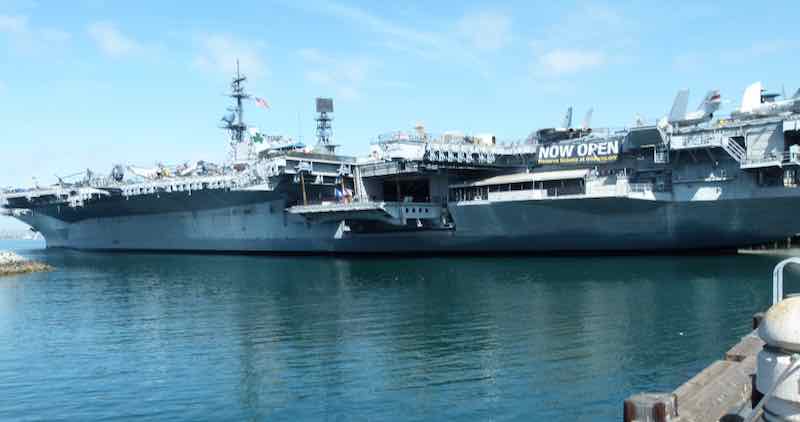 USS Midway Museum
Our friends had been urging us to visit since they knew that we had never had time to visit the USS Midway Museum.
The museum website says, "In June of 1942, the Battle of Midway took place inspiring a nation, creating a legend, and naming an iconic ship."
Hangar Deck Exhibits
One of the first planes that greets you as you enter on the Hangar Deck is a near full-sized TBD Devastator replica. 
The Devastator was one of the aircraft that took part in the Battle of Midway...
...along with F4F Wildcat fighters and SBD Dauntless dive bombers.
Below Deck Exhibits
In the below deck exhibits you can see where the officers, sailors, and pilots lived and worked. 
On a self guided tour you weave in and out of living quarters, engine rooms, navigation centers, and pilot ready rooms.

Flight deck exhibits

The flight deck is where airplane nuts can go crazy with the camera. 
There you'll find the planes and helicopters that the Navy used. 
There are 26 restored carrier aircraft…
...every one of these planes took off and landed on an aircraft carrier.
I asked Mark to choose one or two photos to show you... he chose 5 more before I stopped him!  You can see bigger photos by clicking on any of them.

Palm Springs Air Museum

I have to be honest here… we didn't have time to go INTO the museum. 
Since we have seen most of the aircraft types they have in the museum, we put that off for another trip.

But there were some interesting aircraft sitting outside. 
Did you see the F9F Panther in a photo above at the Midway Museum?  Well, there was another one here along with some other interesting aircraft.

Northern California

The Rowland Freedom Center

This great little museum is located at the Nut Tree Airport near Vacaville, California.  It began as a dirt strip behind a fruit and nut stand in the 1950s.  Later there was a great restaurant that was fun to fly into.  The restaurant closed in 1996.

While that restaurant is no longer there to attract you, the Rowland Freedom Center at the Nut Tree Airport is a very active small museum. 
Don't be fooled by the nondescript door of the museum.  They have a nice collection of antique airplanes, and they are constantly rotating planes in and out from collections nearby.  There is a great collection of memorabilia also.

Mark has always wanted to do "something" with his Dad's WWII memorabilia.  We were taken with this little museum, and they were delighted to take flight logs and personal items.
Lincoln Airport - Adventure Flight

For his birthday this year, Mark got a flight in a Naval Air Factory N3N.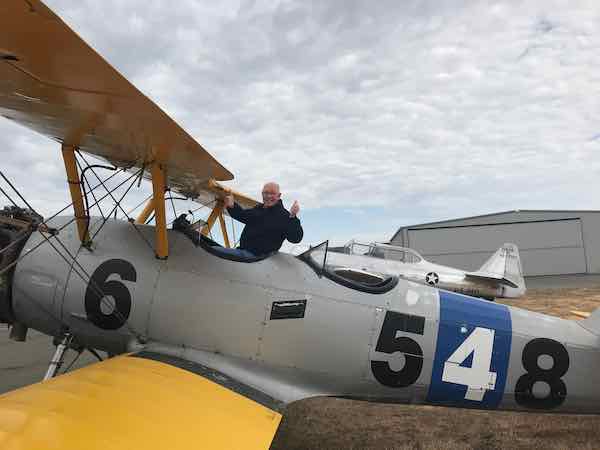 Now 2021 Airplane Fun Gets Exciting!

Since we were all vaccinated, even COVID wasn't going to keep us home from this trip.  

We had already decided that we wouldn't try to go to the big airshow in Oshkosh, but at the last minute, Mark found out about an airplane flying that he just couldn't sit still for…

…so we finally flew somewhere!

Ohio - Grimes Field and Dayton

Now this is where the Wright Brothers lived, but that's not what called us to take this trip.  
A couple of really rare antique airplanes had stopped in Urbana, Ohio on their way to Oshkosh, so we got to see them without the crowds.

And of course, since we were in Ohio, we had to drive through Dayton and visit the National Museum of the United States Air Force.  I won't include photos here.  You can see better photos on their website.  Or better yet... visit in person!

2021 Airplane Fun - Fun After All

I thought at first I wouldn't have anything to look back on this year, but there was more than I remembered.  In a year like this with COVID shutting so many museums and airshows down, we'll count this 2021 airplane fun as OK.  For a little about our travels in general visit our other website MouseToursTravels.

Find 'em, See 'em, Fly,'em! And have a great flight!
Judy and Mark
Curious about what other antique airplanes we've found? Search for more...

But... We'd love to have you share this page or comment on it...  Thanks