Young Eagles

Ground School Help To Become A Pilot

In 2020, the COVID pandemic cancelled most air shows. Some, like Oshkosh, held virtual events. Some aviation museums are starting to reopen slowly. Hopefully people are busy in hangars restoring antique airplanes and readying them for when we can all get out and travel again.
It's no fun to be grounded when you want to fly and explore.
We have had a personal setback too, with some health issues slowing us down.  We don't have the time to check on which venues are still viable and which are things of the past.

So... Post COVID our advice is to check with each air show or museum to see if they are open and operating.  Stay safe.

Do you know about Young Eagles?  Let's put it this way… Do you know any young people who might want to fly?

What does that have to do with antique airplanes?
Well, we need young people to become interested in flying...
...so we will have pilots in the future to keep those antique airplanes in the air.

You know we love Oshkosh. 
The Experimental Aircraft Association - the EAA - doesn't just host the AirVenture Oshkosh Fly-In and Convention every July…


...they actively promote flying through programs for youth and adults.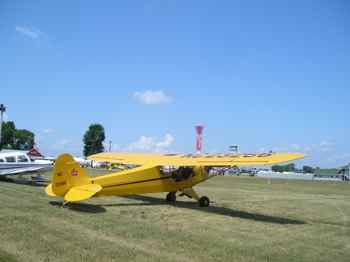 Have you read our story about my brother-in-law taking his Piper J-3 Cub to Oshkosh? 
Well, he is a volunteer pilot with the program...
...and he flies some of those 8-17 year-olds in his J-3 Cub.


Young Eagles Celebrates 25 Years
Here's what the EAA says about this program…

"Founded in 1992, the Young Eagles program has dedicated nearly 25 years to giving youth ages 8–17 their first free ride in an airplane.

It's the only program of its kind, with the sole mission to introduce and inspire kids in the world of aviation." 
Did you get that... a FREE FLIGHT!

You can read more about all of that at this EAA page. 

They have information on finding a finding a flight near you as well as information on what parents and kids need to do to make this happen.

Help With Passing Ground School

The EAA has been doing this for 25 years… so what got me writing about this now? 
This press release we just got from them.... help with ground school courses... FREE OF CHARGE!
(I'm going to leave in the links they sent because you can follow them to find out more about all of this.)
 
FOR IMMEDIATE RELEASE
 
FLIGHT INSTRUCTOR SUPPORT NOW AVAILABLE FOR EAA YOUNG EAGLES IN SPORTY'S ONLINE LEARN-TO-FLY COURSE

Embry-Riddle Aeronautical University joins Sporty's online course for Young Eagles

EAA AVIATION CENTER, OSHKOSH, Wisconsin
— (August 31, 2017) —

Embry-Riddle Aeronautical University's Daytona Beach Campus has joined Sporty's Pilot Shop in helping EAA Young Eagles achieve their dreams of flying, with Embry-Riddle flight instructor support now part of the Sporty's online Learn To Fly course available to all participants.

More than 45,000 young people have enrolled in the Sporty's course since 2009, as it is free of charge to all kids who have taken a YE flight. The course guides students through all knowledge required to pass the ground school requirements for an FAA private pilot certificate.

"Regardless of age, we know that one of the success factors for flight students is having knowledge and support available as they start their pathways to flying, especially if they don't come from aviation families," said Rick Larsen, EAA's vice president of communities and member benefits. "Having the tremendous teaching resources of Embry-Riddle available as part of Sporty's course will help Young Eagles know that they can confidently start and complete the course that is a stepping stone to reaching their goals."

All Young Eagles who are enrolled and active in the Sporty's online Learn To Fly course will have a dedicated e-mail address to contact Embry-Riddle flight instructors with questions. That team of flight instructors will continue to be available to YE enrollees as long as they remain active within the online course.

"The goal for everyone involved in this effort is the same: encouraging and assisting young people who want to fly," Larsen said. "Many of the Embry-Riddle flight instructors are young aviators themselves, so they will be able to relate well to the teens who are making their first steps into aviation."

Every Young Eagles receives online course access information upon completion of their flight. They can then activate that Sporty's course free of charge.


About The Program

The EAA program invites young people ages 8-17 to experience aviation through a demonstration flight conducted by EAA-member volunteer pilots.

Since 1992, more than 2 million young people have been flown by more than 50,000 aviators, becoming the largest youth aviation education program ever created. More information is available at www.eaa.org/youngeagles.
About Sporty's Pilot Shop
Sporty's, the world's largest pilot shop, has been offering high quality aviation supplies and educational products for more than 50 years. Many of these products are designed by its in-house pilots and tested in flight schools.
That experience as pilots, educators, airport managers, and aviation advocates–along with many other endeavors–affords a unique qualification to provide only products and services that are the best value to customers.
About Embry-Riddle Aeronautical University
Embry-Riddle Aeronautical University, the world's largest, fully accredited university specializing in aviation and aerospace, is a nonprofit, independent institution offering more than 80 baccalaureate, master's and Ph.D. degree programs in its colleges of Arts & Sciences, Aviation, Business, Engineering and Security & Intelligence.

Embry-Riddle educates students at residential campuses in Daytona Beach, Florida, and Prescott, Arizona, through the Worldwide Campus with more than 125 locations in the United States, Europe, Asia and the Middle East, and through online programs.

OK... that's all.  Just thought everyone we could reach should know about this. 

Find 'em, See 'em, Fly,'em! And have a great flight!
Judy and Mark
Curious about what other antique airplanes we've found? Search for more...

But... We'd love to have you share this page or comment on it...  Thanks