Cub to Oshkosh!
This Little Cub Is Ready To Fly Again
In 2020, the COVID pandemic cancelled most air shows. Some, like Oshkosh, held virtual events. Some aviation museums are starting to reopen slowly. Hopefully people are busy in hangars restoring antique airplanes and readying them for when we can all get out and travel again.
It's no fun to be grounded when you want to fly and explore.
We have had a personal setback too, with some health issues slowing us down.  We don't have the time to check on which venues are still viable and which are things of the past.

So... Post COVID our advice is to check with each air show or museum to see if they are open and operating.  Stay safe.

We took the Cub to Oshkosh for her debut! This little 1939 Piper J-3 Cub was ready for adventure... AirVenture 2009 that is.
After a restoration project that lasted 10 years...
she was ready to fly.
Jack is now the CubGuy for us.
My patient sister was ready to have the Cubby fly rather than sit in pieces in the hanger (and her living room).
For years we were a cheering section for the restoration...
Yep, She Was Ready For Oshkosh

Now we were traveling along as ground support, meeting them at airports as we went.
We posted daily vignettes about our cross country adventure. 
We allowed a week to get from California to Wisconsin... and that's what it took us... It was just as much fun as we hoped!
Here are the pilots: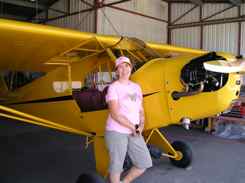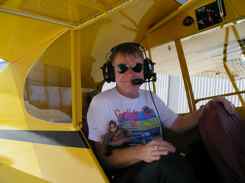 There were substitute pilots, but we never did pry Jack out of the plane on the long flight from California to Oshkosh.
We did get Carol out when it got bumpy, and to let others of us take turns. (Of course, with Jack flying... we all were just the "extra load".)

Finished just in time! Her first flight was July 6. 2009.
Here's the proof.... the Cub after her first landing in Camarillo, California. She likes to fly!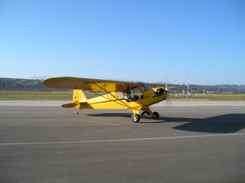 There have been many more happy landings beyond Oshkosh.
The Cub To Oshkosh Stories

Read all the pages to follow along to see our progress there and back.
It took us six days to get to Oshkosh after we met up. The ground crew drove down from northern California while the pilots got out of Camarillo and got to Tehachapi Airport.
Click below to follow our adventures.
The Cub took off from California on Friday afternoon, July 17, 2009. We arrived in Oshkosh on Thursday, July 23.
After of week of fun and awards, she left Oshkosh on Sunday morning, August 2, 2009 and got back to San Jose, California on August 7.
We're calling that the end of the trip.
Pilots and Cub returned to Camarillo of course. There have been other fly-ins and many Young Eagle flights, but this first adventure is something none of us will soon forget.
The tracker is turned off... the adventure is over, but you can still read about it. We had a great time!
Do you have an antique airplane story to share? We can't be everywhere... We'd love to hear your story especially if you're from outside the United States. Just go to Your Contributions and pick your category. You can help us find our next antique-airplanes adventure!
Find 'em, See 'em, Fly,'em! And have a great flight!
Judy and Mark
Curious about what other antique airplanes we've found? Search for more...

But... We'd love to have you share this page or comment on it...  Thanks


About Oshkosh
Go from Cub to Oshkosh to Antique Airplanes Home Page

Travel the World In Cyberspace - Check Out Our MouseToursTravels Website