Street Cars of Desire
by Judy and Mark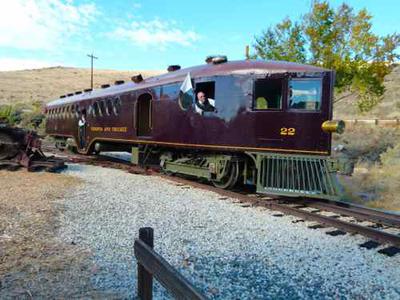 1910 Virginia and Truckee McKeen Motor Car #22 at the Nevada State Railroad Museum in Carson City
That was Mark's idea, ...but what do streetcars, rail cars, and trolleys have to do with antique airplanes?

Well, when air show season is over, sometimes other historic modes of transportation can tempt Mark.

I know there are still aviation museums we could visit, but sometimes it's fun to shake it up. We spent a whole weekend riding rolling stock that was 100 years old and more.

There had been a sticker on the calendar for weeks about the McKeen motor car. This was a kind of one car train that was build in the early 1900s. There are only three or four left and the Nevada State Railroad Museum in Carson City runs theirs a couple of times a year. October 31 was one of those days… not necessarily because it's Halloween, but because it's Nevada Day. October 31 is the anniversary of the day that Nevada became a state, so the museum runs the rail car.

The McKeen Motor Car that they run was built in 1910… not quite as old as a Wright Flyer, but contemporary with some of those antique airplanes.

You could stay in Carson City or Reno which is less than 30 minutes away. Carson City is also only about an hour from State Line at Lake Tahoe. That's where we headed. October is low season for Lake Tahoe, so there are plenty of hotels to choose from. The weather can be changeable though. It was beautiful when we arrived, but it snowed during the night, and we had to wait until 10 in the morning for chain controls to be dropped to drive over Echo Summit. It's a beautiful place to stay as long as you're prepared.

To make it a rail weekend instead of an air weekend, we stopped at the Western Railway Museum which is half way between the little town of Rio Vista and Fairfax. They run street cars every weekend. We rode both that they were running when we were there. The oldest we rode was the Peninsular Railway Car #52 which was built in 1903.

On Sunday, we made it a rail car trifecta… we drove to San Francisco for the SF Muni Heritage Weekend. San Francisco has one of the largest collection of historic trolleys that actually run routinely. You can see them running up and down Market Street and the Embarcadero. These trolleys are from all over the world and different states in the U.S. On the Heritage Weekend they pull out all of their oldest rolling stock.

Streetcar No. 578 looks like a cable car… it was built by the same company that built San Francisco's cable cars, but this is a trolley and was built in 1896!!! That IS older than the first Wright Flyer.

San Francisco's Muni Car No 1 was built in 1912. The "boat cars" are from Blackpool Tramways in England. They're always a hit when they roll down the Embarcadero.

These old streetcars and trolleys are fun to see, especially when they really are still working cars as they are in San Francisco. While we still get a bigger kick out of antique airplanes, this was a fun way to spend a weekend.

Join in and write your own page! It's easy to do. How? Simply click here to return to Just Plane Fun!.
Find 'em, See 'em, Fly,'em! And have a great flight!
Judy and Mark
Curious about what other antique airplanes we've found? Search for more...

But... We'd love to have you share this page or comment on it...  Thanks