La Ferte Alais or Meeting of Pentecost...
Confused?
Dates and Directions To Help
In 2020, the COVID pandemic cancelled most air shows. Some, like Oshkosh, held virtual events. Some aviation museums are starting to reopen slowly. Hopefully people are busy in hangars restoring antique airplanes and readying them for when we can all get out and travel again.
It's no fun to be grounded when you want to fly and explore.
We have had a personal setback too, with some health issues slowing us down.  We don't have the time to check on which venues are still viable and which are things of the past.

So... Post COVID our advice is to check with each air show or museum to see if they are open and operating.  Stay safe.

The French air show that we always just called La Ferte Alais is also called the Meeting of Pentecost.

OK... Now to figure out the dates!
It took us a long time to figure out the dates for this air show.  They seemed to change all the time!
They seemed to change all the time!

And you know why?

Because they DID!
It's all related to Easter. 
Once you know that this French Meeting Aerien - this air show - is on the weekend of Pentecost or Whitsunday, you can figure out when the air show will be...


IF you know when Whitsunday is.
Let's make it easy for you, and list the dates for the next few years... 

Meeting Aerien dates:

     June 4 & 5, 2022

     May 27 & 28, 2023

     May 18 & 19, 2024

     June 7 & 8, 2025

     May 23 & 24, 2026

(More French airplane photos on La Ferte Airshow and Morane Saulnier.)

Now, WHERE Is It?

The Meeting of Pentecost is held at the Aerodrome de Cerny-La Ferte Alais which is located 50 km (31 miles) south of Paris.
Can You Get There With Public Transportation?

From Paris, you can get to the little town of La Ferte Alais by train from the Gare de Lyon or Gare Austerlitz, but be advised that it's about a 30 minute walk (2.5 km or 1.6 miles) to the aerodrome from the train station.
The AJBS website lists a couple of taxi drivers that you can call.
To Drive Or Fly Yourself...
You can fly your own plane into the air show, but you must have prior authorization from the manager of the aerodrome.
We think the easiest way to get there is to drive. If you are leaving from CDG airport, you will take the circular road around Paris and catch the A6 (E15) South. Shortly after you get on the A6 you'll pass Orly Airport.
We've always gotten off at Exit 11 and wiggled our way on the D948 to a rural road to Ballancourt-Sur-Essonne where we caught the D191 to La Ferte Alais.
Somewhere along that route, you'll start seeing signs directing you to the Meeting Aerien. It may sound complicated... it's really not. Once you're there, you'll find it.
You Can Check Their Website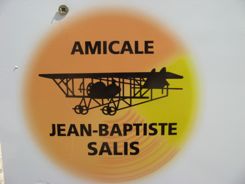 For all this and more information go to their website... AJBS - Amicale Jean Baptiste Salis You can get some pages translated into English... others are in French only.
From Infos Pratiques go to Plan d'acces for a map.
For hotels in the vicinity return to their website...


Finding Accommodations

On their website, go to Practical Information or Infos Practiques then click on Hebergement a proximite for hotels within 20-40 minutes of the aerodrome.
The accommodations are scattered, but you shouldn't have problems getting a room. We've always managed to find something the day before the air show.
You can find everything from two star hotels to a castle! There are some campgrounds listed too.
The Rest Of The Year

The big air show is the Meeting of Pentecost. During the rest of the year, there are guided visits to the museum. The visit takes about an hour. Weekdays you should have a reservation. Contact the secretary of AJBS though their website. Weekends you can check at the Boutique de l'AJBS (The Museum Shop). Admission to the museum was 5 € when we were last there.

The planes they have in the museum would be worth a visit if that's the only time you're in France, but we really love the Meeting of Pentecost. Try to get to La Ferte Alais air show one of these years... Tell the family France is great in April, May and June!
Find 'em, See 'em, Fly,'em! And have a great flight!
Judy and Mark
Curious about what other antique airplanes we've found? Search for more...

But... We'd love to have you share this page or comment on it...  Thanks


See Morane Saulnier Planes
Return to La Ferte Alais
Go to Home Page
Privacy and Legal Policy