Morane-Saulnier Airplanes
Travel To France For An Air Show?
In 2020, the COVID pandemic cancelled most air shows. Some, like Oshkosh, held virtual events. Some aviation museums are starting to reopen slowly. Hopefully people are busy in hangars restoring antique airplanes and readying them for when we can all get out and travel again.
It's no fun to be grounded when you want to fly and explore.
We have had a personal setback too, with some health issues slowing us down.  We don't have the time to check on which venues are still viable and which are things of the past.

So... Post COVID our advice is to check with each air show or museum to see if they are open and operating.  Stay safe.

Morane-Saulnier is a French aircraft manufacturing company... so if you want to see some of these great old planes you've got to travel to France.

You don't hear much about them in the U.S.
That's what we love about attending air shows around the world.
These aviation pioneers were active from the early days of aviation.
Aéroplanes Morane-Saulnier was formed in 1911 when aircraft developers Raymond Saulnier and the Morane brothers joined forces.



Morane-Saulnier Planes To Temp You

La Ferte Alais Air Show features several great example of these beautiful French antique airplanes.
They even a couple of examples of early ones with only the Morane designation.
We had enough fun seeing them at the air show that we thought you'd want to see them all.
Morane A1 Type XXIX (1911)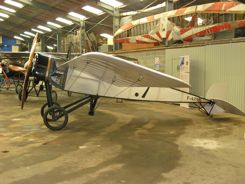 Morane Type H (1913)
Morane Saulnier MS A1

Parasol Wings

Many of these early planes had parasol-wings. They were primarily reconnaissance, fighter and trainer aircraft.
Kind of an interesing design, don't you think.  YOu know... monoplanes where the wing is not mounted directly to the fusalage...
The fusalage is slung beneath the wings by a set of struts.  This early design of planes resembled biplanes which were so popular at the time... they just lacked that second set of wings!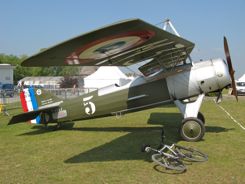 Morane Saulnier MS 138 (1927)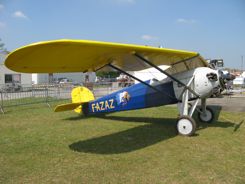 Morane Saulnier MS 185

A Pair of MS 317s


It was fun to see some of these old planes in the air... separately and together...
Not too many places where you can see French antiques airplanes on the ground and flying.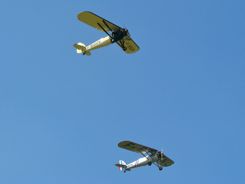 Two MS 317s flying together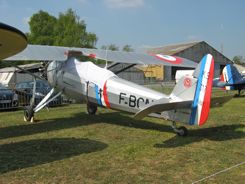 Morane Saulnier MS 317 (F-BCNL)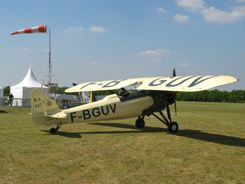 Morane Saulnier MS 317 (F-BGUV)

Morane-Saulnier in Civil Aviation

While most were designed to meet French Air Ministry requirements, many became popular sport aviation planes and were later produced for the civil market.
Believe it or not, the MS 502 is derived somehow from the Fieseler Storch... the development happened right after WWII and into the 1950s. 
The Ms 230 was a main elementary trainer for the French Armée de L'Air. They became civilian trainers and were popular for sports aviation.

Morane Saulnier MS 502 (F-AZCP)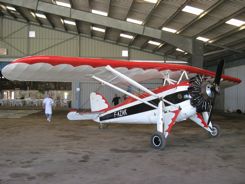 Morane Saulnier MS-230 (F-AZAK)
A day spent at La Ferte Alais Meeting Ariens is sure to make you more familiar with these great antique airplanes.  There are many others to see also... We love visiting la Ferte Alais... 
France isn't just all about the Eiffel Tower, wine and food you know... you should try to plan a visit to Le Bourget and La Ferte Alais.

Find 'em, See 'em, Fly,'em! And have a great flight!
Judy and Mark
Curious about what other antique airplanes we've found? Search for more...

But... We'd love to have you share this page or comment on it...  Thanks


Go to La Ferte Alais
Go to Antique Airplanes Home Page