Cub To Oshkosh Aerial Photos
Cub Cross Country From The Air

In 2020, the COVID pandemic cancelled most air shows. Some, like Oshkosh, held virtual events. Some aviation museums are starting to reopen slowly. Hopefully people are busy in hangars restoring antique airplanes and readying them for when we can all get out and travel again.
It's no fun to be grounded when you want to fly and explore.
We have had a personal setback too, with some health issues slowing us down.  We don't have the time to check on which venues are still viable and which are things of the past.

So... Post COVID our advice is to check with each air show or museum to see if they are open and operating.  Stay safe.

Jack still had time for some Cub to Oshkosh aerial photos even though he had his hands full flying.

Have you followed us on our cross country on other pages?
If so, you've seen the ground photos.
We thought you might like to see a few photos from the pilot's perspective.
Keep on reading to see a little of what Jack saw as he flew the Cub to Oshkosh.
Let's start at the beginning.
Jack and Carol wave good-bye to Camarillo Airport, their home base.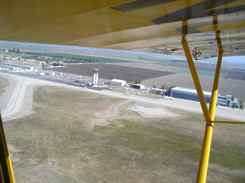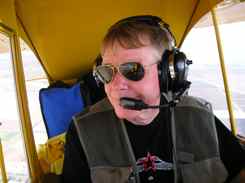 Jack's dream was to restore the Cub and fly it to Oshkosh. This is the day he starts living the dream.
Can you tell he's happy?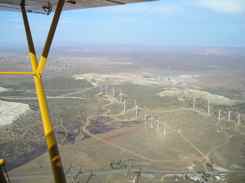 Carol snapped these aerial photos.
With two of them in the plane, it didn't have a lot of lift...
So they were a little closer to the windmills than they wanted...
...but they reported it was fun.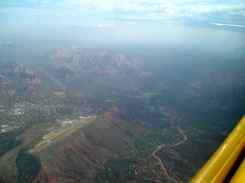 Cub To Oshkosh Aerial Photos Of Landmarks

Jack flew solo across the mountains and desert. He snapped some "sightseeing" Cub to Oshkosh aerial photos to share with all of us.
Sedona airport... if we had extra time, it would have been fun for him to land there, but getting the RV up that hill would have been dicey!
Flying on across Arizona he shows us Meteor Crater and Lava Flows.
By the time we got to New Mexico, Jack was feeling comfortable with the Cub. We were also out of the mountains and the desert, so he invited Brian along for some stick time.
Nose To Nose Part Of The Way

This was a fun leg for all of us because the Cub followed the highway we were on with the RV....
...And look at this Cub to Oshkosh aerial photo... they caught us as we paced them.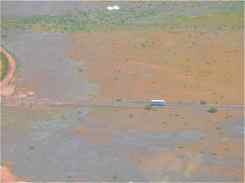 Jack went solo again from Liberal, Kansas because of the remnants of the thunderstorm that had kept us on the ground all morning. No photos on that leg... he reported feeling like a cork bouncing around. Things cleared up by the time he got to Hayes, Kansas, so Mark joined him.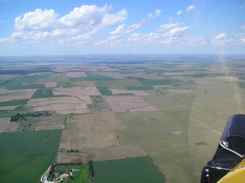 Mark and Jack loved flying over the farmland in Kansas. I got a leg the next day so I can verify how pretty it was. They loved their approach into the really cute Belleville Airport.
On the final leg Jack and Carol flew together. Carol got to pilot it for a couple of hours. They knew they were close when they crossed the Mississippi into Wisconsin.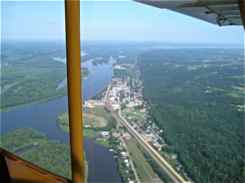 The end is really in sight. Great flying weather. Winds calm. Getting to Oshkosh before the traffic gets heavy. Here they are on final approach.....
They did it... they got the Cub to Oshkosh.

Not an aerial photo... one of the pilot happily tying down the Cub in the Vintage Aircraft Parking area.

Find 'em, See 'em, Fly,'em! And have a great flight!
Judy and Mark
Curious about what other antique airplanes we've found? Search for more...

But... We'd love to have you share this page or comment on it...  Thanks


Go to Antique Airplanes Home Page

Travel the World In Cyberspace - Check Out Our MouseToursTravels Website