Cub In Oshkosh
Shoulda Been Headline News
In 2020, the COVID pandemic cancelled most air shows. Some, like Oshkosh, held virtual events. Some aviation museums are starting to reopen slowly. Hopefully people are busy in hangars restoring antique airplanes and readying them for when we can all get out and travel again.
It's no fun to be grounded when you want to fly and explore.
We have had a personal setback too, with some health issues slowing us down.  We don't have the time to check on which venues are still viable and which are things of the past.

So... Post COVID our advice is to check with each air show or museum to see if they are open and operating.  Stay safe.

That's how we felt when we got the Cub in Oshkosh.
That's what we wrote for our friends and fans back in 2009...
but while the story is "old news" now...

We think it's still a fun story.
We continued the story...
"If you've followed us on 'Spot' you'll see that she's parked. Safely tucked away in the Vintage Aircraft Parking Area."
Read on to see some of our fun with the Cub in Oshkosh. 

Below you can see her parked right next to the taxi way in the Vintage Aircraft Area.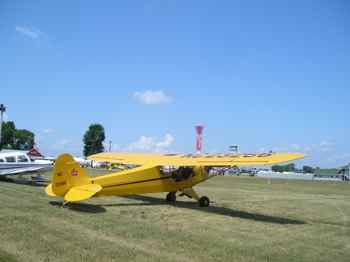 All these are way in the past now, but it was all exciting for us... And it's fun to remember...
Hope it is for you to follow along.  I'm not going to change the tense... just read it like it's happening now even though it's not.

Cub in Oshkosh, July 24
First Day in Oshkosh
We're getting the CubGuy Camp set up.
The lounge chairs are out, the RVs are parked facing each other.
Most of the groceries have been purchased.... but we'll probably be making a few more runs. Driving out is easier now than it will be once the AirVenture really gets underway.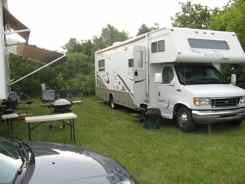 Jack, Brian and Mark made a run to get Cub supplies.... They need to clean it all up after it's long flight here and make it look as spiffy as possible for judging.
Mark was able to talk his way past all the checkpoints so that he could drive the cleaning crew all the way to Vintage Aircraft Parking where the cub was.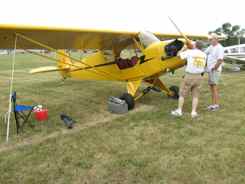 There was a cute article about the Cub to Oshkosh adventure in Jack and Carol's local paper. The link we had to that story is long gone... into newspaper archives I'm sure.
Back when you could read the article, they called it a "fixer upper". We all know it took Jack 10 years to fix her up, but the Cub no longer needs to be called that!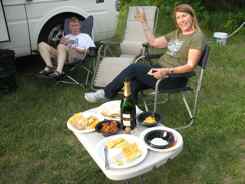 At the end of the day, we all celebrated... toasting Jack for his great restoration and Carol for putting up with it... and to both of them for getting the Cub to Oshkosh.
Cub in Oshkosh, July 25
Day 2 in Oshkosh
AirVenture is not officially open, but there are lots of arrivals and exhibits being set up everywhere. It's kind of fun being here for the early stuff. Didn't get out there too early through.... we needed more groceries!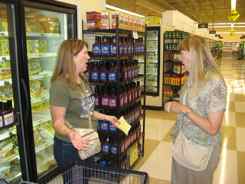 The Cubby needed a little more waxing....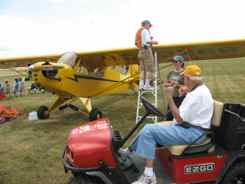 Then we could stop and watch arrivals.
They were dicey as there was a stiff cross wind on one of the runways. We held our breaths for more than one landing.
Group arrivals were today... "the family gathers" as the literature goes at the EAA. The most exciting was when Bonanzas to Oshkosh arrived.... 137 Bonanzas landed three at a time... all of them captured in 30 minutes.
It was quite sight. Here are a couple landing...
But notice that there is a little plane that had a mishap in the wind... landing gear collapsed as he went into the grass by mistake.... everyone was OK, but it had to be lifted off.
Things get a little spotty here because.... EAAWIFI was a little spotty... lots of complaints, but not from us.
We loved that everyone was following along... can't believe all the people who stopped by here in Oshkosh to say that they've been following us!

We'll skip some days here until we get time to add things in after the fact. Mark and I left Oshkosh to drive to Des Moines and fly home. Here are Carol's notes for their last day with the Cub in Oshkosh...  
Cub in Oshkosh, Saturday, Aug. 1, 2009
Carol's Notes
We took our morning by walking over to the museum area and going to the memorial wall to see Nick's plaque.  It was more emotional that either of us expected, but we both agreed it was something we needed and wanted to do.  After that, the bus seemed the easiest way to get from the museum to the airport, so we caught the shuttle bus and headed back to the Cub. 
We had checked the weather earlier and knew this was going to be our last day so we went over to the performers hospitality tent, and Starr got us wrist bands to get in and watch the airshow from there.  I must admit, having cold drinks, snacks and ice cream at our disposal was really nice.  It was a great viewing place but the best view of the day was watching Starr and Bob Hoover sitting and talking. 
After the airshow, we went back to the Cub to clean it out of everything we didn't want in it for the flight the next day.  Brian and Judy helped us carry chairs and bags bags. 
On the way back to the campgrounds, we did go to the Vintage Hangar for the awards ceremony. 
Jack Received An Award For The Restoration

As it turned out, Jack did win second place for Antique airplanes and was thrilled.  Everyone who had seen the airplane thought it should win something but Jack wasn't too hopeful.  He received a really nice plaque for his award. 
Then it was time to go back to the motor home and finish packing up.  The suit cases and boxed were ready to go into Brian and Judy's motor home. 
Find 'em, See 'em, Fly,'em! And have a great flight!
Judy and Mark
Curious about what other antique airplanes we've found? Search for more...

But... We'd love to have you share this page or comment on it...  Thanks


Go from Cub in Oshkosh to Antique Airplanes Home Page

Travel the World In Cyberspace - Check Out Our MouseToursTravels Website