Reno Air Races Information
Getting Tickets and Getting There
In 2020, the COVID pandemic cancelled most air shows. Some, like Oshkosh, held virtual events. Some aviation museums are starting to reopen slowly. Hopefully people are busy in hangars restoring antique airplanes and readying them for when we can all get out and travel again.
It's no fun to be grounded when you want to fly and explore.
We have had a personal setback too, with some health issues slowing us down.  We don't have the time to check on which venues are still viable and which are things of the past.

So... Post COVID our advice is to check with each air show or museum to see if they are open and operating.  Stay safe.

"Where do I find Reno Air Races Information? How do I get there?
What does it cost? Where can I stay?"
Let's start with the basics…

The National Championship Air Races are held in September every year.
There have been rumors every year since the crash in 2011 that the event might not happen...
...but the races have gone on each year.
Tickets go on sale earlier in the year or you can buy tickets when you get there.
Reno Air Races Information


We can tell you what we've experienced before, and you can always check their official website for the latest Reno Air Races information.

Getting Tickets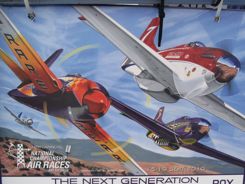 Advance ticket go on sale in May. You can get ticket when you arrive of course, but some people go every year and like to get their reserved seats or box seats early.
Bring plenty of sunscreen and a good hat no matter what as we said before.
There are no shaded grandstand or box seats, and that sun can get pretty intense even if it isn't hot.

Types of Tickets Available
General Admission
You don't have to buy tickets in advance... General Admission tickets never "sell out".
You can get general admission tickets on arrival any day. They range from $10 for Wednesday to $27 for the Sunday finals. There are price breaks for kids, seniors and military.
General Admission gives you entry to the free grandstands (seating on a first come first served basis), all the vendors of course, and the static display of antique airplanes in the Heritage Trophy section and some of the jets.
These general admission seats are just fine if you go on, say Friday.
Reserved Grandstand
You might want to get a Reserved Grandstand seat during the weekend... that way you can wander around and still be sure of your seat.
Weekend days are much more crowded... and of course, that's when the competition gets more intense.
You can generally get Reserved Seats upon arrival, but the best seats are sold in advance... some people buy the same seats year after year!
Pit Passes
You might be tempted to save a few bucks and not buy the pit pass.  Think twice about this...

That's fine if you just want to watch the races and wander a bit, but all the big modified race planes are in the pits, and that pass lets you see a whole lot more.
Pit passes will set you back another $12 to $30 depending on the day you attend.
More Options

There are Box Seating options for groups.
You can also buy entry into the Chairman's Hospitality Tent or The Checkered Flag Club. If you can afford it, and if you can get in... that's one way to find shade.

Getting There
This event is held at Reno-Stead Airport which is about 8 miles north of downtown Reno off of US 395. Your exit is Stead Boulevard.
You'll drive on surface streets for a couple of miles (1.5 on their directions) just follow the signs... and the speed limits. (You'll pass a school zone going in so be careful!)
If you rent a car or drive yourself, try to get there early... the closest parking fills up in the morning.
There are several parking lots run by local churches and clubs. They cost between $10 and $15 per day depending on how close you want to park. All are within a few blocks of the entrance.
There is RV parking and tent camping available.

Finding Hotels
Reno is where you will find the closest hotels.
There are some shuttle buses to get you to the races from downtown.
Check their website for exact prices, but as of this writing it was about $20 for adults and $10 for kids for a round trip shuttle ticket. Multiple days passes are also available.

Flying Yourself In

If you want to fly your own plane to the event, Reno Air Races information advise that the entire Reno-Stead Airport is full with participants and vendors.
You need to fly to Reno-Tahoe Airport, Carson City Airport or Truckee Airport and arrange your own ground transportation.

See you in Reno in mid-September.
Find 'em, See 'em, Fly,'em! And have a great flight!
Judy and Mark
Curious about what other antique airplanes we've found? Search for more...

But... We'd love to have you share this page or comment on it...  Thanks


Reno Air Races l National Aviation Heritage Invitational
Go from Reno Air Races Information to Antique Airplanes Home Page