D-Day Squadron C-47s

Participate In Daks Over Normandy
In 2020, the COVID pandemic cancelled most air shows. Some, like Oshkosh, held virtual events. Some aviation museums are starting to reopen slowly. Hopefully people are busy in hangars restoring antique airplanes and readying them for when we can all get out and travel again.
It's no fun to be grounded when you want to fly and explore.
We have had a personal setback too, with some health issues slowing us down.  We don't have the time to check on which venues are still viable and which are things of the past.

So... Post COVID our advice is to check with each air show or museum to see if they are open and operating.  Stay safe.

We learned about the D-Day Squadron when we were at the Oshkosh AirVenture 2018.  They are a a group of individuals and organizations that have historic, restored C-47 aircraft.

The D-Day Squadron is preparing to lead a contingent of American C-47 aircraft in a trans-Atlantic trek to participate in the Daks Over Normandy event from June 2-9, 2019.
Daks Over Normandy?  Daks?  Remember, C-47s are also known as Dakotas.


D-Day Squadron Part Of A Mass Flyover
Across the English Channel
To commemorate the 75th anniversary of D-Day on June 6, 2019 they will join with an international group of planes to participate in a mass flyover across the English Channel.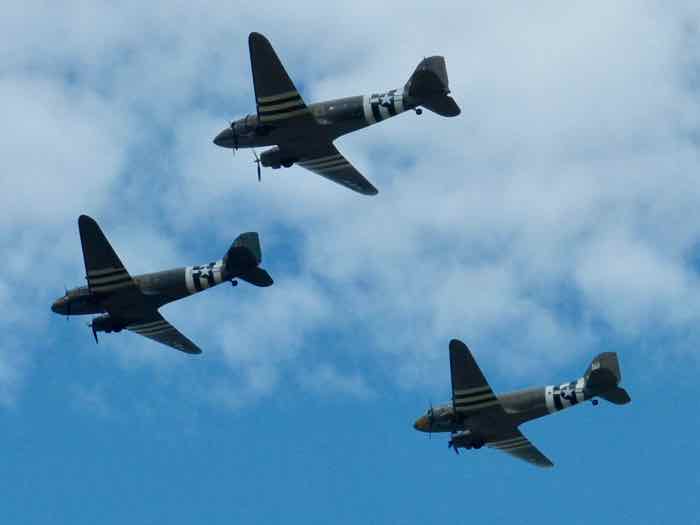 In Normandy they will drop 250 paratroopers over the original 1944 drop zones.
The organizers say that the skies will be filled with dozens of restored C-47 aircraft and hundreds of paratroopers billowing through the sky in authentic Allied uniforms and World War II military-style parachutes. 
The organizers say,


"The event will be the largest assembly of these authentic War aircraft and paratroopers since that fateful day on June 6, 1944, all to honor the service and sacrifice of the soldiers who risked life and limb to bring the beginning of the end of the War in Europe."


Wait A Minute! How Do They Get There?
These are C-47s based in the United States…. They are vintage aircraft which have been lovingly restored to keep them flying. 

So how will they get to Europe to participate in this Daks Over Normandy event?  The same way the aircraft got there during World War II.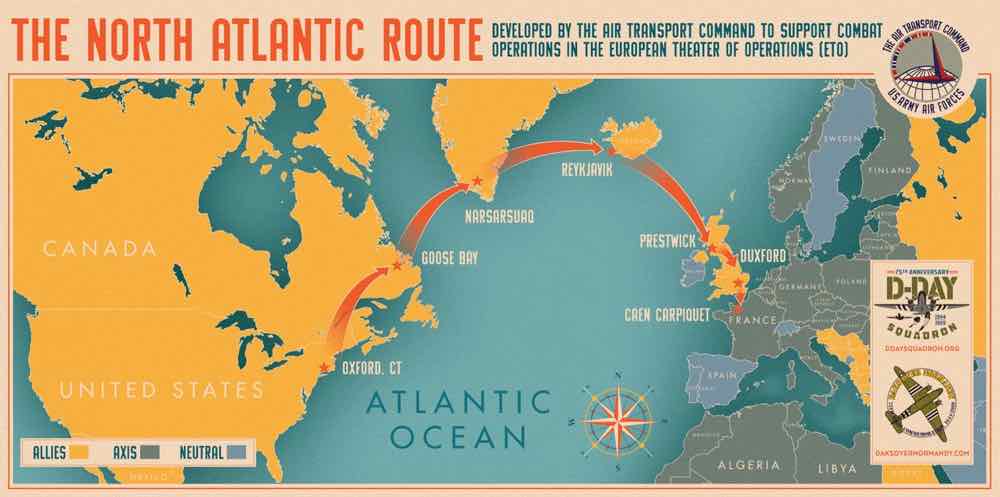 These historic aircraft will depart and travel together on what's known as a Blue Spruce Route. This flight plan traverses the North Atlantic, allowing for fuel stops and guidance from ground-based navigational aids on the landmasses located along the route.  (Click on the photo for a larger image.)

Each site was selected because of its history as an active airfield during World War II that would have been a stopping point for aircraft flying to aid in the War.
They will assemble at Duxford, part of the Imperial War Museums in the United Kingdom.


D-Day Commemorated In Two Locations
It's not only the D-Day Squadron... Aircraft from around the world will participate in events both before and after the June 6 flyover.

From June 2 - 9, 2019 the Daks over Normandy – 75th D-Day commemoration 1944 – 2019 event will take place in two locations.

In the U.K. from June 2 - 5 at IWM Duxford Airfield, close to Cambridge…

And from June 5 - 9 at Caen Carpiquet Airport in France.

Both these locations have been carefully chosen by the event organizers for their location, logistics and their wartime heritage.

Can You See This Event?
Yes...
See The Aircraft, Meet the Crews....
               .....Flying and Static Displays

All crews of all aircraft will be present to show you their planes. They are there to answer questions, and under their supervision you can board the aircraft.

All aircraft that fly on a particular day can also be observed, but will be parked separated from the visitors.

Around 250 parachutists that have come from over 20 different nations will be dressed in 1940s style uniforms. They will train and prepare around the aircraft for the Big Cross-Channel jump that is planned for the evening of 5 June 2019, into one of the original 1944 drop zones in Normandy, France.


Scenic Flights….

They intend to organize scenic flights for visitors with the original DC-3 Dakota's / C-47s. 

In the United Kingdom these flights will take you over the country side of Suffolk and Norfolk, where during the war the RAF and the US Air Forces had an large number of airfields which can still be seen today.

In France the flights will take you over the historic battlefields, the original drop zones and the invasion beaches.

"That's All Brother"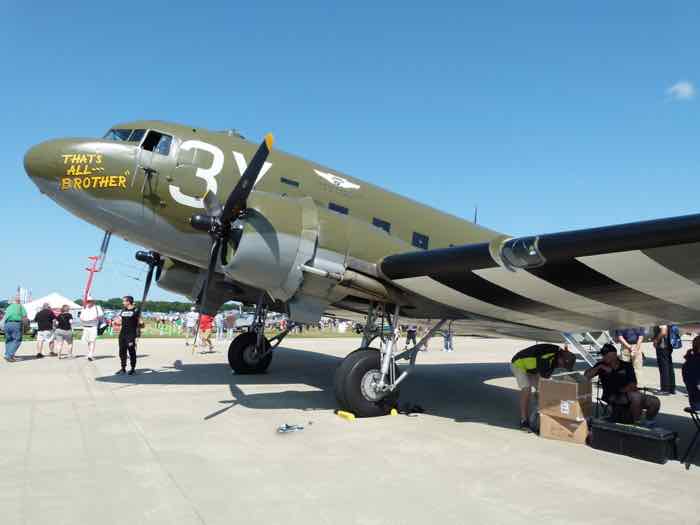 "That's All Brother" was in Oshkosh 2018 to help promote this mission… and she will participate in Daks Over Normandy.  She is a beautiful example of the C-47 military transport plane. 

This historic aircraft was the leader of the formation that dropped thousands of American paratroopers into Normandy on June 6, 1944, or D-Day, paving the way for the liberation of northern France from Nazi Germany.

Donate To Help Them
For a commemoration like this, a large number of people are donating their time and airplanes.  They have corporate sponsors, but any and all donations help to make this possible. 

You can donate to the D-Day Squadron and/or to Daks Over Normandy on their websites (listed below).

Ticket Information
Ticket Sales
For the Daks Over Normandy event, tickets will only be available in advance…

From February 1, 2019, tickets will be sold via this website.

Further Information
As soon as the ticket sales start, information will be made available about public transportation, parking, accessibility, route planning, etc.

And To See All Of Their Information
Each website has more history and information about their commemoration plans.  To learn more about this monumental effort visit both sites.

D-Day Squadron and Daks Over Normandy.

If you read about this after the event, don't you wish you could have been there?

Find 'em, See 'em, Fly,'em! And have a great flight!
Judy and Mark
Curious about what other antique airplanes we've found? Search for more...

But... We'd love to have you share this page or comment on it...  Thanks