Yak Nose Art Makes You Smile
by Mark and Judy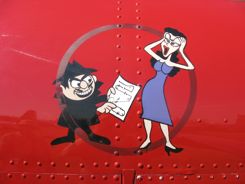 Boris and Natasha? Since when was an aerobatic routine a secret?
We're been seeing some fun Yak nose art at air shows we've been to. Yaks don't seem quite as exotic at American air shows anymore... there are a fair number of them showing up, but they're still fun to see. We saw some of this in Oshkosh 2010, and we saw some at Le Ferte Alais in France earlier in the year. Whether in France or the U.S., these examples of Yak nose art seem to show a sense of humor.

There's not too much to tell you about this... just that we got a kick out of all of them. It's just plane fun to see all the creative ways pilots name their planes.

I'm working on getting a page up about the great French airshow in Le Ferte Alais. In the meantime, hope you get a kick out of these photos too.
J & M
Join in and write your own page! It's easy to do. How? Simply click here to return to Just Plane Fun!.
Find 'em, See 'em, Fly,'em! And have a great flight!
Judy and Mark
Curious about what other antique airplanes we've found? Search for more...

But... We'd love to have you share this page or comment on it...  Thanks