the Flying WING
by John Yoast (west air inst)
(Photos Added by Mark and Judy)
(Stillwater OK USA)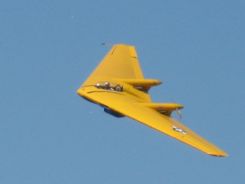 Couldn't resist adding photos: N9MB Flying Wing at Camarillo Air Show
I WORKED ON IT, I CUT OUT THE INSTRUMENT PANEL, AND SUPPLIED MOST OF THE INSTRUMENTS, I SEEN IT FLY FOR THE FIRST TIME, ITS GOOD TO SEE IT FLYING AGAIN.
Find 'em, See 'em, Fly,'em! And have a great flight!
Judy and Mark
Curious about what other antique airplanes we've found? Search for more...

But... We'd love to have you share this page or comment on it...  Thanks