Monino Soviet Planes
Props, Helicopters, and Jets
In 2020, the COVID pandemic cancelled most air shows. Some, like Oshkosh, held virtual events. Some aviation museums are starting to reopen slowly. Hopefully people are busy in hangars restoring antique airplanes and readying them for when we can all get out and travel again.
It's no fun to be grounded when you want to fly and explore.
We have had a personal setback too, with some health issues slowing us down.  We don't have the time to check on which venues are still viable and which are things of the past.

So... Post COVID our advice is to check with each air show or museum to see if they are open and operating.  Stay safe.

Well, Monino Soviet Planes aren't really antique airplanes... but it always makes me stop and think when I realize just how old some of these planes are. Many of them are 50 to 60 years old.

Though the Russian WW2 planes of the Russian Central Air Force Museum also qualify as planes of the USSR...
...it's the newer planes and helicopters that I think of when I think of Soviet Era planes.

We're showing you some of Mark's favorites here... with just a few facts and figures attached so you know which is which.

I'm sure there is exhaustive research that can be done...
...but this is all just for fun and the love of antique airplanes, right? We just love seeing 'em. We hope you do to.

The planes on this page are the aircraft that are displayed outside at the Russian Aviation Museum. There are two hangars where they display the WW 1 and WW2 Russian planes.
So what about the heavy metal fighters and bombers of the 1950s, 1960s and 1970s? Believe it or not, we've tried (more or less) to put these in chronological order. Let's take a look...


Monino Soviet Planes of the 1950s
Myasishchev 3M (Bison) Strategic Bomber
1956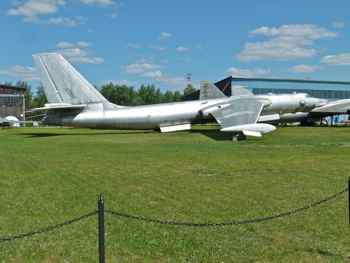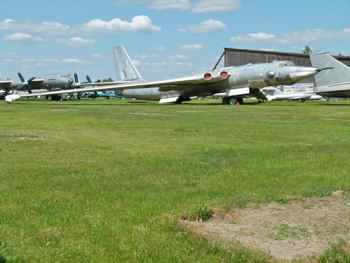 Two angles on the same plane here...
The 3M Bison was a strategic bomber that was derived from the Myasishchev M-4.
The 3M first flew in 1955 or 56 depending on what source you use. (In the booklet we bought at the museum, Ret. Col. Kazashvili says March 27, 1956.)
This one was constructed in 1960, and went on display in 1986
Lavochkin La-250A (Anaconda) High-Altitude Interceptor
1956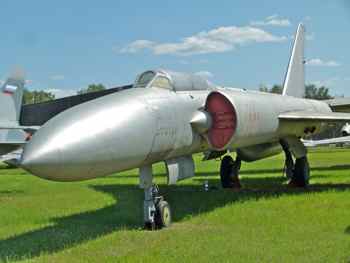 The La-250A was developed as an all weather fighter / interceptor. This delta wing plane was first test flown in 1956. This one is a prototype that was built in 1958. The project was cancelled in 1959. This aircraft was transferred to the museum in 1967.
Tupolev Tu-22 (Blinder) Bomber
1958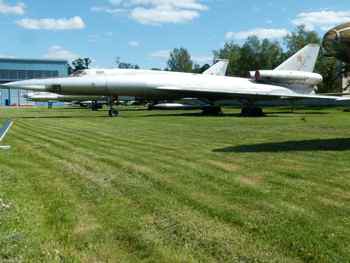 The Tu-22 (Blinder) was test flown in 1958, and produced all through the 1960s.
This swept wing bomber was the first supersonic bomber in service in the USSR. This one was produced in 1960.
It looks pretty fierce, but by all accounts it's performance was not up to expectations.
Due to that it was produced in small numbers in various versions, bit they flew through the 1990s.
Yakovlev Yak-27R (Flashlight) Reconnaissance Aircraft
1958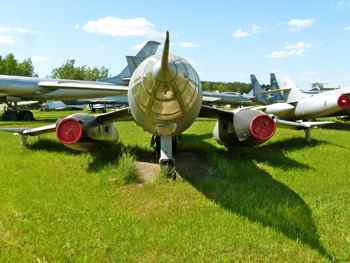 The Yak-27R is a reconnaissance version of the Yak-27 family of supersonic jets called Flashlight or Flashlight-C by NATO.
The glazed nose in this version was for an observer/navigator, and cameras were added.
It was withdrawn from service in the 1970s. This aircraft last flew in 1963.
Yakovlev Yak-28L Bomber
1958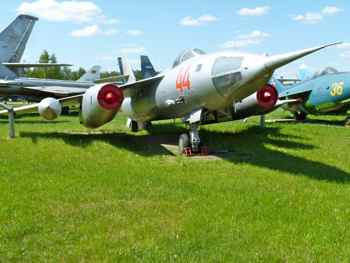 The Yak-28 was introduced as a bomber. It was test flown in 1958.
Later versions were used for reconnaissance and training.
This plane arrived at Monino in 1975. They flew until the early 1990s.
Yakovlev Yak-25RV (Mandrake) High-Altitude Reconnaissance
1959

The Yak-25RV is derived from the Yak-25. The "RV" being for high-altitude reconnaissance - Razvedchick Vysotnyj in Russian. The wings were changed in this version; they were straight instead of swept, and longer which was supposed to allow for high altitude flight. This aircraft was built in 1965. It landed at the museum in 1973.
Myasishchev M-50 (Bounder) Strategic Missile Carrier
1959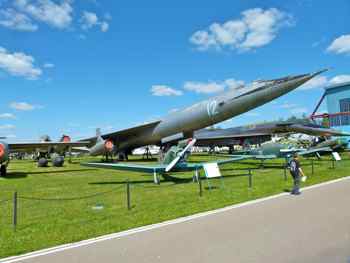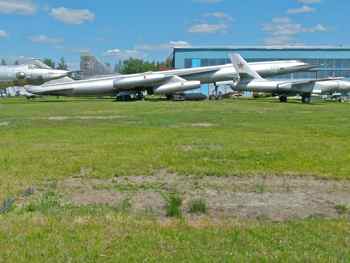 Ret. Col. Kazashvili says the first test flight for the Bounder was in 1959.
This prototype for a four-engine supersonic bomber is another one that never made it into service or production.
Interesting engine arrangement don't you think?
(OK - It's kinda hard to see in the photo, but two are mounted under the wings and two are at the end of the wings.)

We're giving you two angles. As in most aviation museums, it's hard to get great photos with all the planes packed in so tightly.
Monino Soviet Planes of the 1960s


Beriev Be-12 (Mail) Patrol ASW Amphibious Aircraft
1960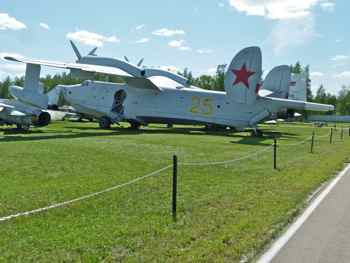 Just so you don't think all the planes outside were jets, we'll include the Beriev Be-12. It is a turboprop amphibious aircraft used in anti-submarine duties and maritime patrols. First flown in 1960, some are still being used. This one flew into the museum in 1974.
Tupolev Tu-128 (Fiddler) Bomber Interceptor
1961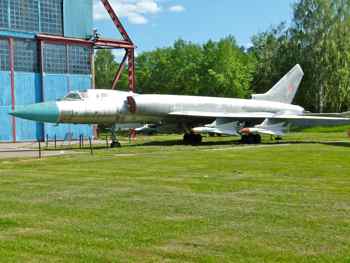 The Tupolev Tu-128 (Fiddler) was an all-weather supersonic interceptor.
This one is a prototype version. It was first flown in 1961.
Production stopped in 1970, but they remained in service until the 1990s.
Yakovlev Yak-36 VTOL (Freehand) Fighter
1963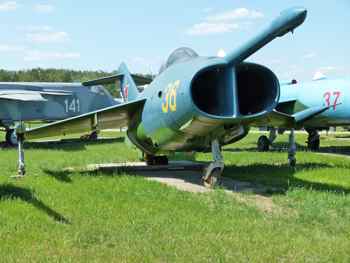 The Yak-36 was and experimental Vertical Take-off and Landing aircraft.
First test flights were in 1963. The first public flight was in 1967.
This is the second of four prototypes that were built and was used for take off, hovering and landing tests.
Tupolev Tu-22M (Backfire) Bomber
1969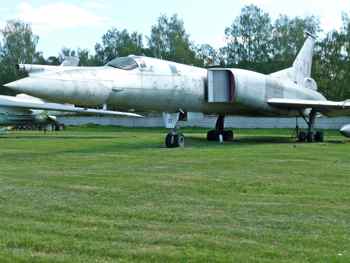 Supersonic, swing-wing, long range strategic and maritime strike bomber. It was developed from the Tu-22 (you can see that one above) ...and with several improvements, it was much more advanced and successful.

There are still a number of Backfires in service... as we well know!

Days after seeing this one at Monino, we partied the night away with the crew of a Backfire Bomber (and their families) at Lake Baikal... but that's another story.
Tupolev Tu-144 (Charger) Airliner and Sukhoi Su-25 (Frogfoot) Attack Aircraft
(Tu-144: 1968 - Su-25: 1976)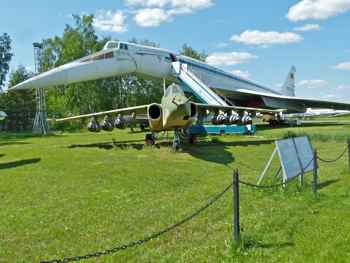 The Tu-144 was the world's first supersonic passenger airliner. Its test flight in December 1968 beat the Concorde by two months. It actually did go into passenger service in 1977, but it only made 55 passenger flights before that service was cancelled.

In front of the Tu-144 is a Sukhoi Su-25 (Frogfoot) Attack Aircraft. It's maiden flight was in 1975... and it is still in service and still being produced.



Monino Soviet Planes of the 1970s
Sukhoi T-4 Bomber (aka Su-100 or aircraft 100) Prototype Bomber
1972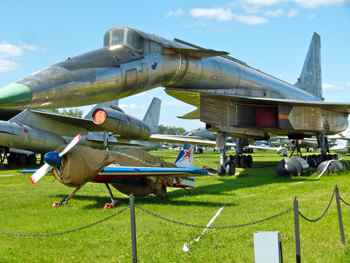 This was a prototype for a supersonic bomber.
The Su-100 was first test flown in 1972.
Looks a bit like XB-70 Valkryie doesn't it?
Well, it was smaller...
They tried to take advantage of many of the XB-70's innovations...
...but by 1975 development of the aircraft ceased and none went into production. Only two prototypes were built, and this is the only one that completed the test flights, and the only one that survives.
MiG-105 / Mikoyan 105.11 Spaceplane Prototype
aka EPOS Experimental lifting body
1976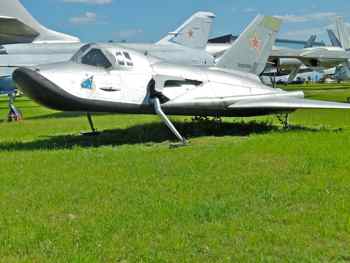 In our little booklet, Ret. Col. Kazashvili just calls this "Aircraft 105".
We've seen it referred to Mikoyan 105.11 Spaceplane Prototype and also as a Mikoyan-Gurevich MiG-105.
Even Wikipedia doesn't have the full scoop!
It was apparently an "off-and-on" project in response to NASA projects... as in the Space Shuttle Program in 1974.

The EPOS stands for something that translates from Russian as "Experimental Passenger Orbital Aircraft". The MiG 105 kinda looks like a mini space shuttle doesn't it? It was test flown in 1976, but cancelled by 1978.


Weird and Wonderful Aircraft
In A Class By Itself
Mi-12 (Homer) Aka Mil V-12
1967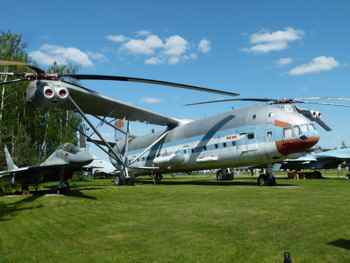 Largest helicopter ever built.
The assignment was to develop a helicopter for heavy lifting.
Wikipedia says two prototypes were built...
Ret. Col. Kazashvili says in his little booklet about the planes of Monino that there were three built... Hummm.
Wonder who's right?
It was designed in 1965 and flight tested in 1967. Although it set several world records which still hold up today, it never entered serial production. This one flew to the museum in 1975.


What IS It?
Bartini-Beriev VVA-14
1970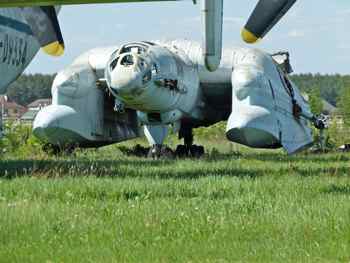 What the heck is this?
Picture it with its wings (wingspan 30 m / 98 ft) and tail attached...
...and 2 jet engines mounted on its back.

The Bartini-Beriev VVA-14 is a vertical take-off aircraft... (Vertikal`no-Vzletayuschaya Amphibia in Russian).
It was supposed to take off from water and fly at high speeds at high altitude, but also "fly" or skim above the water. It was designed and test flights were done during the 1970s, but never went into production. This only surviving example (a dismantled one at that) arrived at Monino in 1987.


And finally....
Experimental M-17 High-Altitude Aircraft
1982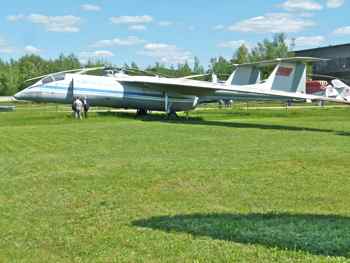 The M-17 was a high-altitude subsonic prototype. It was first developed as a reconnaissance aircraft, but with the collapse of the Soviet Union, a derivative, the M-55, has been used in atmospheric research. This aircraft flew into the museum in 1990.
We went on a Saturday morning. Unfortunately the Museum is only open until 1:30, so we felt a bit rushed. It was worth rearranging our itinerary and fighting the traffic... what's not to like with all those antique airplanes! Remember to check our pages on the Monino Museum and on the Russian World War 2 planes.


Find 'em, See 'em, Fly,'em! And have a great flight!
Judy and Mark
Curious about what other antique airplanes we've found? Search for more...

But... We'd love to have you share this page or comment on it...  Thanks


Go from Monino Soviet Planes to Antique Airplanes Home Page
Privacy Policy