Flying Tigers Wannabe?
by Mark and Judy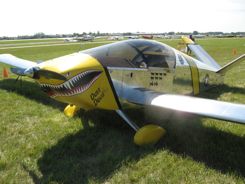 Sonex Xenos with Flying Tigers paint job... just plane fun!
OK... OK... it's not an antique airplane, but a Flying Tiger wannabe should be included here, don't you think? When we saw this Xenos painted this way it cracked us up. Definitely a Flying Tigers wannabe. Note the "kills" painted on the side. Tractors and cows?? Isn't that just plane fun?

This little Sonex Xenos was in the Homebuilt section in Oshkosh. Apparently it was built in the last few years (in 2008 we think). As we were wandering around Oshkosh, I made Mark take a picture of this one.... I loved the art.

P-40 Warhawks are what you expect to see with that "shark mouth" Flying Tigers paint job. There was a P-40 in the Warbirds section at Oshkosh 2010 that had Aleutian Tiger markings... now that's the real deal.

Of course, that's the beauty and fun of Oshkosh AirVenture.... you see a little bit of everything... and whether it's homebuilts or warbirds or antique airplanes, Oshkosh, the people there, and the planes are just plane fun!

J & M

Join in and write your own page! It's easy to do. How? Simply click here to return to Just Plane Fun!.
Find 'em, See 'em, Fly,'em! And have a great flight!
Judy and Mark
Curious about what other antique airplanes we've found? Search for more...

But... We'd love to have you share this page or comment on it...  Thanks