East Fortune Scotland.
by Jim
(Paisley, Scotland.)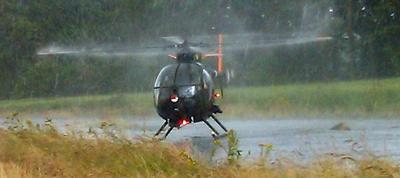 UH1 Loach in the rain at East Fortune
If you are interested in antique / vintage aircraft and you are visiting Scotland you really must visit the Museum of Flight at East Fortune.

The museum is situated just off the A1, a short drive east of Edinburgh...

And it is really something special.

The airfield itself is a former naval air station dating back to the first world war. It was also the departure point for the historic first return flight over the Atlantic by the airship R34 in 1919.

The aircraft in the collection range from a 1930's DeHavilland Puss Moth to Concorde with everything in between from a captured German ME163 Komet to one of the Vulcan bombers used in the Falklands war.

The museum is far from being a dusty collection though; there is a very hands on active approach to restoration and fun for the family. The volunteers there are building a WW1 era Sopwith 1 ½ strutter two seat biplane from plans. The level of care and craftsmanship going into that project is bound to mean that the finished aircraft will be better than an original from the factory. I can't wait to see it.

Kids are always welcome and there are regular events to amuse them from dressing up and trying on parachutes to engineering challenges for the older kids.

There is a great atmosphere about the place with a real sense of history, I love it. You can easily lose yourself there for a whole day and still not see it all.

The highlight of the year is of course the annual airshow, this year (2013) it is on Saturday 27th July. There is much more of a focus on historic aircraft with many in private hands rather than the military show that is provided at many other events.

It is also much more intimate than RAF Leuchars airshow for example as you get much closer to the action. It is great to sit on the grass in the sunshine with a picnic and the elegant drone of proper piston engines as the displays skip over the trees. Even in heavy showers as happened last year there are some dramatic skies and effects to enhance your photographic collection. Like the UH1 Loach pictured with rain bouncing off the spinning rotors.

Check out www.PilotScotland.com for more information on East Fortune and all aspects of aviation in Scotland.

Join in and write your own page! It's easy to do. How? Simply click here to return to Your Favorite Aviation Museum.
Find 'em, See 'em, Fly,'em! And have a great flight!
Judy and Mark
Curious about what other antique airplanes we've found? Search for more...

But... We'd love to have you share this page or comment on it...  Thanks