Best Camera For Flight Demonstrations?
by Mark and Judy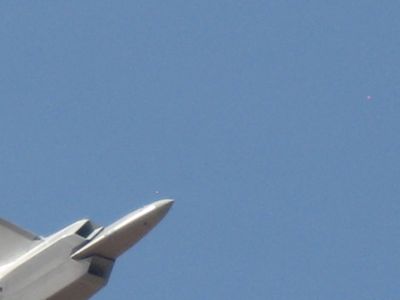 Got only the nose of the F-22 Raptor... we were trying to shoot ahead of it... a little too far!
I can't tell you which is the best camera for flight demonstrations, but I can tell you it isn't our little point and shoot.

We went to Phoenix for Spring Training and caught a baseball game... and we only took our little point and shoot camera. Then we thought, since we're in Arizona what else can we do?

The good news was that when we searched, we found that the Arizona Antique Aircraft Association Cactus Fly-in was that weekend in Casa Grande. And since we were halfway to Tucson by then, we decided to head on down and see the Pima Air Museum too.

The bad news was that all we had with us was that point and shoot camera. Now it's just fine for antique airplanes on static display... and it's OK for some antique airplanes in flight. We all know that some of those antique airplanes fly pretty slow, but…

When we entered the Pima Air Museum, one of the docents told us that there were practice sessions going on at Davis Monthon Air Force Base right across the road…. They were practice sessions for Heritage Flights that they perform at air shows throughout the season. Sort of a Spring Training for Heritage Flight Demonstrations if you will.

So there we were trying to catch shots of different grouping that paired up a P-51 Mustang, a P-38 Lightning, and/or a P-40 Warhawk, with a F-22 Raptor, a F4 Phantom, a F-16 Fighting Falcon and/or an A-10 Warthog. You know those Heritage flight pairings where there are two WWII planes with two newer ones. They do have to train for those so they can keep the formation. It's a challenge for those jets, eh?

You can see that we had a bit of a problem with that point and shoot camera, but it sure was fun having them flying over as we enjoyed the planes at Pima Air Museum!
Join in and write your own page! It's easy to do. How? Simply click here to return to Just Plane Fun!.
Find 'em, See 'em, Fly,'em! And have a great flight!
Judy and Mark
Curious about what other antique airplanes we've found? Search for more...

But... We'd love to have you share this page or comment on it...  Thanks