Arsenal Of Democracy Fly-Over
56 WWII Planes

In 2020, the COVID pandemic cancelled most air shows. Some, like Oshkosh, held virtual events. Some aviation museums are starting to reopen slowly. Hopefully people are busy in hangars restoring antique airplanes and readying them for when we can all get out and travel again.
It's no fun to be grounded when you want to fly and explore.
We have had a personal setback too, with some health issues slowing us down.  We don't have the time to check on which venues are still viable and which are things of the past.

So... Post COVID our advice is to check with each air show or museum to see if they are open and operating.  Stay safe.

We really wanted to see the Arsenal of Democracy fly-over… and we really wanted to tell you about it.
I decided it had to be under the umbrella of "just plane fun" because this was a one-time deal.

It's not something that we can tell you that you should go and see…

It's over and done and this kind of event won't happen like this again…

At least we don't think so.

We had monitored the reports of this event as soon as it came up on our radar.  At first the problem was, we had a trip to Spain planned. 
So we moved that trip forward two weeks… problem solved.
We couldn't believe that they would really get clearance to fly right down the Washington DC Mall... but they did. 
They even closed Reagan National Airport for an hour!


Arsenal Of Democracy Fly-over Was Emotional
The fly-over was part of a larger celebration for the 70th Anniversary of VE Day. 
There was a gathering of World War II veterans at the WWII Memorial with bands and speeches and wreaths from the allied nations.

The fly-over stirred emotions, and we were thrilled to be there…

…but, we're sorry to report we didn't manage to get great photos… 
Partly because of our camera...
And partly because we didn't choose the right vantage point. 
(Though in our defense, I'm not sure there was a great photo spot outside of the photo plane!)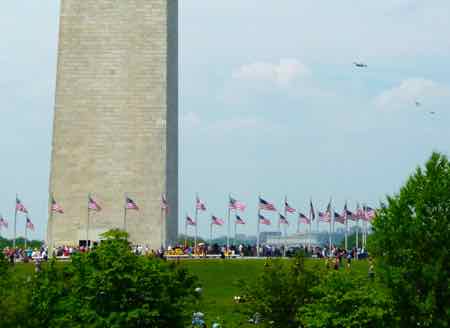 See what I mean?  A small piece of the Washington Monument and a tiny speck of a plane… actually 4 planes. 
Can you even tell that's a B-24 with three Mustangs in support? 
We got some decent photos, but none with any monuments in them, so really, they could be anywhere.  Oh well… at least WE were there!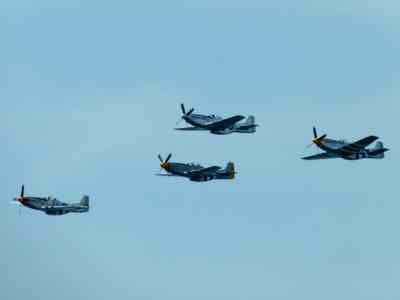 P-51 Mustangs in formation at Arsenal of Democracy Fly-over
PBY Catalina - Just couldn't get it with the Monument in view.

Planes Assembled At Outlying Airports

We arrived in Washington DC a couple of days ahead of VE Day. 
The planes were assembling at two airports near to Washington DC. We reasoned that it would be fun to see the planes close up at one or both. 
We hit them both, and we were right.

Manassas Regional Airport
We hit the Manassas Regional Airport early on Thursday morning. We discovered that this was the staging airport for the big bombers.  There were four of them there:  the B-29, a B-24, and two B-17s.

We got a few photos.  We love seeing these, but we decided there just might be more excitement at the other airport.

Culpeper Regional Airport
Excitement was already starting to build by the time we arrived at Culpeper Regional Airport.  There were 52 planes on the ground here.  There was a brief press conference, then all the pilots and crews were out prepping for flight… they had to practice their formations. 

During the course of the morning all but one of those planes took off with their groups.

FM-2 Wildcat - There were 3 of them!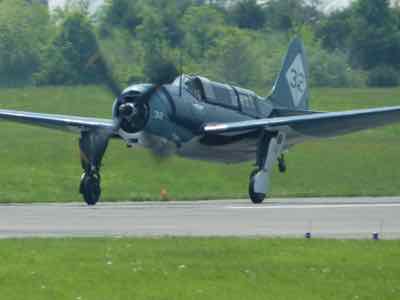 World's only SB2C Helldiver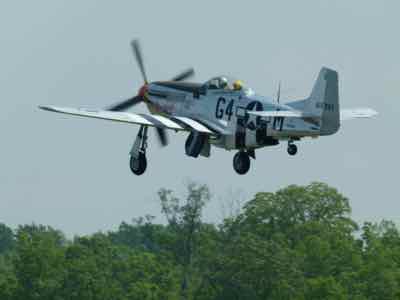 P-51 Mustang - This one's for Pop... He flew these at the beginning of the war.
B-25 Mitchell
C-47 Skytrain - This one's for Pop too. He flew these at the end of the war after he was shot down.
The real excitement came when it was time to recover all the formations.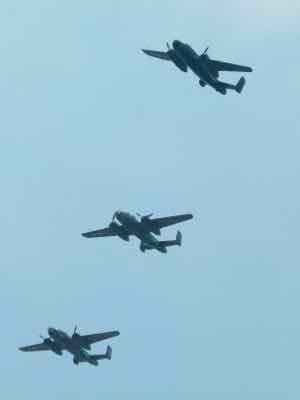 There were groups flying in formation all over the place at different altitudes… waiting to come in. 
It was fun to see the breaks for landing…
Not often you see B-25 Mitchells fly a break for landing.


Tribute To Veterans

The whole day was a tribute to Veterans.
We talked to some of the pilots and crews... that was how they felt.
If you were there, it was fun wasn't it?  If you didn't make it, we hope we gave you a glimpse of what the Arsenal of Democracy Fly-over was like.

Find 'em, See 'em, Fly,'em! And have a great flight!
Judy and Mark
Curious about what other antique airplanes we've found? Search for more...

But... We'd love to have you share this page or comment on it...  Thanks