Airplane Nuts in Oshkosh
In 2020, the COVID pandemic cancelled most air shows. Some, like Oshkosh, held virtual events. Some aviation museums are starting to reopen slowly. Hopefully people are busy in hangars restoring antique airplanes and readying them for when we can all get out and travel again.
It's no fun to be grounded when you want to fly and explore.
We have had a personal setback too, with some health issues slowing us down.  We don't have the time to check on which venues are still viable and which are things of the past.

So... Post COVID our advice is to check with each air show or museum to see if they are open and operating.  Stay safe.

Come the last week of July every year, you'll find airplane nuts in Oshkosh.
Pilots and airplane lovers from all over the world converge on this little town....
Wittman Regional Airport airport becomes the busiest airport in the world for that week.
I know that's hard to believe...
...but just look at the tower.
It has a banner that proclaims it...
"Busiest tower in the world".



Can It Really Be That Busy?

Busiest in the world?
Yep, it is for that one week of the year when the EAA -- The Experimental Aircraft Association -- puts on its AirVenture.
"The Greatest Aviation Celebration in the World."
And it is a celebration.... if you're an airplane nut, you really should plan to make it to Oshkosh some day.

Rock Your Wings For Oshkosh

Part of the fun of Oshkosh is to tune into the tower frequencies (yes there are two) and listen as the controllers bring planes in to land.... two and three at a time.
You hear things like "Blue Cessna keep flying and land on the green dot...., white tail-dragger get it down on the numbers and get off as fast as you can... turn into the grass... off into the grass."
The controllers don't want aircraft identification numbers... just colors and types... they are too busy.
They just want to see you and get you down. Coming in on final, they want to make sure they have the right plane, so they'll ask you to "Rock your wings for Oshkosh".
Airplane nuts love this stuff. I know. We go to Oshkosh every two or three years.

Things Are Happening Everywhere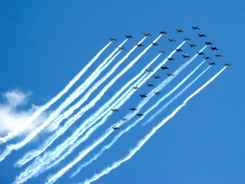 There is a second runway and tower frequency they use for larger and faster planes, though the main runway sees plenty of those.
Everywhere you look there is something taking off or landing.... there's always something flying.... sometimes it looks like a swarm of bugs off in the distance.


No where else will you see things like the "Bonanzas to Oshkosh" group arrival where 137 Bonanza airplanes arrived in formation AND landed in formation... three at a time... one group right after another.
All 137 are cleared for landing at the same time! They all got down in a nice display in about 30 minutes!

Airplane Nuts In Oshkosh Are...
Well, Airplane Nuts!

Airplane nuts in Oshkosh are there because they can see all the newest planes available for private pilots.
They can check out restored antiques and "warbirds".
There are businesses selling corporate jets. Vendors are selling airplanes parts and fun "extras" if you have your own plane.
If You Want To Bring Your Own Plane

Pilots who want to bring their own plane to Oshkosh don't need to register before arrival....
Plane parking in the exhibit area is first come first served. You can opt to be judged or just park on the line.
If you park in the exhibit area, you are sharing your plane with others, and they will be peeking in the windows and under the airframe all through the week.
Almost everyone who comes to Oshkosh is an airplane nut in one form or another, so they will be respectful of the planes.... and there are tons of vigilant pilots around who will straighten them out if they're not.

Some Airplane Nuts Camp With Their Planes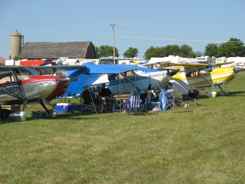 Pilots can camp with their airplanes in a parking area adjacent to the AirVenture show grounds or away from the planes in Camp Scholler adjacent to the airfield.
There is a small store in the campground, and the EAA runs shuttles to grocery stores and nearby shopping malls for all possible needs.
There's lots of food available on the field including breakfast and dinner, and it's better than most air show food.
Have Reservations Well In Advance For Hotels

If you want to stay in a hotel, you'd better have reservations well in advance... like a year ahead.... many of those airplane nuts in Oshkosh return every year.
So if you're an airplane nut and you've always wanted to go... why don't you plan to get to the EAA AirVenture in Oshkosh one year.
Find 'em, See 'em, Fly,'em! And have a great flight!
Judy and Mark
Curious about what other antique airplanes we've found? Search for more...

But... We'd love to have you share this page or comment on it...  Thanks


Return from Airplane Nuts in Oshkosh to Oshkosh
Read the Cub to Oshkosh story
Go from Airplane Nuts in Oshkosh to Antique Airplanes Home Page