Airplane Museum Belgrade Serbia
by Alex Jolic
(Belgrade Serbia)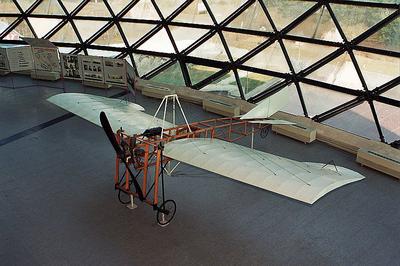 Sarić No.1 -Belgrade Aviation Museum
Dear Sir,

I think that among all presented museums in Europe, Belgrade Airplane Museum is worth to see.

You can go on website http://www.muzejvazduhoplovstva.org.rs/ and see by yourself.

We have some of very rare planes.

I hope that You will enjoy.

Regards,

Alex


Wow Alex,

We think you're right. The Belgrade Aviation Museum looks like something we would love to visit some day.

We don't pretend that we know about most of the aviation museums in the world… that's why we have this page. WE need help, and this is what we're looking for.

Since you didn't send too much information, we went onto the website as you suggested to find out more. We were surprised to learn that the museum is over 50 years old. The modern building that houses the oldest of the planes looks impressive.

Loved that one article…

"Visitors approaching the Nikola Tesla Airport are invariably attracted by the large glass-encased round structure that looks like a strange mushroom from outer space that has sprouted in the middle of Srem's cultivated fields. Numerous military and civilian aircraft surround the mushroom - along with radars and other wonders of aviation technology - clearly indicating to visitors that they have arrived at an Aviation Museum…"

You do indeed have some very rare planes…. some that we have never even heard of!

That Sarić No.1 for starters. That. Sorry to say that we didn't know about Ivan Saric before this. He sounds like a real aviation pioneer, and his plane really is a pioneer aircraft. First flown in October 1910. This replica and your photos of the flight piqued our interest! We can see where it shares some characteristics with the early Bleriot planes. And Ivan Saric designed helicopters too? We should research more on him.

The Fizir FN is another one we're not too familiar with. A basic trainer first flown in 1929 and used up through WWII and beyond.

We see that you have an Ilyushin IL-2 also. We were lucky enough to see one fly in Seattle. There aren't too many of those around.

And you've got some experimental aircraft that we may very well never be able to see anywhere else. That Ikarus 451 is an interesting design. Is that a model? It looks small if it's a full size plane, but maybe that's because the pilot flew in a prone position?

Anyway, as per your request, we're publishing your short submission suggesting that this is one of your Favorite Aviation Museums. And Alex, we'd love to hear more from you. Send photos if you have them.

And anyone else who has a favorite museum… please let us know. Go back to the submission page and write about it. Thanks!

Find 'em, See 'em, Fly,'em! And have a great flight!
Judy and Mark
Curious about what other antique airplanes we've found? Search for more...

But... We'd love to have you share this page or comment on it...  Thanks