A Fly In of A Different Sort
by Mark and Judy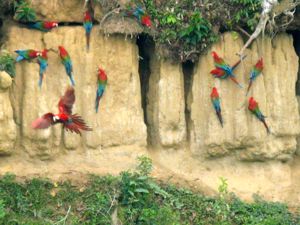 Macaw fly-in at Amazonian clay lick
A colorful fly-in happens every morning in Manu National Park in Peru. This isn't about antique airplanes, but the flying is so impressive, we wanted to tell you about it.


Parrots and macaws fly in to a cliff on the side of the river. They come to visit a clay lick, and they spend a couple of hours showing off for each other and eating clay.
Now when we go to air shows, we're always impressed with great formations flying… right? Well, let me tell you… even the best of those formation teams have nothing on the way these parrots and macaws fly in formation!
From the Manu Wildlife Center in the Peruvian Amazon, we took a small boat up the Madre de Dios River to arrive at a viewing blind early in the morning so we could observe the whole show.
First the little guys come in… they're sort of like the fighters of warbird exhibitions. First a few groups of a dozen or so… then as they are sure there are no "enemies" around (like hawks and eagles) they swoop past in groups of 50 to 100…. all turning and climbing and diving in precise formation. It really is a sight to behold.
A little later in the morning, the big guys come in… sort of like the bombers following fighters. There are more species of Macaws in the area, but it's the Red and Green Macaws that visit this site. They mostly fly in in pairs or family groups of 3 or 4… but their formation flight is still impressive.
Once they are all more or less settled on branches and on the cliff side, it's interesting to see how they maneuver and avoid collisions.
It was always birds that inspired us to fly… and this "fly-in" definitely inspired respect for those colorful aviators…. it was quite a performance.
J & M
Curious about what other antique airplanes we've found? Search for more...

But... We'd love to have you share this page or comment on it...  Thanks