WAAAM
Western Antique Aeroplane and Automobile Museum
Donna wrote to us about her favorite Air Museum... WAAAM.  The Western Antique Aeroplane and Automobile museum was one we hadn't heard of... that's why we ask you to tell us your favorites...

When we asked her to send more information, she graciously sent us the following information and photos.  It's on our list of air museums to visit!

What Donna told us:
WAAAM is truly a gem! You asked for more information, so here it is...
The founder Terry Brandt wanted to make something lasting. He had a personal collection of 42 flying antique aircraft and a few antique cars and military jeeps.
He has given that all away by starting a 501(c)3 non-profit museum...
What museum?
The Western Antique Aeroplane and Automobile Museum! That's a long name, so we've lovingly shortened to WAAAM.
1937 Aeronca LC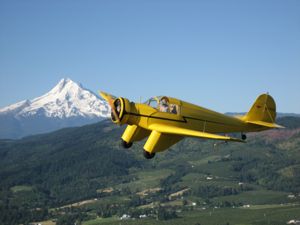 The museum is staffed with Volunteers and is kept open with admission tickets, donations, memberships and gift shop sales. We receive no state or federal funding.
When you see what we have... you will be awed.
1928 Waco GXE

Aeronca C-3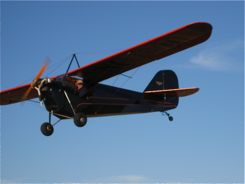 The time has flown by since September of 2007, when our museum opened its doors to the public during the Annual Hood River (Oregon) Fly-In. At that time the nearly 50,000 sq. ft. hanger, gift shop and offices was thought to be large enough to last a lifetime.
Well, the next year Mr. Brandt built a second building of the same size.... The museum now houses 71 aircraft, most of them flying and 120 automobiles, motorcycles, tractors, military jeeps (the far majority are drivable).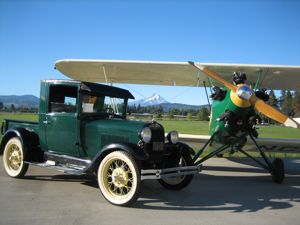 About 90% of the Aircraft are owned by the museum and about 10% of the cars. The others are on loan to the museum.
Our oldest plane is a 1917 Curtiss Jenny JN4, she is 95-97% original. Powered by a Curtiss 0X5 engine it is one of the few aircraft that the powerplant and the airframe were built by the same company.... Curtiss.
WAAAM restored the Jenny over a 2 and 1/2 year period and she flies!
When you get up close to our Jenny, notice the brush marks from the dope on the fabric and the way the rib tape was frayed. This was an effort in restoring the JN4 as it would have looked coming from the factory as there were no spray guns nor were there pinking shears! All of the fabric strips you see on the wings and fuselage were hand frayed by museum volunteers!
A 1899 Locomobile Steamcar is the oldest car. Yes it runs, boasting not more that 5hp! It truly looks like a horse drawn wagon.... without the horse!
OK, so we have motorcycles too, and an old one at that!
Here's our 1912 Indian.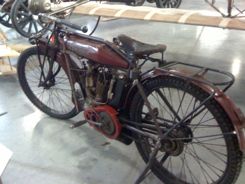 Back to the airplanes you say, OK I will name a few more,
1937 Aeronca LC - the last one know to be flying with it's original engine. A 5 cyl. Warner. (It's that cute little plane in front of Mt. Hood at the top of the page.)
1928 Stearman C3B powered by the Wright Whirlwind radial engine.
1928 Stearman C3B

1928 Stearman and antique auto


1930 Heath Longster, a kit built with a Henderson Motorcycle engine. (Oh yes, we have a '23 Henderson Motorcycle with matching engines!)
A whole flock of L-Birds, a Bamboo Bomber, Ryan PT 22, and a 19 too. Two great Aeronca C3, 2 cylinder, one on wheels and the other on... Floats! and only 36 hp.
We think we have the largest flying collection of OX5 powered aircraft that fly. And our Piper Cub collection starts with a Taylor E-2.
Fairchilds, Buhl Pup, Spartan, Stearman, Trogan, American Eagle, WACO, and Birds are on display.
The last couple of years WAAAM started its Second Saturday, a Day of Action, to show visitors that we do get our engines running. Come see a Model T get cranked up, the beautiful Cord drive, and the Stanley Steamer get going (it only takes about an hour).
The Jenny could fly or maybe the L-Birds or perhaps the WACO 10 with a nearly 100 year old OX5.
That is the sneak peak to WAAAM. See you there.
Where to Find the Museum

Located on the Hood River OR look for Airport 4S2
Open: Everyday 9am-5pm (closed the three big holiday days)
Annual Hood River Fly-In... Always the Weekend After Labor Day.
Donna Davidson
Thanks Donna!
Find 'em, See 'em, Fly,'em! And have a great flight!
Judy and Mark
Curious about what other antique airplanes we've found? Search for more...

But... We'd love to have you share this page or comment on it...
Thanks, Judy and Mark
Your Favorite Aviation Museum
Go from WAAAM to Antique Airplanes Home Page
Privacy and Legal Policy