The National Aviation Heritage Invitational
At The Reno Air Races and Air Show
The National Aviation Heritage Invitational showcases great antique airplanes! 
It puts the "air show" part into the Reno Air Races. 
That's because it is held at The Reno Air Races.
Now, while we love seeing the race planes fly...
the Heritage Trophy area is one of our favorite areas to visit when we go...
We're all about seeing antique airplanes remember.
See Some Great Restorations

The Reno event is called the National Championsip Air Races...
But don't we all go to see the great planes too?
When we went in 2010, there were several planes that excited us.
Hamilton H-47 Metalplane
We had to leave Oshkosh that year before the Hamilton Metalplane arrived.  Mark was disappointed about that... but then...
We saw it at the the Reno Air Races that same year... made him very happy.
Some Rules For The Event

Aircraft that participate must be 45 years or older.
They must be airworthy... they fly in after all.
You'll find aircraft of all types, early passenger planes to World War I and World War II planes.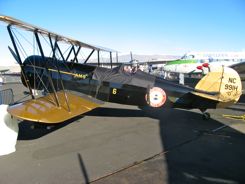 Waco JYM as "Northwest Airways"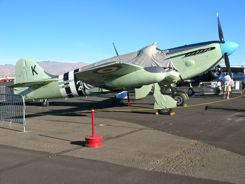 Fairey Firefly AS6

There are several trophies awarded at Reno, including the Rolls Royce Aviation Heritage Trophy and a "People's Choice Award" that you can vote on yourself.
If you decide you want to vote on a plane, you'll find it hard to pick just one.

Douglas DC-2 - TWA Lindbergh Line
Boeing 40-C - Pacific Air Transport

National Aviation Heritage Invitational Encourages Restoration

The event was established in 1998 by Rolls Royce North America to "encourage the preservation of aviation history through the restoration of vintage aircraft to original flying condition."
Other sponsors are the National Aviation Hall of Fame and the Reno Air Racing Foundation.
To read a little more about the Heritage Trophy see the page on the Reno Air Races website.

So you see some pretty rare aircraft here in beautifully restored condition....
A nice contrast to the highly restored and highly modified race planes you thought you were going for. 

Find 'em, See 'em, Fly,'em! And have a great flight!
Judy and Mark
Curious about what other antique airplanes we've found? Search for more...

But... We'd love to have you share this page or comment on it...
Thanks, Judy and Mark